At 4 p.m. on Wednesday, April 20, Deborah Panagos had just gotten off the phone with a student who was worried about their school schedule for next year. A social worker who splits her time between Cedar Lee Middle School and Liberty High School, Panagos said it's a conversation she has often. "Their main concerns are about their schedules. Kids are worried about continuity of learning. I tell them to relax, it's going to be all right. We'll figure it out together."
Panagos wants students and parents to know that if they are feeling sad or alone, or just want someone to talk to, someone is there, ready to help.
Liberty and Cedar Lee have included a form on their webpages that offers a way for students to check in. The Google doc – under the counseling tab -- asks a few questions about how they are doing. Do they need to talk to someone? Would they like to talk about academics or personal worries? Who would they like to talk to?
"Some kids return the form to say they are doing all right, but others request a call from a teacher or social worker," said Panagos. Social workers, psychologists and school counselors at each school receive the forms and follow up to make sure someone has gotten back to the student.
"Some kids ask to speak with me because we already have a relationship, others have a question for a teacher or someone else," said Panagos. "They have stressors at home, with relationships, they're worried about not being able to keep up with their schoolwork, or sometimes they just want to talk."
When school is in session, Panagos has an individual caseload and also runs nine different groups, five at Cedar Lee and four at Liberty. At the middle school, she works with students on social skills, emotional regulation, anger management and behaviors. At Liberty, the groups work on future goals, empathy and moral reasoning as well as working with a team.
"I can see more kids when we work in groups," she said.
Of course, group counseling isn't happening now, so Panagos communicates with students as much as possible over the phone.
"I love my job," she said. "Everyone at both of my schools is very kid-focused."
She is looking forward to getting back to school. "I miss the kids," she said.
John Flemming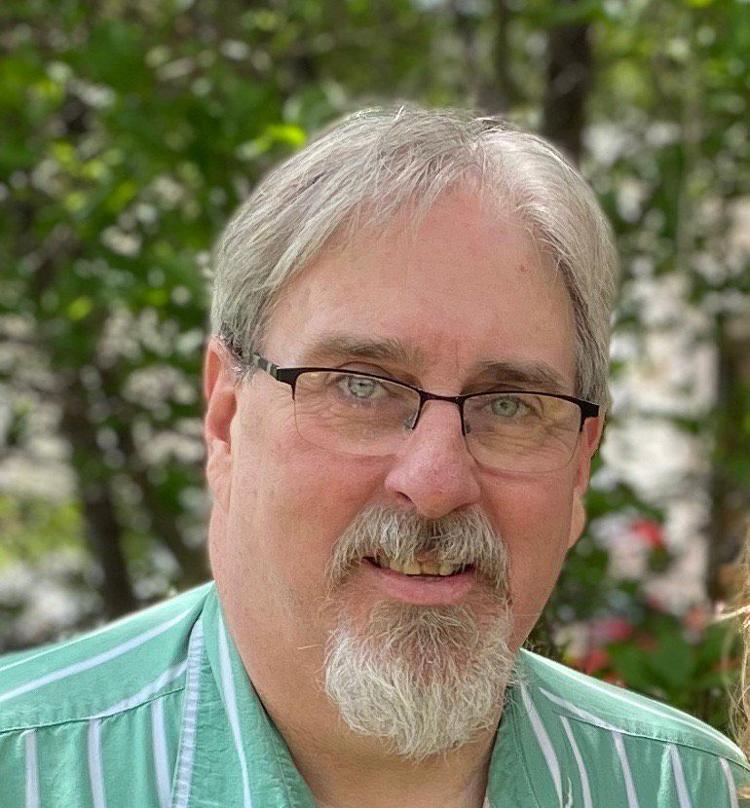 John Flemming is a school social worker who works with students at Fauquier High School and Auburn Middle School. While schools have been closed, he said, he's been calling students or connecting over Zoom. "I've been in touch with certain students that I've been concerned about, and I've had some people ask me to reach out to others."
Flemming said that the break in routine, the lack of daily structure and the extra strain placed on everyone because of the forced confinement has been difficult for some students.
"We work on ways to relieve that stress … The most important thing is that kids have to have a sense of purpose. They need to have goals. Whatever they are trying to accomplish, whether it's schoolwork, housework or working in the yard, every student should have something they can look back on at the end of the day and feel good about."
He encourages students to manage their time as if they were in school. Routine is important.
Flemming has his five children at home, so understands that stressors exist now that didn't a month ago. His oldest, 28, worked in the theater, so is out of work. Flemming also has a 21-year-old at Mary Washington trying to manage online learning. Some of those classes are in acting, "so that's different," he said.
His other three children are in high school; one is set to graduate this year. "They are worried about having what they need, not being able to see friends, not having a graduation …"
And of course, there are the practical concerns. "The toilet paper shortage provided some anxious moments for our family of seven, but we're OK now," he said.
Flemming said he has been pleased to see how teachers are stepping up to be creative. "One gentleman has been doing science experiments online with the kids. It brings everyone together." Despite teachers' best efforts, though, he believes that the student engagement in online learning is minimal. "Some teachers say only 10% of students are participating."
The social worker suggested a few signs parents can look for if they suspect their child is having a hard time with social isolation. "Parents should watch their children's sleep patterns, how they're eating; has their mood changed, has there been unexplained weight loss? Parents can look at their children's arms and legs to be sure they are not cutting themselves." And Flemming encouraged parents to keep an eye on what their children are looking at on social media.
"Kids are worried about their schoolwork," said Flemming. "They are stressed about the time they are missing … and some kids are worried about the disease and how it might affect them and their families." He said that the situation puts extra pressure on relationships as well.
"Stay positive," he said. "It's a gift to be together as a family. Keep moving forward."
The Mental Health Association of Fauquier County
Sallie Morgan, executive director of the Mental Health Association of Fauquier County, said that – with or without the coronavirus -- anxiety among adolescents is on the rise. Mental Health America's national screening center has seen a more than 130% increase in anxiety screenings, and 74% of those have been individuals under 25 years of age. The severity of the symptoms described by those being screened has also increased, she said. She said that nine out of 10 of those under age 25 who have been screened have moderate to severe symptoms.
Morgan said that her organization can help families find counseling resources if needed. She said on April 24, "I just got off of a Zoom check-in with Frank Finn [Associate Superintendent for Student Services and Special Education]from the Fauquier Schools about what they are hearing from students/families and how their social workers and counselors are responding to concerns as they arise."  
She said that the Mental Health Association is keeping in close touch with providers in the  community to find out who is able to take new clients, who is willing to relax fees so they are able to see those with limited incomes, and how they are connecting, which is mostly by phone or online. 
"We have offered to support the school counselors in finding therapeutic resources for children and adolescents and are also offering that same service to the community at large," she said. She suggested that parents call Brittany Dwyer at MHAFC at 540-341-8732. 
She added, "We also have a number of resources on our website, including tips for coping with COVID-related anxiety, access to both anxiety and depression screening tools, and a comprehensive database of local providers."