Of the more than 1,900 people employed permanently by the Fauquier County School Division, more than 1,500 indicated in a recent survey they want to receive a COVID-19 vaccine, the school division announced Wednesday. Teachers and other school staff members are part of the Phase 1b eligibility group in Virginia.
Two vaccines currently have federal approval for use in the United States. The vaccine made by Moderna requires two doses 28 days apart and is 94% effective, according to the U.S. Centers for Disease Control and Prevention. The Pfizer-BioNTech vaccine requires two doses 21 days apart and is 95% effective, according to the CDC. Public health officials caution vaccinated individuals may still be able to carry and transmit the virus to others even if they are immune to the virus themselves.
The Wednesday press release from the school division said "hundreds" of school employees had already received one dose of the vaccine and "hundreds" more have appointments to receive the shot.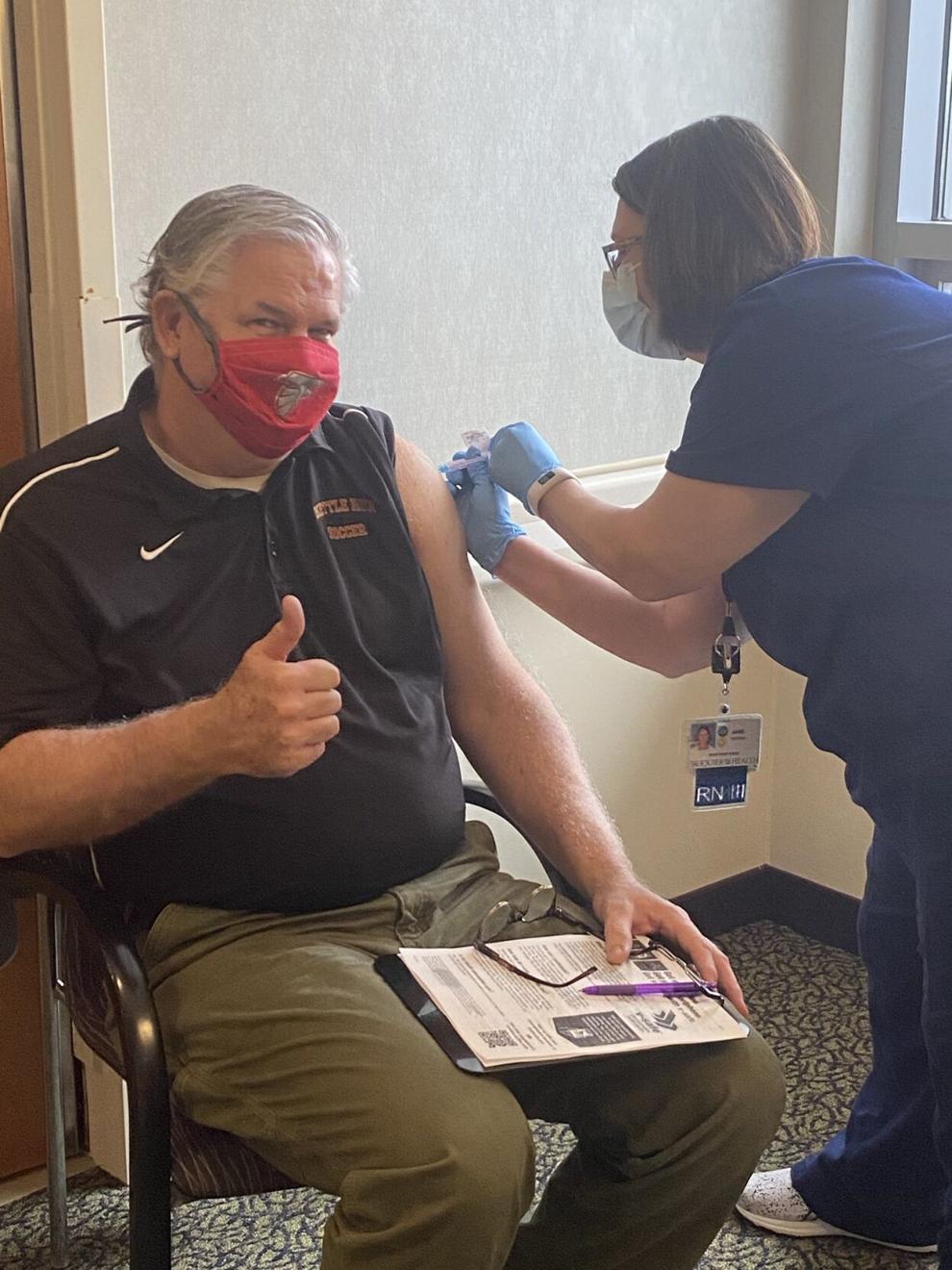 In response to a request for clarification, Tara Helkowski, the school division's public information officer, said school officials did not know how many employees had received the vaccine or how many had appointments. "All we have is the number of employees who responded [in the survey] they would like to get the vaccine," she said.
School nurses received vaccinations as part of Phase 1a; the first time a Phase 1b employee received a vaccination was Jan. 13, meaning no Phase 1b school staffer will be fully inoculated – with both necessary doses -- until at least either Feb. 3 or Feb. 10, depending on which vaccine was administered.
The Rappahannock-Rapidan Health District, the division of the Virginia Department of Health that includes Fauquier, Culpeper, Rappahannock, Madison and Orange counties, has administered most of the vaccinations in Phase 1b so far. Most inoculations of school employees have taken place at a central health district vaccination clinic in Culpeper. Additionally, 164 county employees – including some school division staffers – were vaccinated at Fauquier Hospital this week.
Wednesday's press release quotes Superintendent of Schools David Jeck as saying the health department's efforts have been "nothing short of miraculous."
Community spread in January sets pandemic records
At a meeting of the Fauquier County School Board last month, two health department epidemiologists told board members that there is little evidence that local schools have been a major contributor to the community spread of the novel coronavirus, and no outbreaks have been reported during the school division's current "hybrid" instruction model.
But, they said, health department staffing levels are insufficient to effectively perform the necessary contract tracing in educational settings to determine for certain the role local schools have played in spreading the virus.
Regardless of what exactly are the driving forces behind community transmission, the data shows that the virus is spreading more widely this month than at any other point during the pandemic.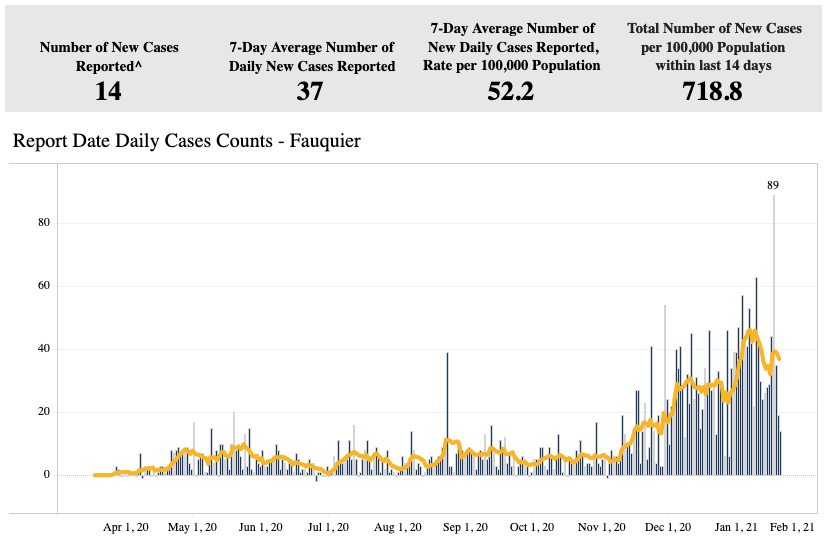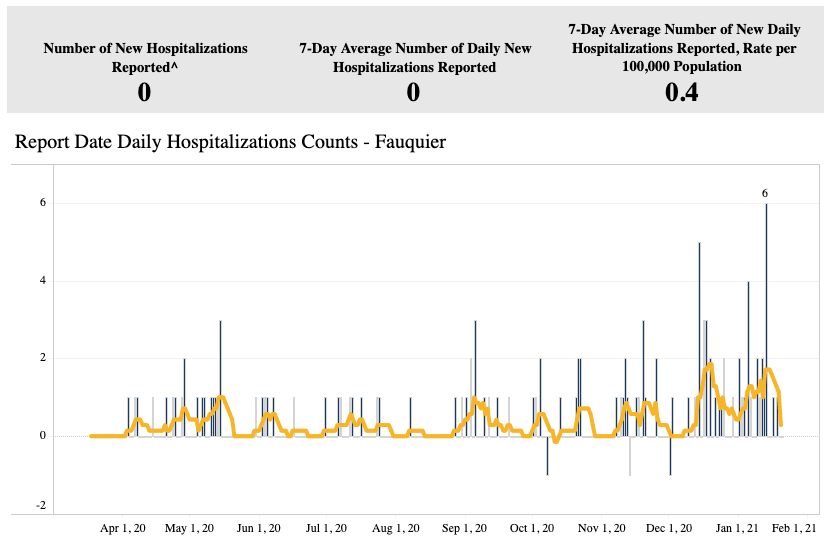 Among Fauquier County residents, an average of 37 new cases have been reported daily during the past week, higher than at any point of the pandemic except for earlier this month, when that average reached 46 new cases daily. Hospitalizations among county residents have also risen recently, with 23 new hospitalizations reported this month alone. A total of 30 county residents have died of COVID-19 complications since the pandemic began, including two deaths reported this month.
For Virginia as a whole, the seven-day average of newly reported daily cases is more than 6,100. Before October, that number had not risen above 1,200. The seven-day average for new hospitalizations is currently 109, slightly down from 131 around Christmas but still higher than the seven-day average of 92 when hospitalizations first peaked during the spring. The seven-day average of newly reported deaths statewide is currently 44, higher than at any point during the pandemic.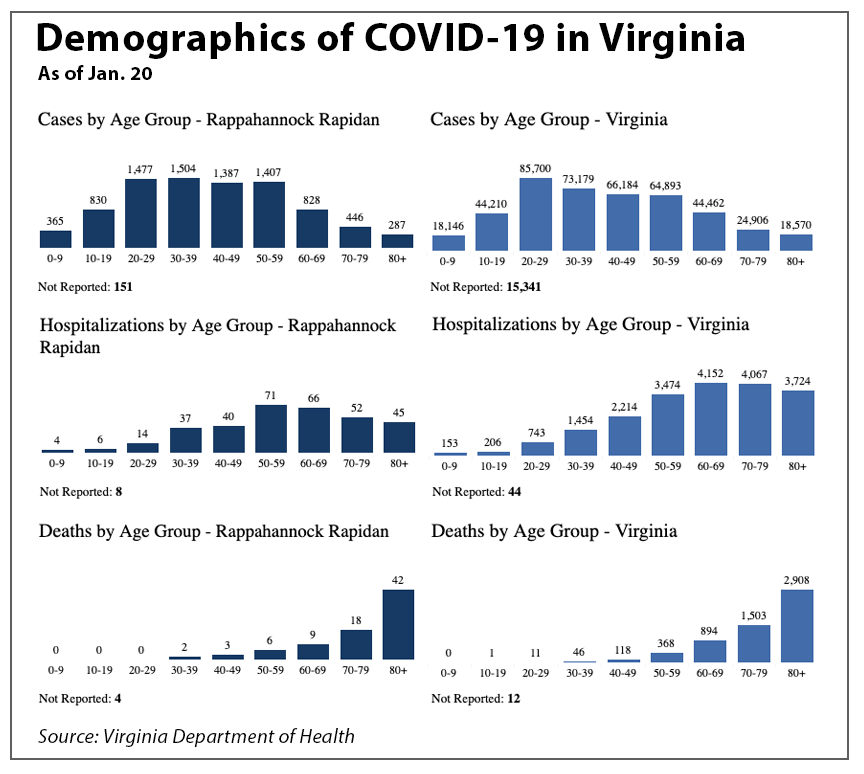 Cases have been spread relatively evenly across age groups since the pandemic began, with the largest share of cases by far having been confirmed in Virginia residents in their 20s.
Those hospitalized have tended to be older, with the single largest share of those hospitalized with COVID-19 coming from the 60-to-69 age group.
The oldest demographic has been most vulnerable to dying from the disease, with 2,908 of the 5,861 COVID-related deaths in Virginia occurring in those 80 years old or older.