A new survey of Fauquier County parents indicates majority support for sending children to school four days a week this fall instead of just two -- a possibility that remains on the table as school board members continue to weigh options for the upcoming school year, which could begin as soon as Aug. 19.
During a school board work session Thursday, the school board discussed the results of the survey and heard from two Virginia Department of Health epidemiologists on the safety of having children attend school in-person this fall.
Daniel Farrell and April Achter, both of whom work for the Rappahannock-Rapidan Health District, of which Fauquier County is a part, fielded an array of questions from the school board, often without offering absolute answers. But when asked about their own school-aged children, both Farrell and Achter spoke candidly and indicated they would send their own children to school in-person this fall largely because they believe the benefits outweigh the risks.
The school board will hold a public hearing on its reopening options at 7 p.m. on Monday, July 13, at Fauquier High School. Superintendent of Schools David Jeck will present all five options for reopening schools to the board, which is expected to approve a plan that night.
It is still not clear which option school board members will choose. The possible models range from completely virtual instruction to having students attend class four days a week. In the latter model, Wednesdays would be reserved for planning and remote learning.
The Fauquier Education Association, the local chapter of the state's largest teachers' union, still supports a model in which students attend school in-person only two days per week, with half coming on Mondays and Tuesdays and the other half on Thursdays and Fridays. A fifth day would be reserved for planning and remote instruction.
During the Thursday work session, each school board member said the majority of recent comments they have received recently from parents and school staff have favored a two-day model.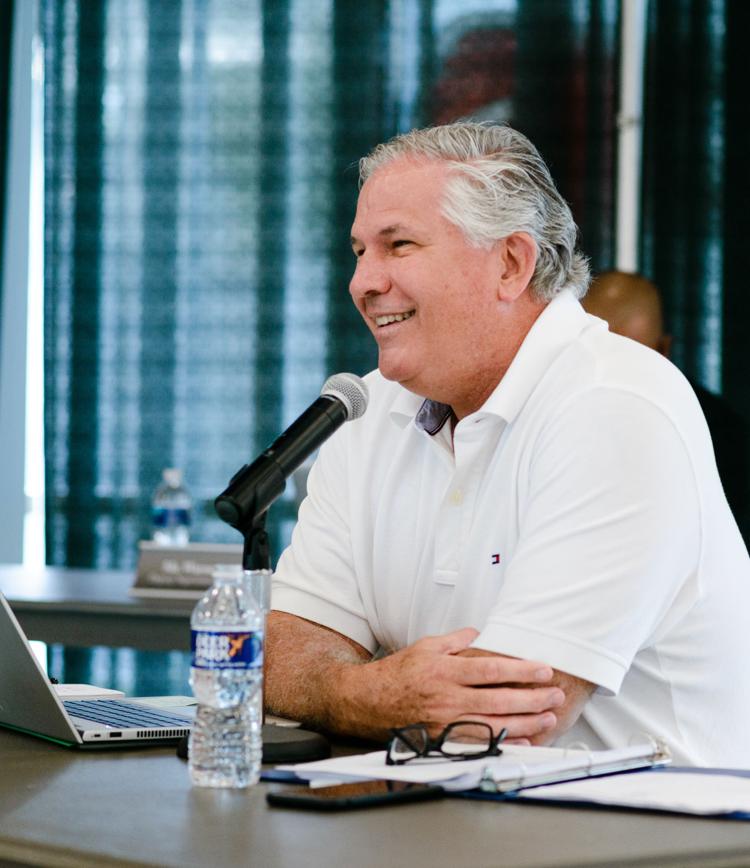 Jeck said after the meeting that if all students attend school four days per week, physical distancing of 6 feet among students would not be feasible. However, he added that 3 feet of distancing would "probably" be possible.
The Virginia Department of Education released updated recommendations Monday that indicated 3 feet of social distancing in schools might be sufficient in combination with the use of face masks, based on advice from both the World Health Organization and the American Academy of Pediatrics. The Centers for Disease Control and Prevention still recommends a distance of 6 feet between all students and teachers.
"We would have to work out the logistics piece" regarding masks if a four-day model is implemented, Jeck said. "Those sorts of decisions are still forthcoming."
Parent survey shows support for four-day week
A majority – 52% - of responses to the latest survey distributed to parents of children in public schools favored the four-day model. An additional 25% of respondents favored the two-day option. Only 12% chose completely virtual instruction as their first choice. Additionally, 56% of respondents said their child would still use school buses even if physical distancing is impossible.
The responses represented 62% of students in the public school system. (Parents were asked to respond to the survey once for each student in the household.)
If the board does opt for some form of in-person instruction, not all students will necessarily attend. Parents and students will have the option of receiving all instruction virtually.
According to the parent survey, about 34% of students would be kept home if a four-day, in-person week is implemented. The number falls to 21% if a two-day week is implemented. "Those kids will have access to certified teachers," said Major Warner, the school division's assistant superintendent for instruction.
Health district epidemiologists field questions about COVID-19
The case for choosing some form of in-person instructional model was perhaps boosted most significantly by comments from Farrell and Achter, both epidemiologists for the Rappahannock-Rapidan Health District.
While neither endorsed a specific reopening plan, both indicated they would send their own children to school in-person this fall.
"Taking off my VDH badge and speaking as a parent of a rising high schooler," said Achter, "and also as a parent of child with an underlying metabolic disease, which places him at greater risk, which gives me great pause when thinking about these things, I still, when school opens, will put my child in school because I think the risk to his mental health, to his academic success … I think the benefit of placing him in school far outweighs the risk of him, with an illness, with COVID."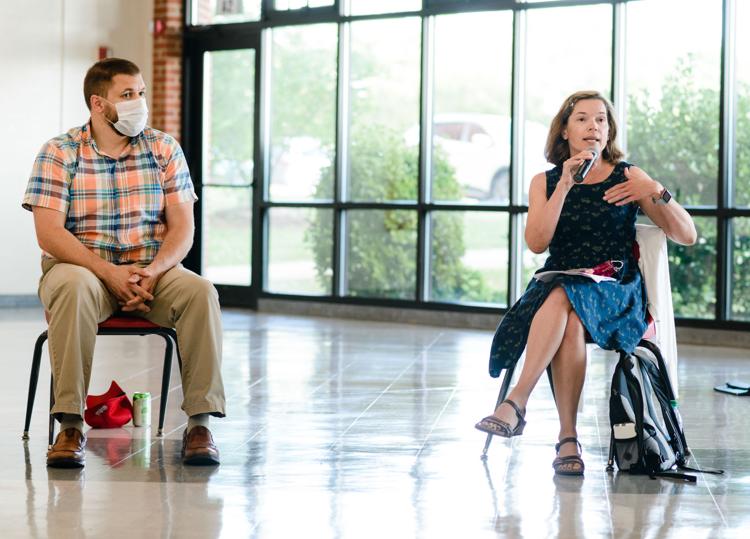 "We know that this disease does not play by the same rules with kids as it does with adults," Farrell said, while cautioning that some populations – even among children – are at greater risk of serious complications from COVID-19. But, he said, "I, like April, think there are more negative drawbacks to not having kids in school."
He spoke about how his daughter had issues with sleepwalking when schools were closed.
"It was an extremely stressful time, mentally, for children," he said. The stress for his daughter, he added, has decreased since she began participating in sports and other activities this summer.
Frustration mounts over evolving public health guidelines
Even while explaining that the latest scientific studies have shown transmission of the novel coronavirus from children to adults is unlikely – though not impossible – Achter and Farrell both emphasized that there are few absolutes when dealing with a disease that has been studied for such a short time. For instance, Farrell said, asymptomatic transmission from a child to an adult is "not likely, but it's not unheard of."
Responding to a question about how long the virus can last on a surface, Achter said it depends on the specific conditions, though generally the novel coronavirus is thought to spread primarily through droplets in the air.
"I don't want folks to think that the [surfaces] are a huge risk for transmission," she said, instead stressing that physical distancing and face coverings have been most effective in mitigating the spread of the virus.
School board member Susan Pauling (Center) expressed frustration with the differing public health recommendations coming from different organizations.
"My concern here is the varied information coming at us," she said, referencing different recommendations for schools from the CDC, the WHO and the AAP. "I'm just looking for clarity about what you think we should do."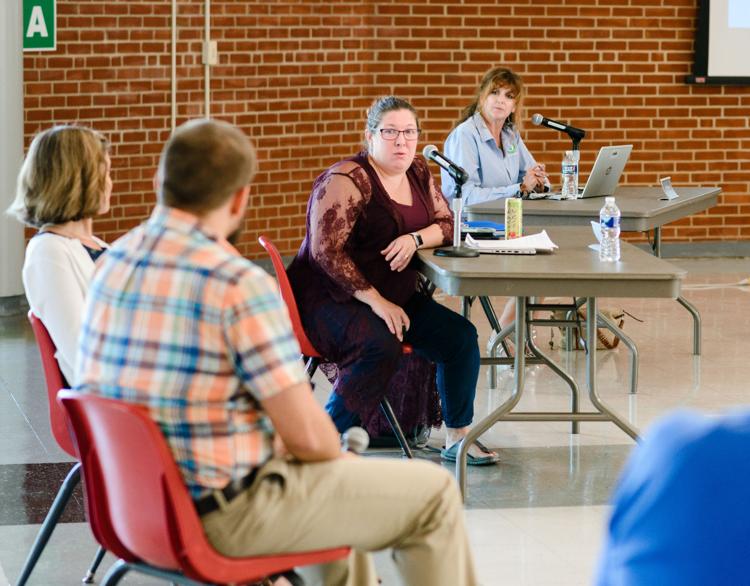 School Board member Stephanie Litter-Reber (Lee) expressed a similar frustration with the lack of consistent guidance from public health organizations. "What I heard today was that there is still not a firm grasp on what mitigation measures need to be," she said after the work session.
Both Farrell and Achter acknowledged that creative solutions will be necessary to implement virus mitigation strategies in schools while still providing a quality instruction to students.
"We have to balance the 'gold standards' with what is practical," Achter said. "We share your frustration about all the changes [to public health recommendations], but that's how science works."
Farrell and Achter said that they would work closely with school division staff to monitor the health situation on an ongoing basis, no matter what instruction model is chosen.
"If we see anything significant or concerning, we are going to reach out to you," Achter said.
Jeck similarly emphasized that especially this fall, the situation will be fluid. "This is going to require real flexibility on our parts," he said.
Questions remain on risk to staff members
While most of the discussion centered around students, school board members also expressed concern for the safety of teachers and other school staff. "There's a lot of emphasis on getting kids back in school," said School Board Chairman Duke Bland (Marshall District), "… but we also have to worry about our teachers, teacher's aides, bus drivers, food services people [and] custodians."
Achter responded that ideally, staff members at a higher risk would be assigned to provide remote services to students, while staff members in a lower-risk category would be assigned for in-person duties. At another point she explained that keeping groups of students in one classroom – and having teachers move from classroom to classroom instead – is another mitigation strategy that would help protect the adult staff.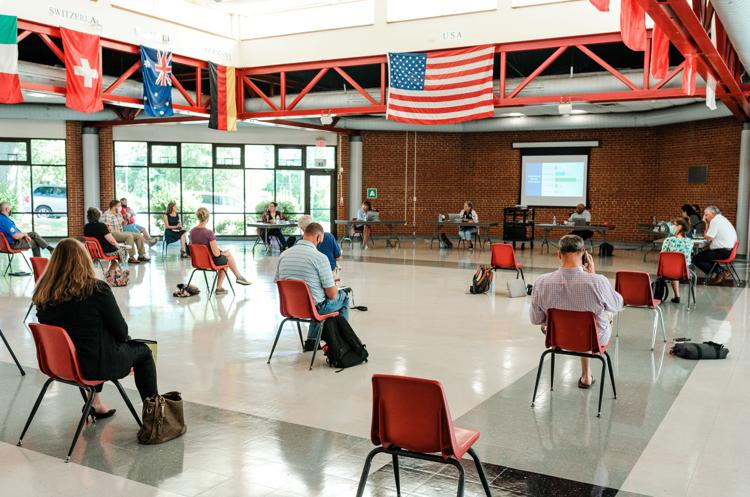 "I think one of the most important things to remember is that although we have seen severe disease with COVID-19, 80% of people who get sick will have a mild illness," Achter said, adding that physical distancing – and the use of face coverings in some cases – will be important to keeping staff members safe and reassuring them that it is safe to return to work.
Both epidemiologists, however, emphasized there are a number of factors in determining individual risk factors.
Farrell, for instance, said his mother is a second-grade teacher. Litter-Reber asked him if he would feel comfortable with his mother returning to the classroom under the present circumstances, especially, she said, since physical distancing among young children would be difficult to enforce.
"She is in that, I would say, the higher-risk category … I would not want her to be around kids," he responded.
Lauren Brill, the president of the Fauquier Education Association, said Friday that the organization still supports a two-days-a-week "blended" model with half of each schools' students attending class in-person for two days and working at home for three.
"Overall, [the new survey] did answer the question about the four-day proposal. However, they did not have as large of a turnout in response to the survey this second time," she said, adding that she wants to see a more specific breakdown of the data before commenting further.
She did say, however, "[I]n regards to the masks … our county educators are definitely hoping that this will be required and implemented."