For anyone who had read the Fauquier County Public School's dense 88-page Path to Reopening Plan, there were few surprises revealed at the school board meeting Monday night – until the last minute of "roundtable" time, four-and-a-half hours after the meeting's 6 p.m. start. 
School board member Suzanne Sloane (Scott District) announced that the Virginia High School League had voted on a condensed school sports schedule Monday. She said that the first high school sports season of the school year will include "winter" sports (basketball, indoor track, swimming, wrestling) and would begin Dec. 14, with the first contest date Dec. 28. 

Sports usually held in the fall (football, cheerleading, cross country, field hockey, golf and volleyball) will begin Feb. 15 to May 1, 2021. The first contest date would be March 1, 2021.
Traditionally "spring" sports (baseball, lacrosse, soccer, softball, tennis and track and field) will be held April 12 to June 26, 2021 – after the last day of school. The first contest date in the spring will be April 26, 2021.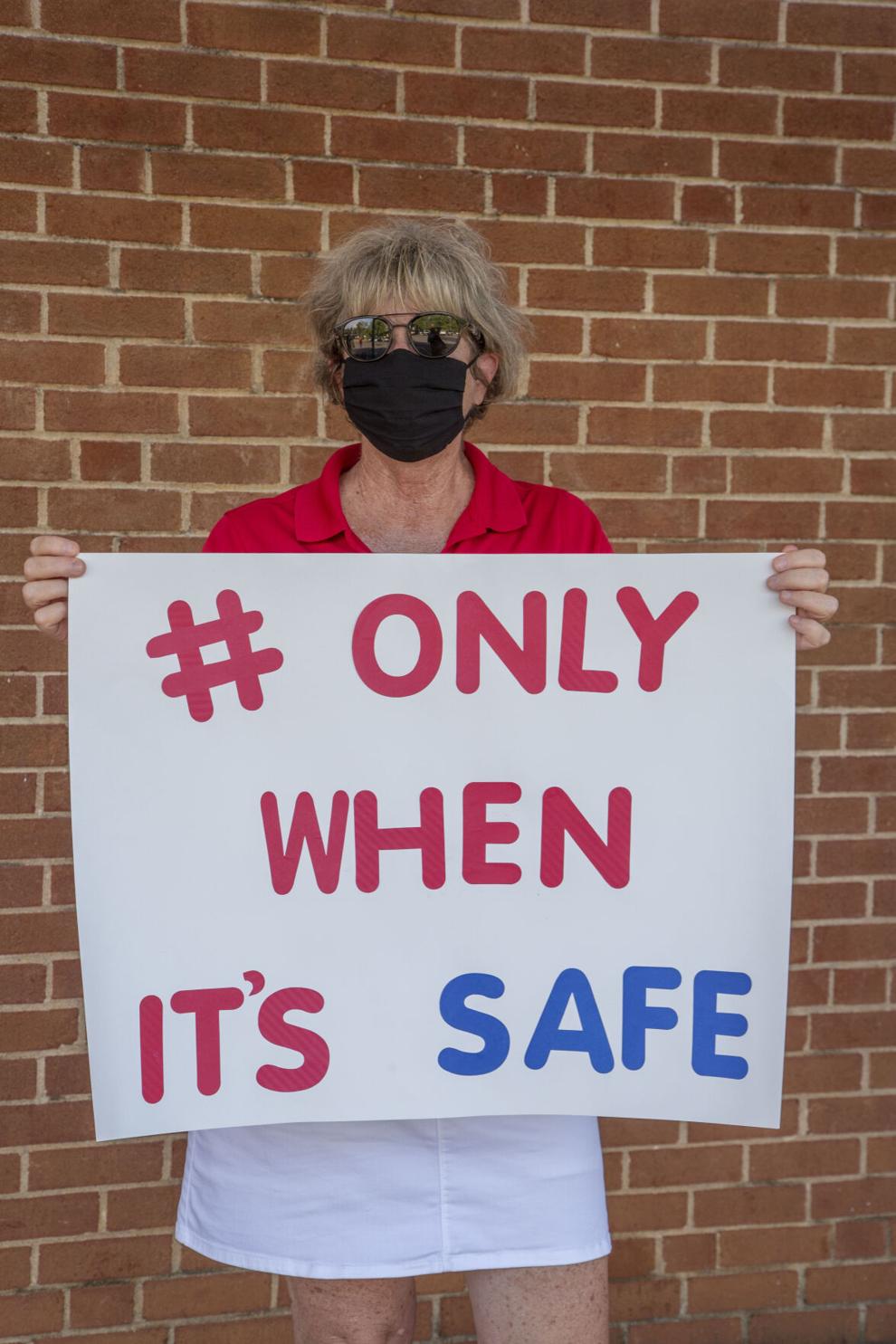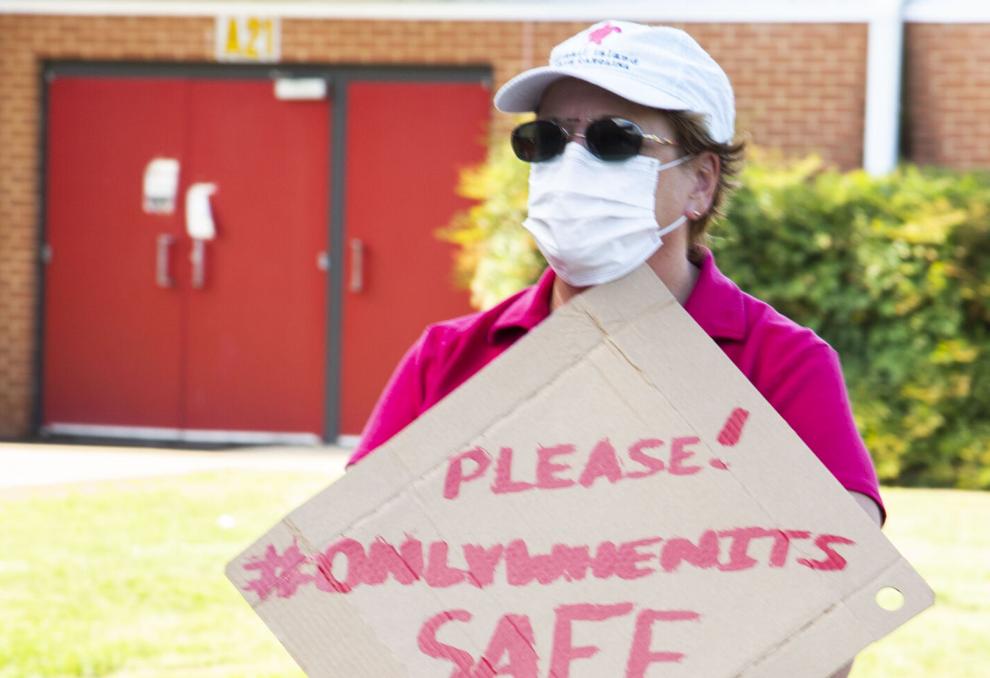 FEA demonstrates for 100% virtual learning
Out in front of Fauquier High School before the school board meeting, 40 or so members of the Fauquier Educators Association – all in masks – demonstrated their concerns with the blended opening that the school board approved at its last meeting. Karen Yergin, eighth-grade teacher at Auburn Middle School, said, "I just don't see how we can do it and still be safe."
Kirk Goolsby, who teaches at Northern Virginia Community College and is married to a Brumfield Elementary School reading specialist, argued, "virtual is the only practical way to do it." He predicted that once the schools open, if someone comes down with COVID, they'll have to quarantine the other kids in the class and the teacher, and everyone they've come in contact with. "It will go virtual anyway, very quickly," he said.
Annaliese Goolsby, 11, who attends Brumfield Elementary, said that she "misses her friends, but it's not worth getting sick."
The reopening plan was revealed in painstaking detail Monday night, but the school administration is braced for hundreds of more questions about specific circumstances. From rules about mask-wearing to accommodations for children in the special education program, principals and department heads laid it all out for school board members and about 40 in-person attendees. The meeting was also livestreamed.
Parents may access the recorded meeting at FCPS1.org. The Path to Reopening document and other details are available on a special website devoted to the reopening -- http://www.fcps1reopen.org. Parents may submit their questions under the FAQ section of that website.
Rappahannock-Rapidan Health District epidemiologist Daniel Farrell and population health expert April Achter were at the school board meeting to answer questions about opening schools while the novel coronavirus is still active. Achter said, "We will have cases in the schools, but we don't recommend a complete shutdown when that happens. If we close classrooms because of one case, we might as well not open."
She stressed, "Hygiene is important, but person-to-person spread from close contact between people is most common. The most important thing is to keep people physically distant from one another."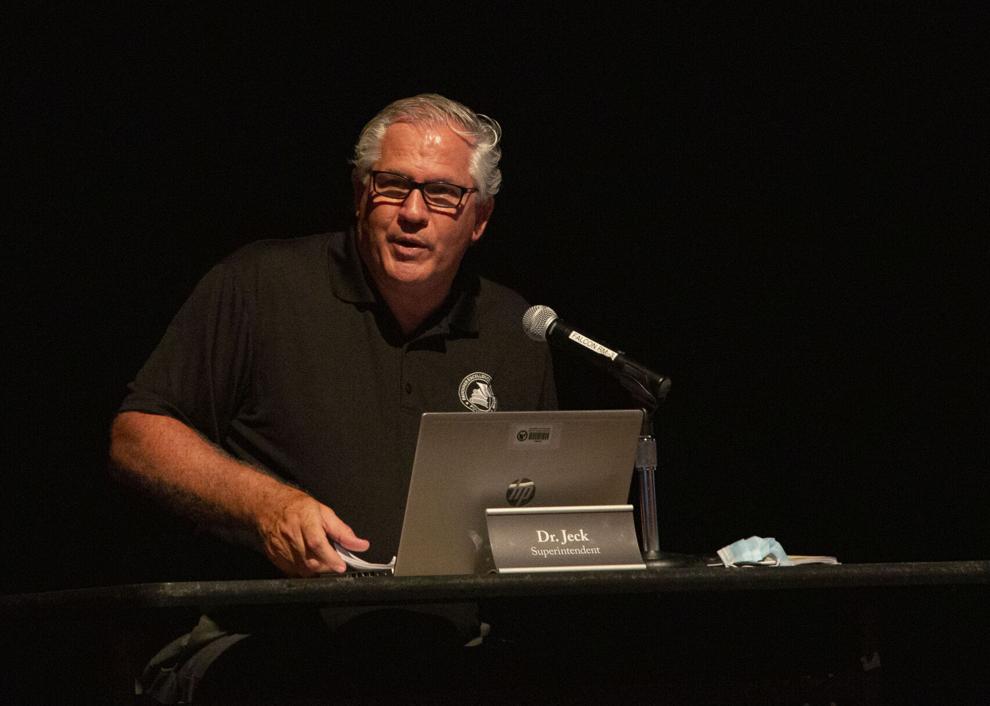 Highlights from the FCPS reopening plan
The first day of school will be Monday, Aug. 24.
Those who choose to participate in in-person learning will be grouped (group A or group B) to attend either Monday and Tuesday or Thursday and Friday. Grouping will be done by last name. Wednesday is a remote day for all, when teachers will offer remote assistance during office hours.
K-12 students working in the Alternative Standards of Learning (ASOL) curriculum will attend school four days a week. K-12 students working in the Standards of Learning(SOL) curriculum will follow the AA/BB blended schedule.
On Wednesdays, classrooms and common areas will receive a thorough cleaning; teachers will hold office hours to help students and will receive professional training.
In-person days will be mostly structured like normal school days, into periods for middle schoolers and block for high schoolers, for instance.
Mountain Vista Governor's School will begin with online instruction starting Aug. 10 as previously scheduled. Graded instruction will begin August 17. MVGS is tentatively planning to start a hybrid two-day face to face model in September. MVGS instruction will be scheduled for the mornings to allow for student participation in other courses third and fourth block on their designated days as is typical practice.
Teachers will receive free child care for any child between the ages of 4 to 11, while they are teaching in-person classes. About 400 children will need child care, according to current estimates.
All students and staff will be required to wear face coverings while at school. Students will also be required to wear a face covering while riding the bus. FCPS staff will address any concerns about meeting this requirement on a case by case basis. 
All students and staff will maintain social distancing to the extent possible. The goal is to maintain a minimum of 6 feet of social distance, but FCPS cannot provide any assurances that this is possible at all times. 
When transitioning students from class to class, student release from the classrooms will be staggered so fewer students will be in the hallways at the same time.
Depending on the school, the goal will be to have students eat in the cafeteria if social distance can be maintained.
In elementary schools, there will be a recess period every day.
Parents and students will be encouraged to access Blackboard for assignments and instruction. Through Blackboard, they may find links to other platforms. 
100% remote learners will be taught by FCPS teachers, who will be able to access Virtual Virginia materials to assist in their lessons. Pacing, assignments and grading will be through FCPS.
The emphasis will be on project-based learning, so that children can continue to learn and work on assignments when they are working virtually.
Virginia has lifted some state-mandated requirements, so schools are not expected to cover all previously required materials. Teachers may choose the most important concepts to focus on.
Students in grades three to 12 may choose a letter grade or pass/fail for their final grades.
7,800 Chromebooks and hundreds of internet hotspots could be distributed to students to help with remote learning.
All employees and students will be required to stay home when they are sick. Sick employees must leave school campuses immediately. Parents are advised to pick up sick students within 30 minutes. 
If students or staff arrive at the clinic, potentially feeling ill with COVID-19 symptoms, they will immediately be relocated to an isolation area so as not to "contaminate" the general health office space. 
Every clinic and isolation room will have a HEPA air purifier which filters up to 0.1 micron and will be effective in filtering out bacteria and virus. 
School nurses will have appropriate PPE, which includes gloves, mask, face shield and gowns. 
Teachers may contact the school nurse prior to sending the student to the office if they are uncertain or need guidance about student care. Nurses will give the student an appointment time or come to the classroom. Students should be triaged before they come to the clinic. 
School nurses will have a rolling cart to make classroom visits when necessary. 
Staff will be cross trained to assist in the clinic when necessary. 
If students or staff arrive at the clinic, potentially feeling ill with COVID-19 symptoms, they will immediately be relocated to an isolation area.
In order to prevent students from coming into the clinic unless absolutely necessary, parents are asked to give all medications to students at home. If a student needs medication during the school day, parents are asked to see if their physician will complete the self-medication form so the child may carry their own medication. 
Nebulizer treatments cannot be given at school this year because of the medications being dispersed in the air. Parents can talk with their physicians to get their child's treatment changed. 
On buses, students will sit one to a seat, alternating window and aisle seats. Students will enter buses from the back and leave from the front, to avoid passing one another as they come and go.
The limited seating on buses will require that buses make 40 to 50 double runs daily – bus drivers will deliver students to school, then return to neighborhoods to pick up a second group of students.
Every FCPS employee will be provided with two cloth masks and a reusable face shield. Employees who work in higher risk areas will have other PPE available for their use. 
Children and staff will be encouraged to limit sharing of any items in the school. 
All field trips are canceled until further notice.
More custodians will be hired to help keep up with enhanced sanitation measures.
More than 100 FCPS employees have contacted the human resources department regarding return-to-work concerns. Options for employees with concerns are:

Virtual assignment (Priority will be given to those certified employees with a medical condition or are considered high-risk under CDC guidelines. Medical documentation is required.)
Family and Medical Leave (Eligible employees may take up to 12 weeks of job protected leave for an employee's own serious medical condition or to care for a family member.)
Leave of Absence (Leave of Absence for the 2020-2021 school year) 
The school division will turn in its plan to the state next week, as required.