In true Fauquier County fashion, the most heated discussion during Thursday's monthly gathering of county supervisors revolved around a proposed roundabout; it would be at Brooks Corner, between Marshall and The Plains. At the end of the day, the Virginia Department of Transportation remains on track to approve funding for a traffic circle at the Va. 55 and Rt. 709 intersection near two public schools.
The project maintained official support from the county Thursday over the objections of Scott District Supervisor Holder Trumbo, who wanted more time to get affected landowners on board with the project. He also criticized VDOT for not reaching out to surrounding landowners and businesses, including El Agave Mexican Restaurant and the Fauquier Livestock Exchange, before slating the project for funding.
Other supervisors expressed skepticism at Trumbo's arguments, saying it was the responsibility of the county – not the state -- to reach out to affected residents and businesses before submitting projects for VDOT funding. They also argued withdrawing local support for the project would jeopardize future money from VDOT. Ultimately, no other supervisors joined Trumbo's effort to delay the project.
The intersection has been on the list of local priorities for years through a state program called SMART Scale; it is also in the county's adopted comprehensive plan. Most recently, it was approved in August 2020 as a priority, along with six other road projects in Fauquier County as part of supervisors' biennial priorities. A public hearing was held then, but no members of the public submitted comments. The resolution passed by four votes to none, with Trumbo abstaining.
In the SMART Scale program, local governments submit a list of road projects they would like VDOT to complete. The state then ranks the projects according to a scoring system, using traffic data, crash data and regional factors. The top-scoring projects are then completed on a six-year cycle using money set aside by the state government for the program.
Under new guidelines from the state legislature, VDOT recently updated its priority calculations to give more weight to rural areas in scoring potential roads projects. That change, along with the consideration of serious traffic crashes at the intersection in recent years, moved the project up on VDOT's priorities for funding, according to VDOT officials who spoke at a work session Thursday.
Trumbo said he was taken by surprise when, unlike in previous years, the Brooks Corner project scored highly on the state's scoring algorithm this January, making the project likely imminent – at least relative to normally slow-moving timelines of road projects.
In discussions with VDOT officials and other supervisors Thursday, he didn't deny the need for significant improvements to the intersection. Instead, he expressed dismay that VDOT didn't talk to the landowners around the intersection before scoring the project so highly. The list of SMART Scale priorities was approved by supervisors last year "without any inkling that [the Brooks Corner project] was going to move forward," Trumbo said.
The argument from Trumbo's perspective was that VDOT should have reached out to affected landowners before recommending the project for funding approval. VDOT officials, on the other hand, argued the public-input process that goes along with any VDOT project will take those concerns into account.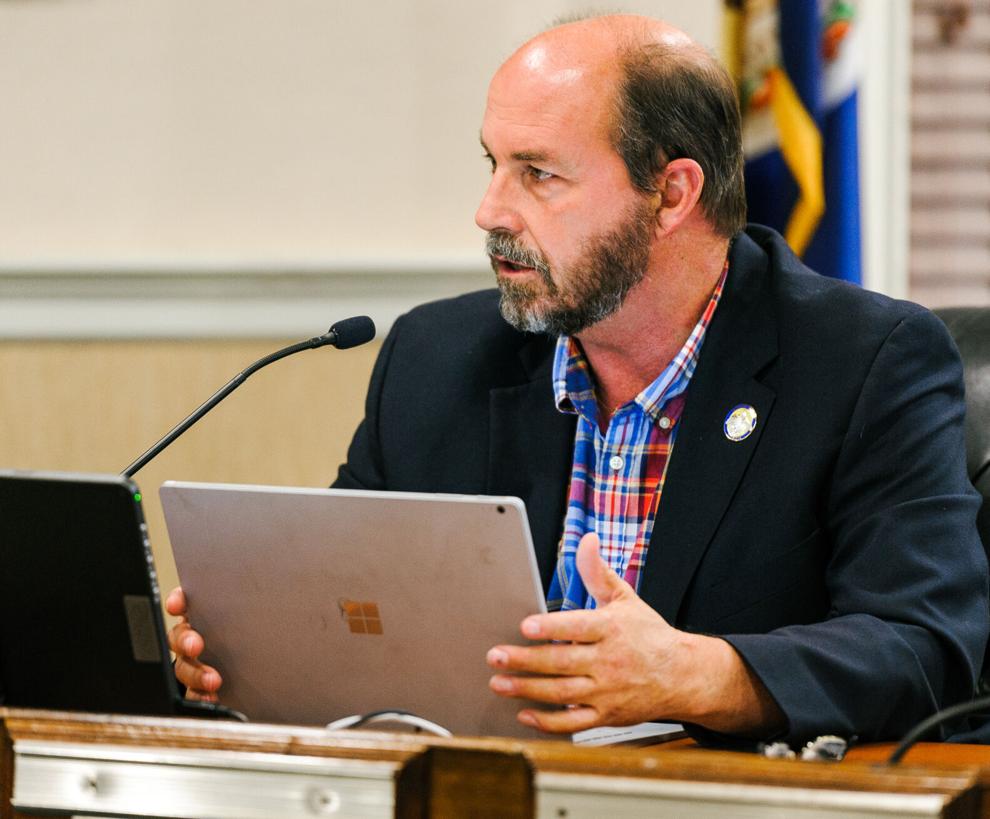 Trumbo said he is especially concerned about a roundabout's potential effect on El Agave Mexican Restaurant, located a few feet away from the intersection on the southeast corner. The rendering included with the county's funding application shows a single entry point from Belvoir Road, to El Agave's small parking lot. A single exit would be provided to Va. 55 eastbound. The roundabout could squeeze the restaurant's limited parking, Trumbo said, and make it more difficult for customers to get in and out.
"I've got a business right on the corner of the intersection that is just afraid for their lives," Trumbo said Thursday evening, in reference to the restaurant. "I don't want to be on record as the guy to put a business out of business."
At an earlier work session, Trumbo pressed VDOT representatives Mark Nesbit and Charles Proctor on the issue. "I appreciate the fact you have reconfigured the way you score projects that work in our favor, that's great," said Trumbo. "The problem I have is here is this has caught a lot of people off guard. The folks, for instance, at all four corners had no idea any of this was going on. I've gone out and met with all the property owners and they are very concerned that they don't know anything about this."
He continued: "I don't think anyone is saying, 'Don't build the roundabout here.' I think what they are saying is, 'We'd like to have the ability to give feedback and input and make sure it's done in a way that, while it improves safety, it doesn't provide other problems for the community.'"
Nesbit, a VDOT engineer who oversees projects in Fauquier, Culpeper and Rappahannock counties, assured supervisors the design process will allow opportunities for affected residents and businesses to weigh in. "It's a matter of working through the design and working with the property owners to try to come up with a design with the least impact while still meeting the intent of the application," he said, noting the rough design outlined in last year's SMART Scale application is in no way set in stone.
Nesbit said the reason the SMART Scale program requires localities to submit priorities is so local officials can get public input in their jurisdictions. "That's why we ask for a resolution that – I think a public hearing is a part of it. We could certainly be a part of that … to make sure there is buy in. We could certainly be a part of that in next year's process."
Trumbo pushed back, arguing, "we'll never know which [projects] might jump to the top of the list. … That's not predictable. That's not good process," again claiming VDOT should have been more proactive in reaching out to the county government and local residents during the scoring process late last year.
Board Chairman Chris Granger (Center District), like other supervisors, told Trumbo he empathized with his desire to make sure the people affected by potential road projects were consulted to make sure projects have the least negative impact possible. But Granger said he was reassured by the public-input process VDOT is required to follow during the design process.
This situation, he added, should be the impetus for supervisors to do more local outreach when considering projects to add to the county's priority list. "I think it's just a commitment that we're going to have to make to ourselves and our residents that, even if we think it's a long shot, that we have a list, we have open houses in our communities, and we say we're thinking about putting these projects on so that people are aware," he explained, emphasizing the need to work with VDOT "in good faith."
Supervisor Rick Gerhardt (Cedar Run District) argued in a similar vein. "The issue is: we, the county, kept it on the list," he said. "The communication could have been much better than it was, and that certainly sits with VDOT," acknowledging the alternative perspective on the issue offered by Nesbit and Proctor. At the end of the day, he said, "If we turn this back, in my opinion, I feel it jeopardizes other opportunities from VDOT."