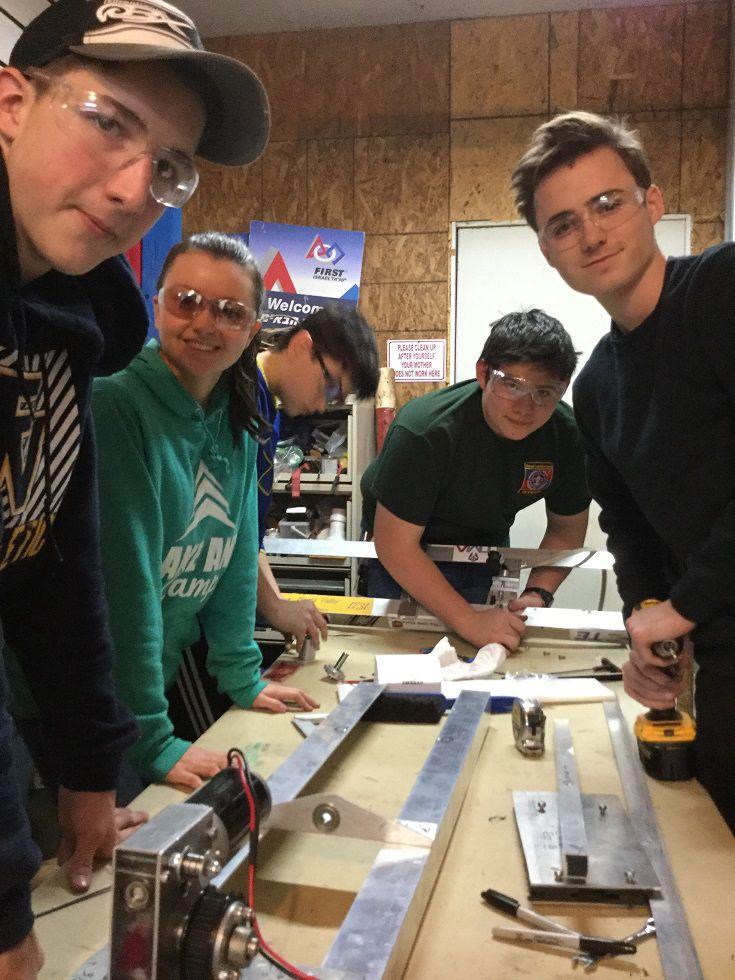 On April 13, the 58 best robotics teams from Washington D.C., Maryland and Virginia competed in the For Inspiration and Recognition of Science and Technology Chesapeake District Championship competition, held this year at George Mason University. Fauquier sent one team: the Fresta Valley Robotics Team 1731 from Marshall.
Robotics is a kind of engineering that involves designing and building robots. School robot-building programs have gained in popularity across the globe and competitions are now offered by several nonprofits; FIRST may be the largest.
FIRST was founded by Dean Kamen, the inventor of the motorized scooter known as the Segway. Kamen said on his website that FIRST seeks to expose boys and girls to the real-world use of STEM subjects (science, technology, engineering and math) and encourage them to move into the field.
Boston-based FIRST describes the competition this way: "Under strict rules, limited resources, and an intense six-week time limit, teams of 20 or more students are challenged to raise funds, design a brand, and build and program industrial-size robots to play a difficult field game. It's as close to real world engineering as a student can get." Currently, there are more than 4,000 registered FIRST teams worldwide.
To be able to compete at the Chesapeake District Championship earlier this month, Team 1731 beat Highland School's team (the only other Fauquier County school with a robotics team), Battlefield Robotics in Haymarket, and a long list of top-notch contenders from elsewhere in Virginia, D.C. and Maryland.
"Fresta Valley [Christian School] was the first school that contacted us after we sent letters offering to begin a robotics club," team founder Brent Leppke explained last week. "They were very excited about the idea."
Fresta Valley is a 300-student school in Marshall that serves children pre-kindergarten through 12th grade. The school provides administrative functions and serves as the team's namesake. Team 1731 (the 1,731st team to register with umbrella organization FIRST) is comprised of Fresta Valley high school students, some home-schoolers, and other locals who have applied and been accepted. Leppke said his criteria for acceptance is degree of interest in the project. His teams have numbered between 15 and 25 members.
Leppke, a full-time Raytheon employee, along with fellow mentor Tim Stevic, a full-time employee with NTT Communications, conducted a tour through the barns at Leppke's home in Midland. It has been team headquarters – robot-building-central – for the last 14 years. Team members have disbanded for the summer, but come fall, Leppke's workshops start up and applications are reviewed for the 2020 team.
"Neal Farmstrong" stands against a wall in one of the barns. The robot is a square contraption on wheels -- all metal and bolts and wires; maybe 3 feet wide and 4 feet high. Farmstrong is the team's 2019 robot, built to accomplish specific tasks.
"This is the first year in four years that we haven't gone all the way to the international," Stevic said. "But it's not about winning."
Stevic and Leppke gain great satisfaction in seeing youngsters evolve as they participate in the program, especially if they ultimately choose engineering as a career.
"[For each competition] we set up like a corporation," Leppke said about his teams, which had a male to female ratio of 75 to 25 this year, up to 50/50 other years. "This year Miranda Cullison was the CEO," Leppke said. Others took on the roles of engineering director, software director, a media/PR person, banners and graphics, finance manager and mechanical lead. Students have to visit corporations – armed with a PowerPoint presentation -- to raise funds, Stevic added, and the kid with the best grasp of the entire project represents the team to judges at the competition.
"The cooperative spirit that exists [at the competitions] is unbelievable," Stevic said. "The kids are always standing up to help each other, helping other teams, and sharing material. Everybody gets along. It's super intense – the kids sing songs and wear masks – but it's not hyper-competitive."
Leppke said the annual budget for the team tops $25,000, all of which is raised from donors to cover materials, travel and expenses. He set up a nonprofit called VirginiaSTEM.org to accept donations.
"We couldn't do this without the group of mentors we have," Leppke added. "That's what makes our team especially strong." FIRST encourages mentorship as the best way to learn, he said.
The engineering challenge
Stevic played the three-minute animation that announced the 2019 game. "Everyone around the world sees this at exactly the same time," he said. "This year there was a spaceship theme."
The students must create a robot that can perform actions shown in the "game."
"A game starts with 15 seconds of autonomous time, where the robot is doing stuff by itself. Our robot had to deal with its vision cut off from a sandstorm… There are two minutes when three robots are challenging each other -- offense and defense," Stevic said,
"What's cool about these competitions is that we all get the same problem," Leppke said. "And have basically the same materials to work with, but the approach to solving that problem is so different!" He said their robots use the same programming code and mechanical parts that NASA uses. "We had a government engineer come in who talked about the MARS probe, and all the different components, which are the exactly the same components we have on our robots. And they have the same constraints, like they can only weigh so much, and they have issues with batteries, and such."
"[Building robots] takes the mystery out of engineering," Stevic added. "Engineering is nothing more than solving a problem with materials that you have on hand."
"The games are well-designed," Stevic said. "Disney and Lucas films have gotten involved this year, so I have a strong feeling that our game is going to get upped in terms of creativity and strategy."
"My favorite part about the team is we can all have a ridiculously joyful time together while still getting loads of work done," 2019 team member Stephen Hamilton said in an email.
The 2020 competition video will debut worldwide at 10 a.m. on Jan. 6, at https://robotics.nasa.gov.
To apply to be on the team, email Team1731@gmail.com.
For more information on local robotics teams, check out FirstChesapeake.org.
Reach Karen Chaffraix at kchaffraix@fauquier.com