The year was 1967. Rick Koehnke was executing his ninth Air Force mission to take down the Paul Doumer bridge in Hanoi, the capital of Vietnam, which would off a major route for communist troops and supplies.
He remembered, "We were sent into the ring around Hanoi. There were 16 aircraft; I was third. After attacking the AAA [antiaircraft guns] sites at the end of the bridge, I was flying at 550 knots, 1,000 feet off the ground with antiaircraft missiles shooting at us. And all I kept thinking was, 'Their aim is off.' It's incredible the things that went through my mind in those moments. All those AAA and missiles exploding above me went past me!"
Koehnke survived this and 284 other missions during two Vietnam tours and retired after a career in the Air Force.
Koehnke left the Air Force at age 58 after 31 years of service, when his first wife became sick with cancer.
Today, he lives a peaceful life with his wife, Peggy, and their dogs, and enjoys time on his sunporch enjoying the passage of each season and telling stories from his days in service.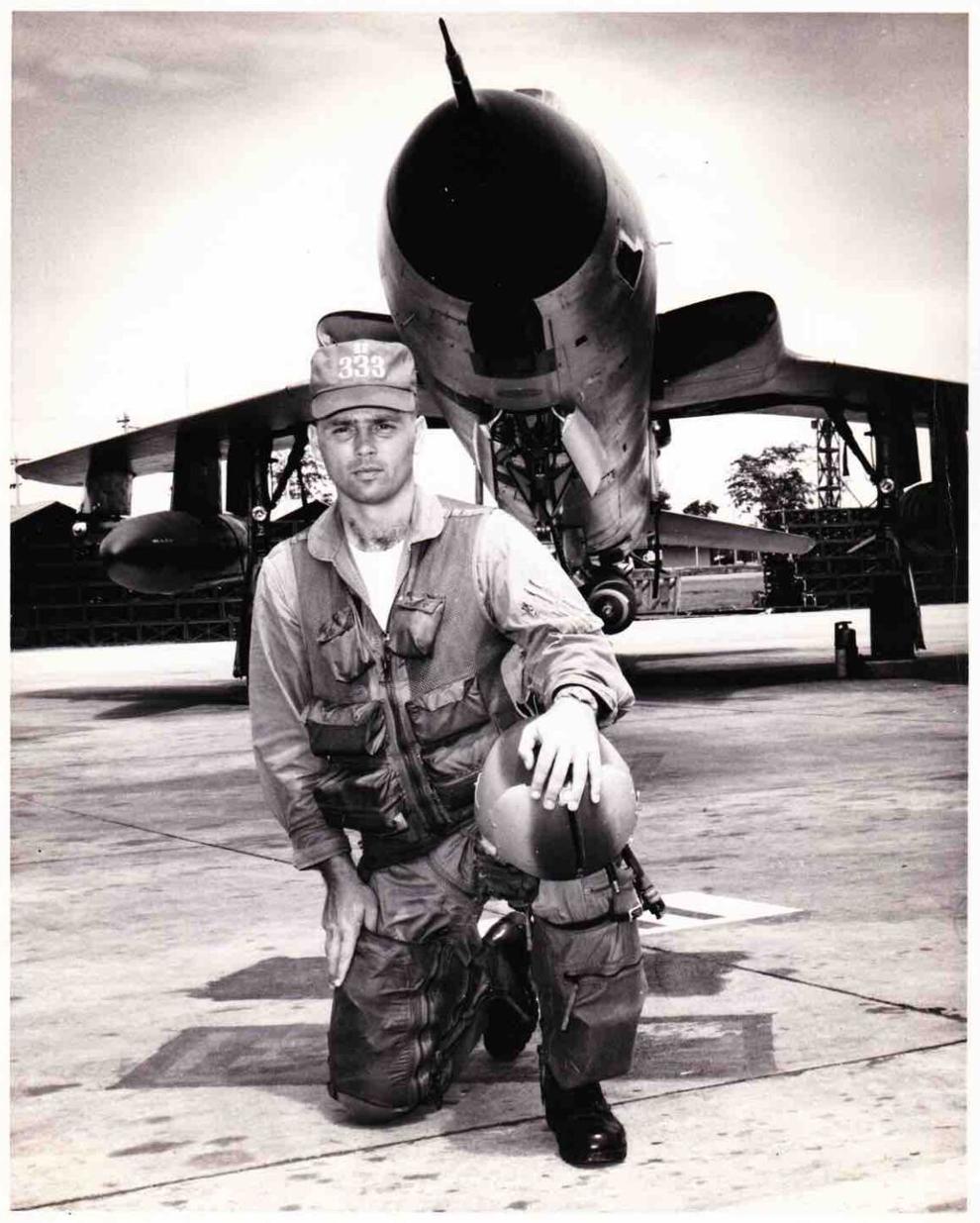 Early days
Koehnke decided he didn't want to sleep on the ground in the jungle and eat C-rations like his three cousins who were Army rangers and parachuters. He said he preferred to complete his mission and return to base at the end of each day to go to the club for something decent to eat.
He entered the Air Force in December 1959 and when he completed his training, he selected the F100 Super Saber for his first operational aircraft and was ultimately assigned to the 523 Tactical Fighters Squadron.
Six years later he was assigned to fly the F105 Thunderchief in Bitburg Air Base in West Germany. There, he transitioned to the F4D Phantom.
His next assignment took him to Southeast Asia and Da Nang Air Base to fly the F4 for Operation Rolling Thunder, a gradual aerial bombardment campaign over Vietnam with a mission to destroy infrastructure.
The Rolling Thunder bombing campaign began in 1966 and continued until 1970. Koehnke participated in both Rolling Thunder, flying the F105 against North Vietnam supplies and material, and subsequent Campaign Line Backer, flying the F4 in support of the B52 operations.
In all, Koehnke flew 450 combat hours during 285 combat missions over Southeast Asia during his two Vietnam War tours. He flew F105 and F4 aircraft. When asked which he preferred, he said, "The F105, because she always brought me home."
Meritorious medals
Koehnke was awarded several medals for his meritorious performance during his time in Vietnam. "These medals," he commented, "for many of them, you are just trying to get out of a situation alive. Drop bombs and get out."
He received the Silver Star for a mission to bomb a triple 85MM AAA gun site. "I was bombing the site with proximity fuses, but I didn't roll in. I was knocked in," he said. An 85mm went through his wing tip and the second one lodged in his fuel tank, which caught fire. "To get out of the situation, I needed to drop my bombs and head out. I hit my target."
Although on fire, Koehnke didn't have concerns about the aircraft exploding. "They didn't blow up much. At those speeds with the air coming in at them, it kept the fire contained."
On more than one occasion, Koehnke's aircraft was hit by antiaircraft fire or clipped by his fellow pilots, which caused fires. "Early in my tour at Takhli, a friend told me, 'if hit and burning and heading in the right direction, stay with the aircraft until the soles of your shoes melt.'"
Koehnke was confident in the high-grade steel of his F150. "She was meant to take a hit or two and keep going."
War contributions
Koehnke made valuable contributions during the Vietnam War. When the North Vietnam attacked the south, they engaged the US Marines at Hill 882. The problem was that all the helicopter landing zones were defended by the Vietnamese. Koehnke devised a solution to drop two proximity fuse bombs sequentially to clear new landing sites. After proving successful in an area thick with jungle on the Thailand and Cambodia border, it was used multiple times with success in South Vietnam.
After the war, Koehnke was given a project to streamline the F4 cockpit. He helped to add the 556 modifications to the F4, also referred to as the pinkie switch. This modification added a switch on the outside of the pilot's left throttle and enabled the pilot to select which air-to-air the pilot desired and removed the need to look into the cockpit for the proper switch, a movement that could result in vertigo.
This project and its operational concept became named HOSAT, Hands on Stick and Throttle. The HOSAT operational model has been used in all new fighter cockpits since.
No hero's welcome
While Koehnke is proud of his service days, he did not return home to a hero's welcome. "My kids were 7 and 5 years old when I came home. They had red paint thrown on them and were told their father was a baby-killer. We experienced all the anger that had been growing back home, while we were half a world away doing what we were told to do," he recalled.
His disappointment extends to the Vietnam Memorial. "I don't like how it is hidden from the road. As if the Vietnam soldiers should be put away and forgotten."
But a statue of three soldiers and one of the Vietnam nurses resonate for him. "I rode with three nurses in Vietnam who I knew from Germany. I will never forget the expression on their faces. It was as if they had lost all emotion. One told me that she held a young man as he died in her arms, a young man who she had babysat for back home. I don't know how they did what they did every day," he said.
Despite hardships, Koehnke enjoyed his Air Force days. "We only worked half days," he joked. "Twelve hours is half-a-day."