Music roared and emotions soared at the annual Relay for Life event at Fauquier High School Saturday, June 1.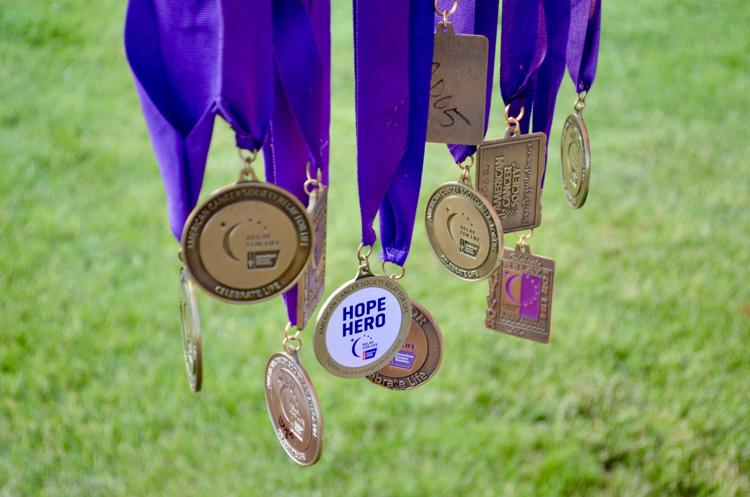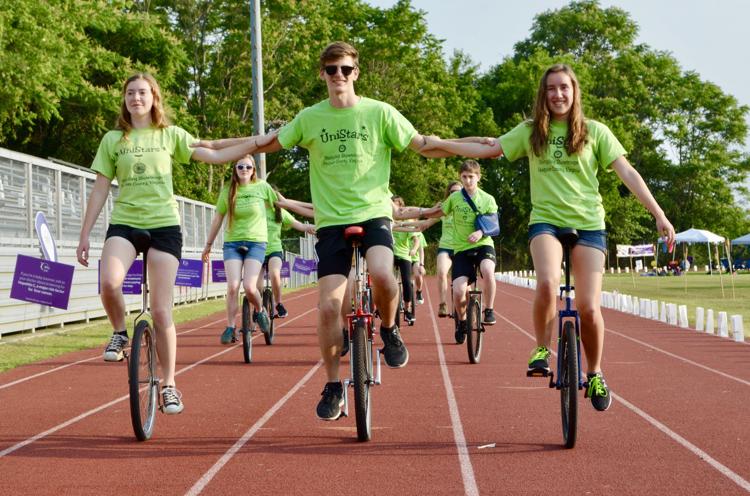 From 4 p.m. to midnight at the school's outdoor track, participants walked in support of those who are currently battling, have battled or have died from various forms of cancer. For more than 20 years, local groups and individual participants have been supporting the American Cancer Society through the event.
This year the usual 12-hour walk was shortened to eight hours in order to encourage more participation, according to Aimee Nuwer, senior community development manager with the American Cancer Society. Nuwer, in her first year with Fauquier's chapter of Relay, added that organizers are trying to get more youth involved.
"From what I've been told, the event has decreased in size a little bit but there's still many opportunities for us to grow the event back up to where it used to be," Nuwer said. "I don't plan on leaving, so I think that having some consistency is going to help. I am on a mission to grow this event."
One of the "Eight Hour Walkers," those who walk the entirety of Relay, has been participating for six of the 19 years he has lived in Warrenton.
"I walk for my mother and sister who died from cancer," James Thomas said. "It's kind of scary when you hear something like that. [You wonder] if they're getting any better or finding any more cures."
Thomas wishes more people would volunteer to help at the event, pointing out that the usually full bleachers were empty for most of the event.
"I was kind of surprised when I heard it was shortened to eight hours," Thomas said. "It'd be great to get more walkers out here."
At 5 p.m., a survivor's reception was held inside the school. Sandy Shipe, director of cancer services at Fauquier Hospital, delivered a prayer and brief speech before the attendees dug in to homemade dishes .
"The staff that you see in [the reception] are all Fauquier Health staff helping serve," Shipe said. "The reception is for survivors and their caregivers to attend and it's just to honor them ... so they can be celebrated."
Following the reception, the survivors and their caregivers who attended the reception were encouraged to walk to the track for a special part of the night's festivities: the survivors' walk.
Around 6 p.m., Relay For Life attendees were asked to move to the bleachers. Hand in hand, Karen and Tommy Grioli hoisted the tiki torch used to light the "Torch of Hope," a symbol of optimism for those with ties to cancer, whether they have been diagnosed, have defeated the disease or know someone who has.
The pair completed their lap, followed by the rest of the survivors and caregivers in attendance.
"Real Men Wear Pink" is a fundraising competition to support those affected by breast cancer. John Ferguson won the competition in 2018 by raising $7,711.
"It's our job to do all we can as our brothers and sisters ... to raise money to help find a cure for this deadly disease," Ferguson said. "Just like cancer can come back, I'm coming back next year to Real Men Wear Pink to see if I can raise over $10,000."
The luminarias, paper bags decorated in honor of those who have died from cancer, lined the track and were lit at 10 p.m. Attendees participated in a 10-minute moment of silence to reflect.
In total, $68,194.50 was raised by community members and supporters of the cause. The top fundraising team was Warrenton Presbyterian Church Youth with a total of $14,651.01, far exceeding the group's $1,000 goal.
Nuwer said Relay For Life is a "celebration" of the fundraising done for the American Cancer Society in the past several months.
"I think that Relay for Life is really good for communities to come together in the fight against cancer," Nuwer said. "Most people have been touched by cancer in one way, shape or form ... it's like that, 'I've been there,' feeling."