Teacher pay and financial support for the school division dominated a public hearing Tuesday night on the proposed fiscal year 2020 Fauquier County budget. Support for the school division is the largest expenditure in the county budget.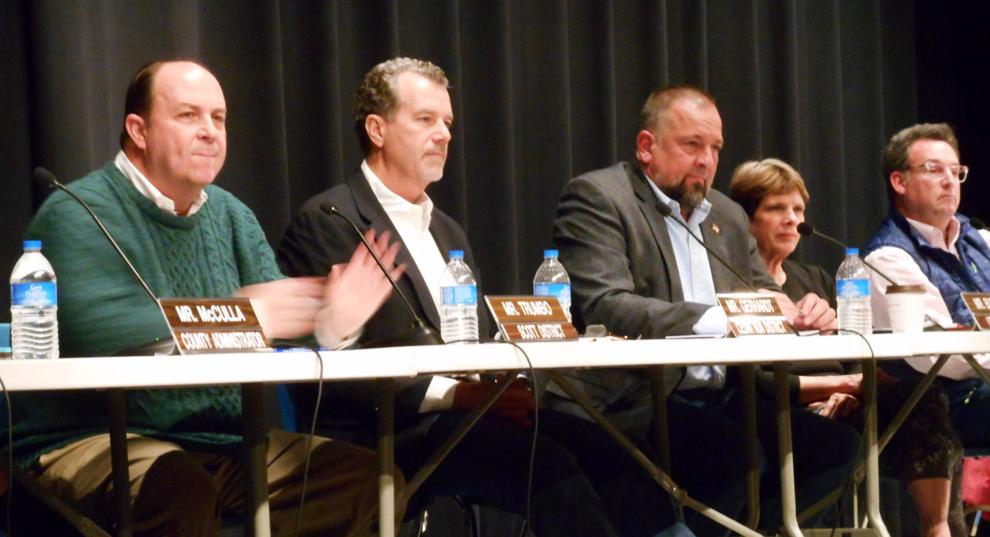 Forty-five of the 46 speakers addressed the school funding issue during a two-hour, 20-minute hearing hosted by the board of supervisors in the auditorium of Fauquier High School. Many speakers were dressed in red T-shirts emblazoned with the phrases, "I Am A Teacher" and "Advocating for Change." At least one school principal and a guidance counselor spoke. Several students told the county supervisors about the impact that teachers have had on their lives.
Ann Kloeckner, executive director of Legal Aid Works, was the lone speaker not there to talk about the schools. She thanked supervisors for their past financial support of the regional legal service for poor residents who need help in non-criminal cases. She was seeking continued support of the program.
School Board member Duke Bland (Marshall) expressed thanks to the supervisors for "keeping the lines of communication open" on the school budget request. He singled out Supervisor Mary Leigh McDaniel (Marshall) for discussions she's had with him. Though the school division would get another $3.4 million, mainly from new state funding, in the county budget submitted by County Administrator Paul McCulla, is about $1.4 million short of what Superintendent David Jeck requested and the school board approved. 
Dr. Thomas Valk, of the Fauquier Taxpayers Association, was one of the evening's speakers. He said that the association "fully supports the board's withholding some of the $1.4 million not aimed at our teachers," as a move to "get our schoolhouse in order."
He noted discussions about middle school upgrades or construction of a new school in Warrenton have been going on for a decade without end, as maintenance costs have increased. He said that consideration of selling surplus property to help cover costs is a good sign.
Shelly Norden, a Kettle Run High School teacher who just announced she's running for the Scott District seat on the Fauquier School Board this year, said that although teachers were happy to receive a 3 percent raise last year, central office staff and administrators received larger percentage increases. She said new, non-teaching positions were created and filled, while "nothing was done to address the compression issue with teachers." Pay compression occurs when there is little difference in pay between employees, regardless of their skills or experience.
Several speakers noted 12 percent of Fauquier teachers left the school division at the end of the last school year, many to take teaching jobs offering higher pay elsewhere.
Sally Murray, a Center District resident, said she was personally willing to pay more in property taxes to fully fund the requested school budget, though both she and her husband are retirees on a fixed income.
Another speaker said she was willing to immediately give $45, which she said would represent the increase in her real estate tax bill should the tax rate be increased to fully fund the school budget.
A speaker said the state's use of the composite index to allocate state funds for education hurts Fauquier because of the amount of land in conservation easement that's taxed at less than market value. She noted the Fauquier supervisors have lobbied to change that method of state support of education.
Another speaker said the county's tax base needs more diversity. At present, "funds are raised on the backs of homeowners primarily," he said. How much a taxpayer can write off on the federal return is lower now, he said.
The supervisors and school board will meet in a combined work session at 4 p.m. on Thursday, March 14 in the Warren Green building, 10 Hotel St., Warrenton, to discuss the school budget request. The supervisors are scheduled to approve a new fiscal year budget on Thursday, March 21.
The proposed operating budget for the fiscal year starting July 1 calls for $331.3 million in total expenditures. The supervisors will also consider a $64.5 million five-year capital improvements budget. The board will also set the tax rate. A 1.2-cent increase in the fire and rescue levy fund is proposed.