Esgar Gutierrez Covarrubias, 18, a recent graduate of Fauquier High School, died July 18 when he fell 40 feet from the top of a waterfall while hiking in Shenandoah National Park with a friend.
Tara Helkowski, spokeswoman for the Fauquier County School Division, said that school officials had been contacted and they had reached out to the family to express their condolences.
Facebook comments offered prayers to the family. One friend wrote, "Our school community is sad as we are grieving the loss of one of our dear students.
"Dear Esgar, you are far from our sight now, but not from our hearts and thoughts that with the eyes of our souls we will always see you near us! You brought joy and light to our classes and your gentle smile and caring heart will be greatly missed. We know you are in God's care now and that is how it should be.
"Rest peacefully in heaven fine young man! Our thoughts and prayers are with the family."
A former teacher commented, "Esgar was such a sweet, kind young man! I was blessed to have him as a student. My heart goes out to all who knew him for he will be missed."
Sally Hurlbert, management specialist at the park, said that Gutierrez Covarrubias and a friend were hiking off the Whiteoak Canyon Trail, above Upper Whiteoak Falls, when Gutierrez Covarrubias apparently slipped on some wet rocks and fell to the base of the waterfall. The other hiker, who was not identified, tried to reach his friend, but also lost his footing as he climbed down toward the bottom of the falls.
Hurlbert said that park authorities received a call at 7:15 p.m. and a rescue team of park rangers with advanced life support expertise responded, traveling along a fire road near the trail. The falls are 2.3 miles from Skyline Drive, but the fire road runs near the top of the waterfall.
When rangers arrived, said Hurlbert, they found bystanders performing CPR on Gutierrez Covarrubias. The rangers took over the life-saving efforts, but eventually pronounced Gutierrez Covarrubias dead at the scene.
Rangers carried the other injured hiker out on a litter. Hurlbert said the young man was taken to Paige Memorial Hospital in Luray with non-life threatening injuries.
"It was a difficult rescue," said Hurlbert. The road wasn't too far from the top of the waterfall, she said, "but they had to get them from the bottom of the waterfall where they fallen to the top, in order to access the fire road."
She said that 27 volunteers and park rangers were involved in the rescue.
Hurlbert described the death as tragic. "Only 18… he had so much more life to live."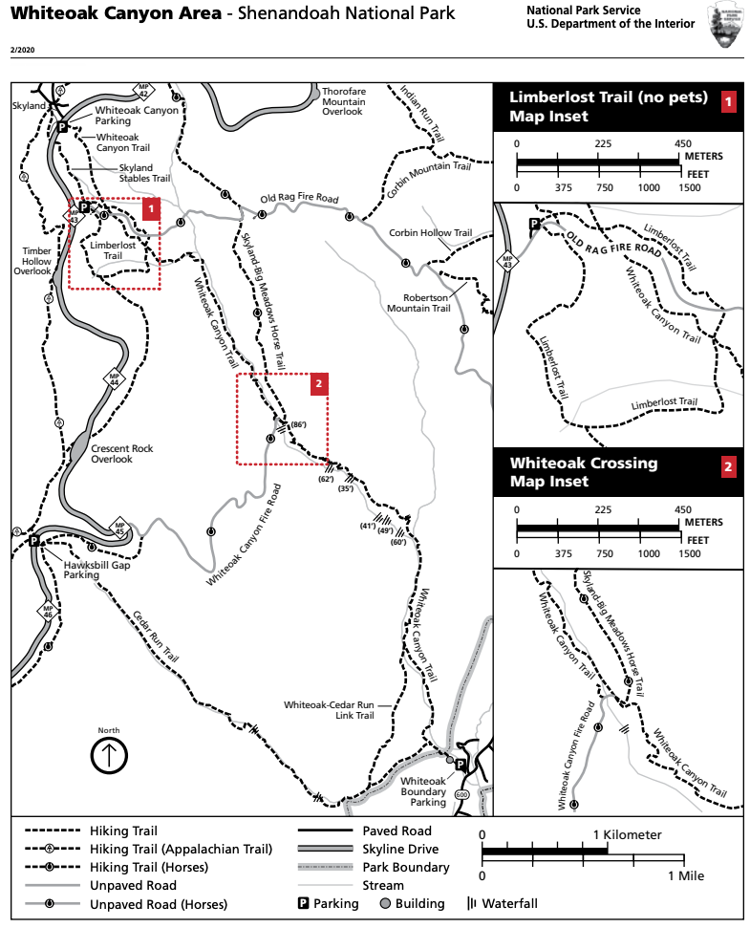 She said that the area around waterfalls is often slick. "Those rocks are always very slippery because of the mist from the waterfall." She said it was not the first fatality at the park around a waterfall.
She said an investigation was held, but she is not sure how the young men got to where they were when they fell. "They were definitely off the trail." The description of the hike on the Shenandoah Park website describes the hike as "very steep" in parts.
Hurlbert asked that visitors to the park stay on trails and not extend themselves more than they are comfortable doing, particularly when the COVID-19 pandemic is still active. "It puts rangers at further risk during this crisis."
She said that fatalities at the park are not reported to the public in an effort to protect the privacy of the person involved. She added though, that it may be time to rethink that strategy, as a way to prevent further tragedies. "If someone has a heart attack in the park, that doesn't need to be reported, but if reporting an accident like this one could prevent other accidents, that could be important."
Services were held for Gutierrez Covarrubias on July 23 at Royston Funeral Home in Marshall and at St. John Catholic Church in Warrenton.