There was much to celebrate in Middleburg Sunday, May 19, as the Land Trust of Virginia held its 21st annual garden party hosted by Mimi Abel Smith at Hickory Tree Hall on Hickory Tree Farm. The event was an occasion to cheer the conservation of land and historic farms and to honor those proactive in conservation efforts. The Land Trust of Virginia works to save Virginia's natural and cultural heritage.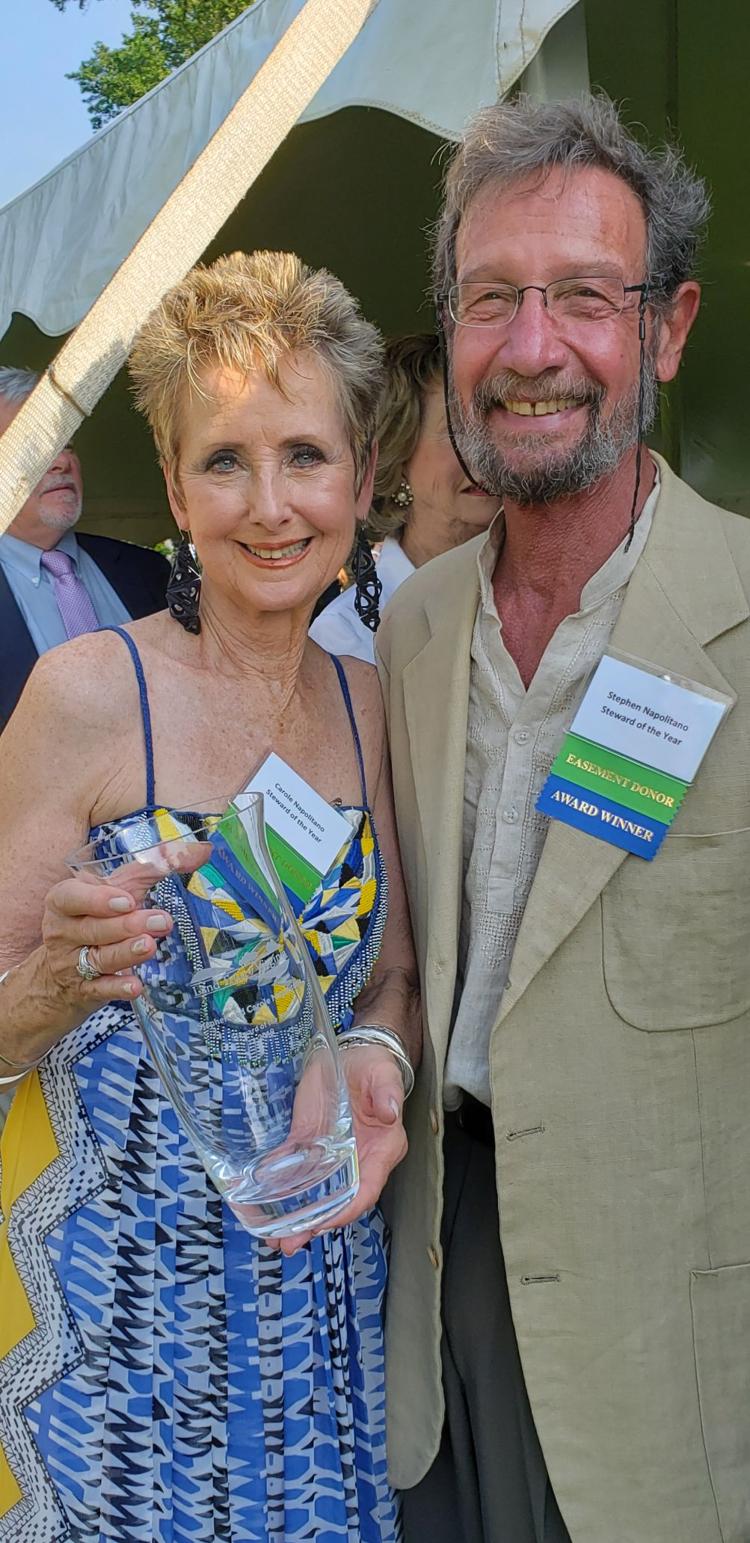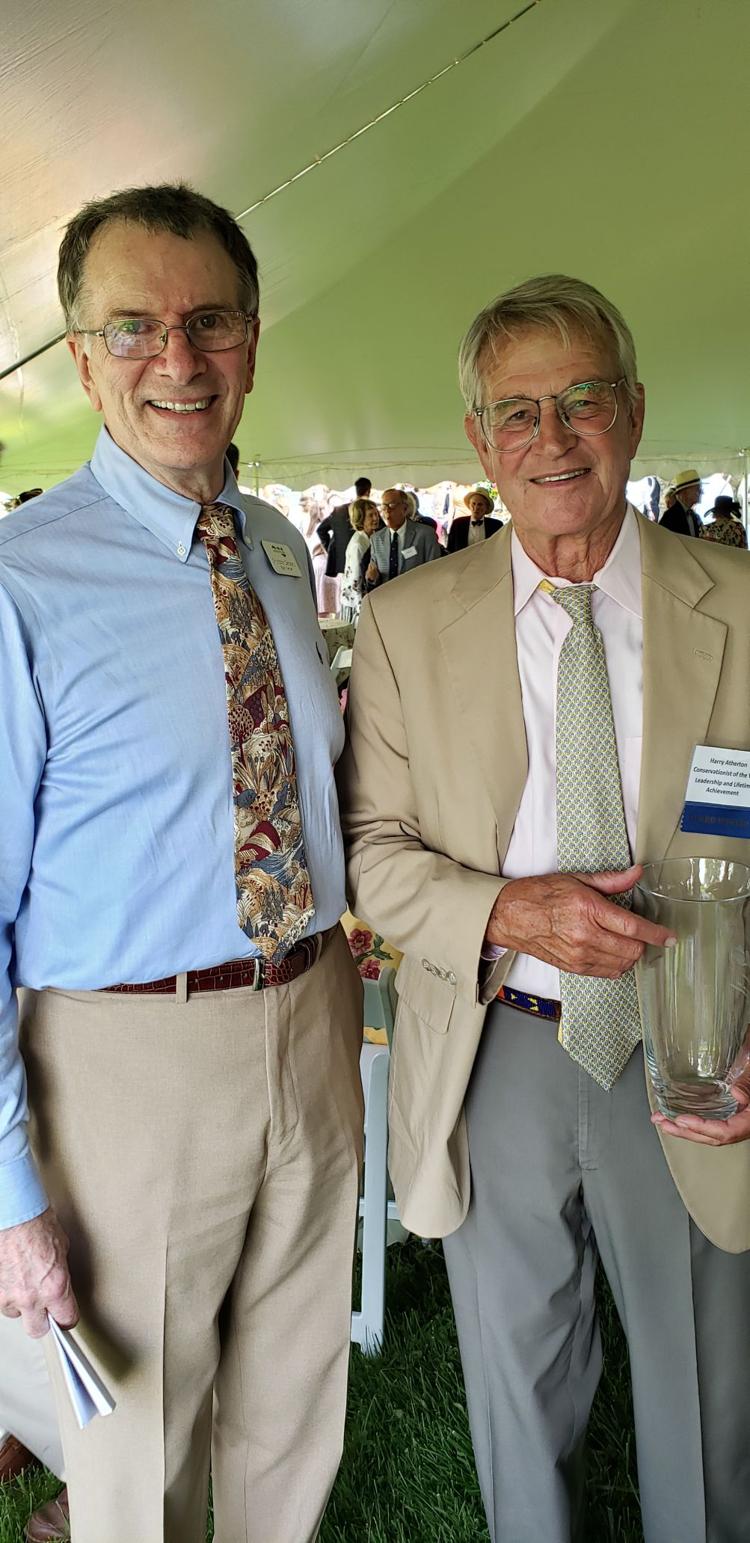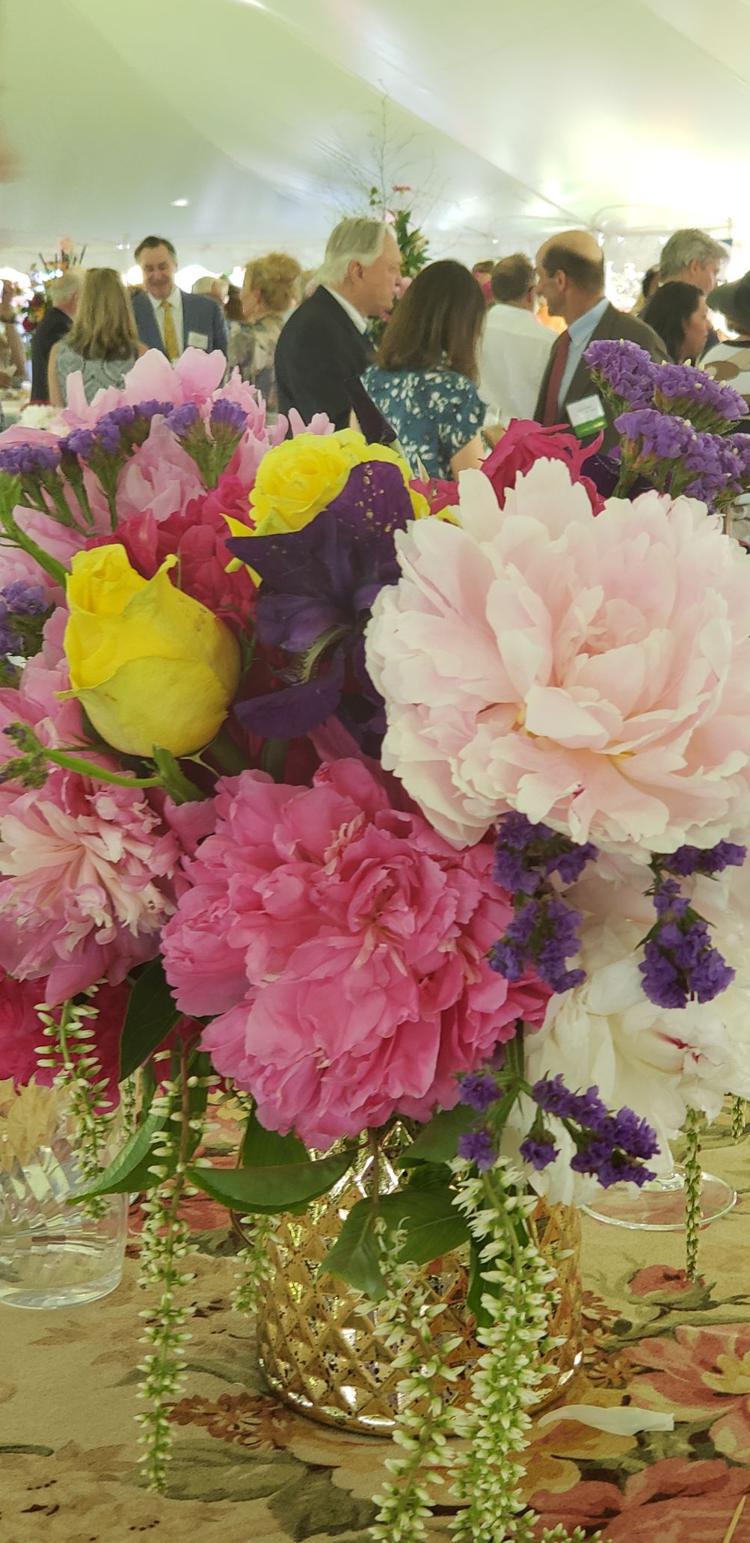 Sitting on more than 300 acres, Hickory Tree Farm afforded the perfect venue. Pristine countryside and panoramic views of the Bull Run Mountains to the east and the Blue Ridge Mountains to the west provided guests with spectacular vistas and a wealth of natural beauty. Located in Virginia's horse country, Hickory Tree Farm is a full-scale thoroughbred breeding, training and racing facility.
There was a steady breeze and graceful rhythm as guests mingled in and out of a large white tent while artists dotted the grounds perched on stools or chairs, surrounded by their palettes of color and admiring onlookers as their paint brushes captured the variety of nature's offerings.
The Rev. Weston Matthews, pastor of Grace Episcopal Church in The Plains, called on the gathering of several hundred to pray for guidance and strength. "Let us call upon the waters, the dogwood, the elm…to teach us and show us the way," he said to an appreciative audience; he was one of the first speakers at the awards presentation.
The Land Trust of Virginia Board of Directors Chairman Christopher Dematatis was proud to share that Fauquier County ranks second (at 4,784 acres) behind Loudoun County (at 8,679 acres) for the number of acres protected by LTV easements. Founded in 1992, the Land Trust of Virginia is a nationally accredited private 501(c)(3) organization to help individuals, families and community organizations protect and preserve the commonwealth's open space with voluntary conservation easements.
"He's a heck of a guy," said George Thompson, who serves on the chairman's advisory council for the Land Trust of Virginia, referring to his friend, Harry Atherton, who was honored as one of LTV's Conservationists of the Year. Atherton served on Fauquier's Planning Commission for 18 years, on the county's board of supervisors for eight years and as its chairman for three years.
Three initiatives during his leadership have promoted the protection of Fauquier's countryside: sliding scale zoning, a Purchase of Development Rights program and the ability to hold conservation easements. Fauquier County has the highest number of privately protected properties and the highest percentage of privately protected land of any county in Virginia.
Bob Lee enthusiastically supported the selection of not only Atherton but also Al Van Huyck from Loudoun County. Lee is a former Clarke County and Fauquier County administrator and honorary executive director emeritus of the Virginia Outdoors Foundation. 
"It was a pleasure to attend … truly a celebration of conservation of land and historic farms. I was particularly pleased that Harry Atherton of Fauquier and Al Van Huyck of Loudoun were recognized as the LTV Conservationists of the Year," said Lee adding, "I have known these two community leaders for more than three decades and they both have long evidenced a profound positive influence for responsible land planning and conservation in their respective counties and for the Northern Piedmont and Blue Ridge regions."
"Fauquier has the best conservation zoning in Virginia, and our county leads the state in both the total acreage and percentage of land protected by perpetual conservation easements," said Lee noting, "even the best conservation zoning is periodically subject to political vicissitudes, and county zoning protections are always at risk of being swept away with the next board of supervisors election. Thus, has sometimes been the fate of conservation zoning in neighboring Loudoun County."
"Voluntary conservation easements and local purchase of development rights programs represent permanent protection of the natural and cultural heritage attributes for which our part of Virginia has long been revered. I salute all the organizations and individuals who continue to strive to protect and preserve our inspiring rural landscape," said an admiring Lee.
For more information on the Land Trust of Virginia and how to become a member and/or to receive information about conservation easements, visit www.landtrustva.org or call 540-687-8441.