There are many reasons to try to understand at what age – and how often -- local students are using drugs and alcohol. For Sallie Morgan, executive director of the Mental Health Association of Fauquier County, one of the most important reasons is the effect early behavior has on the likelihood of future addiction. She said that according to the surgeon general, nearly 70 percent of those who try an illicit drug before the age of 13 develop a substance abuse disorder within the next seven years, compared with 27 percent of those who first try an illicit drug after the age of 17.
Brittany Dwyer, community outreach coordinator with MHAFC, and John Waldeck of Fauquier Cadre, joined Morgan Friday morning to present the 2019 PRIDE Survey results to members of the Partnership for Community Resources. "The more we can push back the age of first use, the less likely someone is to be addicted," Dwyer said. An analysis of the survey data estimates that there are 473 youth in the region who could potentially be addicted to drugs or alcohol.
The 2019 PRIDE survey asked 6,011 students in grades 6 to 12 questions about how often they use drugs and alcohol, at what age they first started using and where they engage in this behavior.
The survey included students in Fauquier County Public Schools (5,621), Rappahannock County Public Schools (238) and Highland School (152). It has been administered every four years or so since 1990, but this is the first time sixth graders were included; 2019 is also the first time a private school has been surveyed. Waldeck said, "We are so glad Highland agreed to be a part of the survey this year. It's a small sample, but it says a lot that they wanted to understand how their students are doing when it comes to these questions."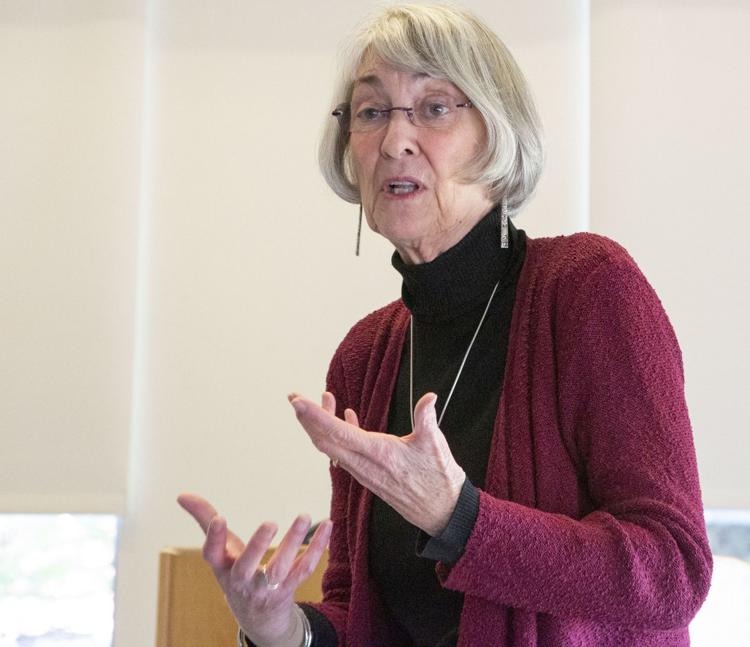 The good news from the survey is that drug and alcohol use is down among area students. Monthly use of alcohol among high schoolers dropped from 68% in 2001 to 20.9% in 2019. Among middle schoolers, monthly alcohol use was at a high of 14% in 2006 but dropped to 4.5% in the 2019 survey.
Cigarette smoking is way down, too. Only 4.3% of high schoolers said they smoked cigarettes in the last month, as opposed to 28.9% in 2001. Vaping has also decreased from 2015 -- the first time the question was asked – from 17.1% of middle and high school students in 2015 to 13.9% in 2019.
Monthly marijuana use for high schoolers was at 22.6% in 2001; 2019 numbers show monthly marijuana use at 13.5%. For middle schoolers, monthly usage went from 5.8% in 2001 to 1.4% in 2019.
An audience member presented a cautionary note during Friday's forum; he reminded attendees that marijuana's potency has increased dramatically in recent years. The Centers for Disease Control states, "... the types of marijuana available today are more potent than before and come in many forms, including oils that can be vaped, and edibles, from brownies and candy to sodas."
While national data shows that 2.5% of students have misused prescription drugs in the last month, PRIDE Survey data reveals that 2.3% of Fauquier and Rappahannock students misused prescription drugs. For the region, that is less than in 2009 (3.6%) or in 2015 (4%).
According to the survey, the average age that students first use drugs or  alcohol is about age 13. Those students who engage in drug and alcohol use do so most often at home or at a friend's house.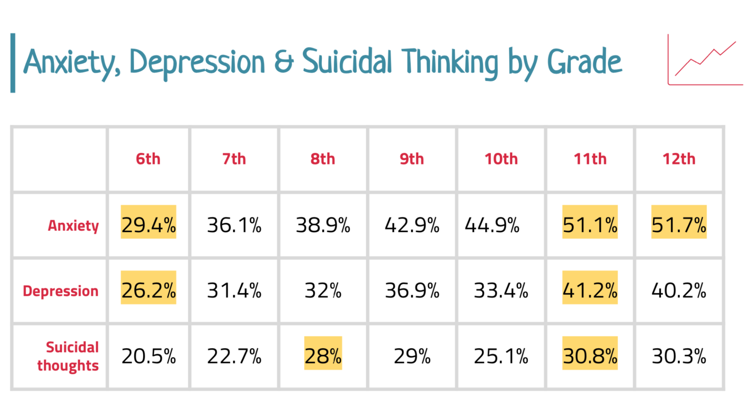 The PRIDE Survey also asked students if they have felt depressed or anxious and whether they have had suicidal thoughts. According to the survey results, the older the students, the more frequently they answered "yes" to these questions. For high school seniors, 51.75% reported feelings of anxiety, 40.2% reported depression and 30.3% reported having suicidal thoughts. But even sixth graders reported these feelings: 29.4 reported anxiety, 24.2% said they had been depressed, and 20.5% reported suicidal thoughts.
Again, Morgan emphasized the importance of early intervention. "One half of all mental health challenges show up by age 14," she said.
For those who wonder how reliable the PRIDE Survey data is, Waldeck explained that students' answers are carefully analyzed and curated. He said that experts look at the completed survey responses and discard any where the results appear to be random. "This is the best data we have," said Waldeck. He believes most students are honest about their experiences: "These kids know what's going on, and they want to tell their stories."
Reach Robin Earl at rearl@fauquier.com