Patients with broken bones, bum knees or painful shoulder joints will have a second option for orthopedic treatment beginning in mid-January. Precision Orthopedics & Sports Medicine is opening in the Warrenton Professional Center at 493 Blackwell Road, Suite 316 on or about Jan. 18. 
Since 1978, Blue Ridge Orthopaedic & Spine Center in Warrenton has been the only orthopedic care practice in Fauquier County.  
Dr. Rejeev Pandarinath, a Precision physician who specializes in sports medicine, said, "People like to have options. Warrenton is a growing community; we look forward to providing the best patient-focused experience we can."  
Four physicians will work out of the Warrenton office. In addition to Pandarinath, other orthopedic surgeons include Dr. Rishi Bhatnagar, who specializes in hands, wrist and elbows, Dr. Satheesh Ramineni, who specializes in trauma and joint replacement, and Dr. Kristen Cadieux, a foot and ankle surgeon. More physicians could be added to the rotation, said Pandarinath, depending on demand.  
The surgeons will perform all surgeries at Fauquier Hospital. Fauquier Health's physical medicine and rehabilitation center can provide physical therapy for Precision patients. The four doctors will also share on-call responsibilities for any orthopedic-related emergencies that come into the hospital's Emergency Department.  
Fauquier Hospital is a Center of Excellence for Joint Replacement, a certification awarded by the Joint Commission – an accrediting agency for hospitals nationwide. 
Vicki Thompson, senior director for growth and outreach at Fauquier Hospital, is enthusiastic about having the new ortho group in the community. "They have been great to work with -- professional, responsive and looking forward to getting to know our community." 
The Warrenton office will be Precision's first location in Virginia, although the local office fits into the company's preference for rural and suburban areas. Precision has 13 offices in Maryland and one in Washington D.C. 
Office manager Garrett Claybrooks said that scheduling is not centralized across all Precision locations. "When you call the Warrenton office (540-905-7775), you'll be talking to the people you'll see when you arrive for your appointment," he said.  
Claybrooks said that the office on the third floor of the Warrenton Professional Building is getting a refresh after hosting the Fauquier Health Pediatric Rehab Center for years. Once the paint is dry and the carpet installed, physicians will start seeing patients. He added that the office will eventually have X-ray equipment available on site, but for now, patients will be directed to Fauquier Hospital for X-rays and other more comprehensive imaging services. Pandarinath said, "When patients make an appointment with us, they may be able to arrange X-rays before the appointment so when they arrive the doctor will already have the images they need … We'll try to make it as convenient as possible."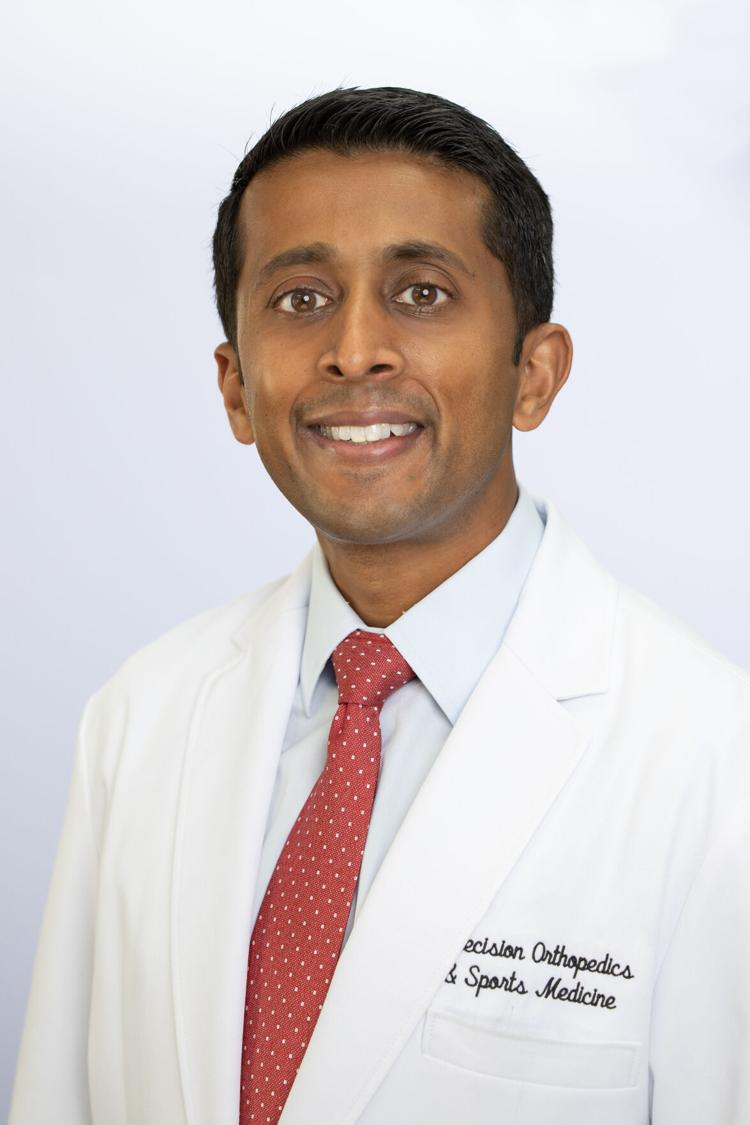 With the COVID-10 pandemic in mind, Precision will offer some telehealth options where it makes sense. But Pandarinath said, "Remote appointments will work for some patients, but sometimes you really need to touch a knee or a shoulder to see what is happening with that patient. It's a challenge. For orthopedics, there can still be a lot of value in in-person examinations." 
Patients will be asked to wait in their cars prior to appointments if the waiting room is too crowded for safety – or if they just feel more comfortable doing so. "And of course, rooms will be cleaned between patients," added Claybrooks. 
Who is the typical orthopedic patient? It depends on the specialty, said Pandarinath. "Injuries can happen at any age." And, the sports medicine physician clarified, "they don't just happen to athletes." He said he sees everyone from 13-year-olds to people in their 70s. 
Traumatic injuries can also occur in patients of any age, but ACL injuries are more common in those between 13 and 35. If it's a shoulder injury, like a rotator cuff, for instance, the patient is more likely to be older, between 50 and 75. Older patients also constitute most people receiving full joint replacements, which often have arthritis as a compounding factor, also mostly present in older patients.  
Although the practice will not include a spine surgeon, "We will still be able to treat patients with back pain," Pandarinath said. 
He said that whatever the injury, there are multiple therapies that can help resolve the issue – physical therapy and pain-reducing injections are examples of treatments doctors would employ before surgery is considered. 
Pandarinath said that "he is excited to get started." He is looking forward to the return of youth sports and to developing relationships with local high school coaches and trainers, as well as college athletes.