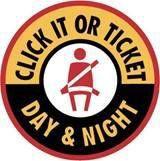 Law enforcement officers in Fauquier County will be looking for drivers and passengers who don't have their seat belts fastened during a national "Click It or Ticket" campaign. The effort began May 20 and will run through June 2.  
The Sheriff's Office will be conducting check-points and drivers can expect to see increased traffic enforcement throughout Fauquier County during the mobilization, said Sgt. James Hartman of the Fauquier County Sheriff's Office.  
Click It or Ticket is a high-visibility enforcement program designed to raise safety belt usage and save lives, he added.  
Virginia law requires seat belt use for drivers and front-seat passengers 18 years of age and older, and all passengers younger than 18, but Hartman emphasized that everyone riding in a motor vehicle should be properly buckled up to prevent injury or death during a crash.  
"Those who don't wear seat belts are not only risking their own lives, but the lives of everyone inside the vehicle since their body becomes a missile during a crash. In 2018, in Fauquier County, 19 people were killed in motor vehicle crashes," Hartman said.  
He added, "It's simple: you and your passengers are safer in a car when buckled up. And adults who don't buckle up? Seventy percent of the time children riding in that vehicle aren't buckled up either; set a good example. Seat belts are the best defense in a crash and save thousands of lives every year."