A child abduction investigation into a Fauquier County man and former Virginia political candidate has expanded to at least a dozen other states and four other countries with numerous possible additional victims, according to officials with the Fresno County Sheriff's Department. 
Nathan Larson, 40, of Catlett, Virginia, was arrested Dec. 14 on felony charges of kidnapping, child abduction, soliciting child pornography from a minor and meeting a child for the intention of sex. He was arrested at a Denver airport where he was found to be in the company of a missing 12-year-girl from Fresno, California.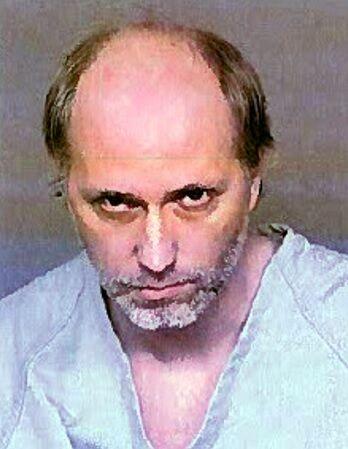 Larson twice sought political office in Virginia. He first ran for the House of Delegates 31st District in 2017 as an independent, followed by a brief run for U.S. Congress in 2018. He made headlines at the time for his criminal background and for websites he created espousing misogyny, white supremacy and child pornography. 
Fresno County police Sgt. Chad Stokes said on Wednesday that Larson has not been charged with any additional offenses. But he said the investigation has now become "bigger than anticipated" with new investigations being turned over to local jurisdictions in at least a dozen states and criminal inquiries being made by the U.S. Department of Homeland Security in other countries, including Canada, England, Ireland and Sweden.
Stokes would not reveal the total number of possible victims identified so far, or what jurisdictions are investigating possible additional crimes. Stokes said that, so far, all the victims are underage. 
"We are becoming aware of other victims of similar types of crimes, and those investigations are being turned over to those local jurisdictions," Stokes said. "We know that he's been in contact with more people than just our victim." 
Stokes added that the victims include both those with whom Larson had direct interactions as well as "unintentional victims" – those of whom Larson had obtained videos or images but may not have had direct contact. 
Stokes said Larson fits the profile of an individual that may be "an online sex predator ... advancing to the next step, which is hands-on offenses, kidnapping and the sexual exploitation of children." 
"We're having to go through and identify images and figure out if they're … victims that he actually was communicating with, or if they're just images that he himself may have downloaded or something like that," Stokes said.
Jailed, Larson awaits transfer to California
Larson is currently being held in Denver County Jail awaiting extradition to Fresno. 
After Larson was arrested in mid-December, Fresno police said they learned more about the abduction and the events leading up to it. Larson allegedly flew to Fresno from Virginia and then traveled to the girl's home. 
He allegedly persuaded her to sneak out of her house around 2 a.m. and used a ride share company to pick her up, police said.
Together, they rode to the Fresno Airport. Larson made the girl wear a wig with long hair to alter her appearance. He also told her to act as though she was disabled and unable to speak to ensure she would not converse with anyone at the airport while making their way onto the airplane. 
Because of the sophisticated way Larson allegedly groomed the Fresno girl, detectives said at the time that they believed he may have victimized other children. 
"Pedophiles and predators find ways to manipulate their victims… He had the girl believing things that weren't true. It's all part of the grooming process," said Lt. Brandon Pursell of the Fresno County Sheriff's Office. "As a 12-year-old girl, our victim had no way to conceptualize what was happening, or what could have happened, to her." 
Larson is already a convicted felon. He threatened to kill the president of the United States in late 2008. At the time, former President George W. Bush was still in office, but former President Barack Obama had already been elected.Larson was sentenced to 16 months in federal prison. 
Larson is also an avowed white supremacist and proponent of pedophilia. He wrote a lengthy manifesto in 2018 outlining some of his beliefs, in which he called Nazi leader Adolf Hitler and Joseph Smith, the founder of Mormonism, "white supremacist heroes."
Larson's website investigated in 2017
Officials with the Virginia State Police and Fauquier County Sheriff's Department confirmed last week that Larson was previously investigated for possession of child pornography in 2017 by both the Fauquier County Sheriff's Office and the Northern Virginia-Washington DC Internet Crimes Against Children Task Force (NOVA-DC ICAC) but was never charged with any crime. 
Virginia State Police spokeswoman Corinne Geller said the NOVA-DC ICAC investigation began after the National Center for Missing and Exploited Children "forwarded complaints it received concerning Mr. Larson" to the task force during Larson's 2017 run for Virginia House of Delegates. 
Gellar said the investigation was closed after images and posts "found on sites associated with [Larson]" were found to be protected speech under the court's definitions under Ashcroft v. Free Speech Coalition, a 2002 U.S. Supreme Court case that determined that parts of the Child Pornography Prevention Act of 1996 violated the First Amendment.
The taskforce ultimately determined that there was no violation of either state or federal criminal code. 
"We have no further comment as the case was closed and no charges were placed," Geller said in an email last week.
The Fauquier Sheriff's Office also began an investigation into Larson for possession of child pornography in 2017, but the investigation was transferred to the Virginia State Police "due to [Larson's] running for political office," according to Fauquier Sheriff's Office spokesman Sgt. S.L. Lewis. 
Lewis said that, during their investigation, detectives determined that "the images portrayed online did not meet Virginia code section to follow any criminal charges." 
"Obviously that type of material, or circumstances, coming into the office is going to be looked into and investigated," Lewis said. But he said the material "did not meet the threshold" under Virginia state code.