The questions asked of Warrenton Police Chief Mike Kochis at his June 24 community focus group on Haiti Street were more pointed than during a similar July 2 event at Rady Park.
The 20-or-so attendees at the June 24 gathering had George Floyd and Breonna Taylor on their minds. One attendee said that some residents of Haiti Street would not come to the meeting because they do not trust the police. Several shared personal stories of police profiling.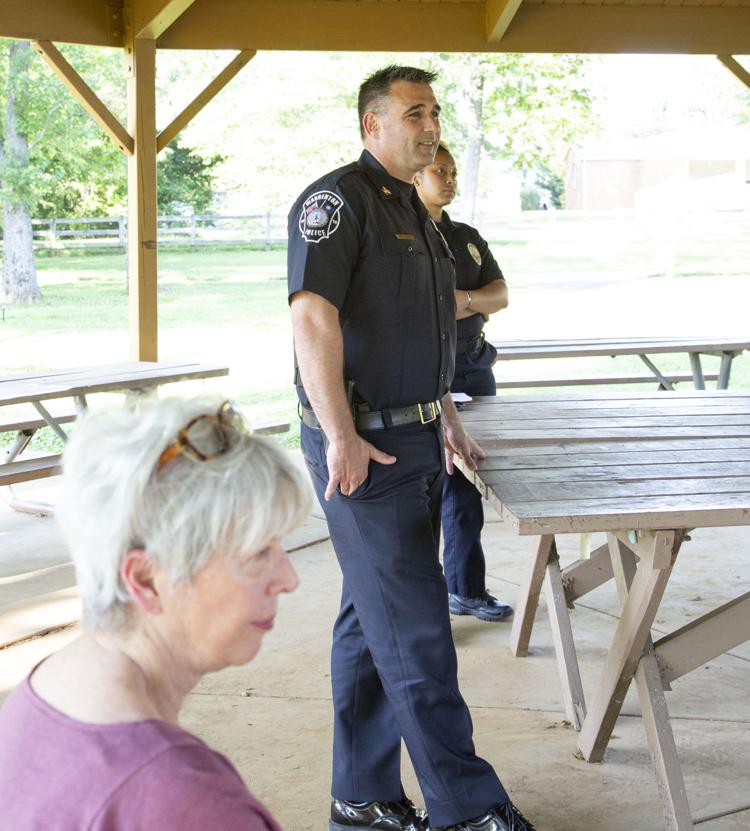 One woman told a story about when she was pulled over, her passenger, who was Black, was also asked to show his ID and answer questions. "He wasn't driving. Why should he have to show his ID?" she asked.
Marie Nichols told a similar story; all four people in her car, who were Black, were asked to show their IDs, even though she was the one driving. In Nichols' case, she had not even been pulled over. She was just picking up a family member who had been stopped by police and was not permitted to drive home.
Kochis assured residents that when an officer asks for the ID of a person that is not driving, the passenger does not have to comply, but those in attendance were skeptical. What might happen if they did not comply, they wondered aloud.
He acknowledged their concern and said that when a resident experiences profiling, they have the right to file a complaint afterward.
"What happens to the complaint?" asked an attendee.
Kochis explained the internal affairs investigation process that would determine whether police department policy was followed or not.
"Would the complainant be informed of the outcome?"
"Yes," said Kochis, "not the disciplinary action taken, if any, but the result of the investigation."
The chief said he wants to change the culture of policing but acknowledged doing so is difficult and takes a long time. "I hope I have the chance to change the culture. It will happen, but I don't know if I'll see it.
"My officers know that the expectation is to treat everyone fairly, not to profile. I recognize how hurtful it is to be treated differently because of the color of your skin," he said.
"Where does the Warrenton Police Department stand on Black Lives Matter?" a Haiti Street resident wanted to know.
Kochis answered, "I think they are doing tremendous work. They have created a moment that could start real change."
The chief pointed to the well-attended, peaceful rallies held in Warrenton over the past several weeks as a way to start the conversation about race and policing. He credited the faith community for leading the way and keeping the focus on meaningful reforms.
He said he has had meetings with his officers about the issues brought up by Black Lives Matter advocates. "We had a great dialogue. I'm getting buy in; I'm not getting push back."
Kochis explained that his department is already in compliance with the "Eight that can't wait," principles for fair policing. They are:
Ban chokeholds and strangleholds.
Require de-escalation.
Require warning before shooting.
Exhaust all other means before shooting.
Duty to intervene.
Ban shooting at moving vehicles.
Require use of force continuum.
Require comprehensive reporting.
Kochis pointed out that in this time of upheaval, he worries about his officers, too. He said that officers receive implicit bias training, "which is intense," and learn de-escalation techniques. "When an officer takes a life, that's never a good experience for the officer."
The June 24 conversation wandered well beyond policing. Nichols explained how she believes many in Warrenton's Black community feel about their town. "Black folks don't feel included. We can't see our culture here. We can't feel it."
She pointed out that the only basketball courts in town are in Eva Walker Park [adjacent to Haiti Street], what she called the "Black part of town."
When someone suggested that the courts at Eva Walker could be refurbished, Nichols said, "It's still segregation. Why aren't there basketball courts at the WARF? Because Black men are stereotyped. They don't want them there."
She went on to point out she can't see Black culture in the festivals in town, at First Fridays or at the county fair. "When I walk in [to the county fair], the first vendor there is a Confederate booth."
Nichols gave another example: the "fake slave auction block" in front of the Old Jail Museum. She said the stone was placed in the 1970s and labeled as a slave auction block. The marker was removed in 2017 "because there was no evidence that's what it was for." She said it was actually a mounting block for horseback riders. "So, this stone actually has no significance. So why is it there? The problem is Black people remember it as a slave auction block – right on Main Street. So, we have to walk by that every day."
A week later, on July 2, the tone of the focus group at Rady Park was different. The eight residents attending were supportive of their town and its law enforcement and had come to learn how they could help. Several members of the group said they were retired, had more time on their hands, and wanted to give back to their community.
Kochis said that Chai Fuller, public information and community outreach officer for the town police, is working on a volunteer program for the department. Fuller asked the audience to stay tuned for more information.
Katy Barber said, "I think of Warrenton like Mayberry. All of my interactions with police have been positive. When you come to a four-way stop, everybody waves you on. It's not like that in Northern Virginia."
She said she's been a part of the Black Lives Matter vigils that have been taking place Saturdays on Main Street and has been encouraged by the enthusiastic but peaceful participation.
Alexander Dial, who operates a cafe on Main Street called Ellie's Place, said he hasn't had any negative interaction with town police, but that he noticed a member of the public questioning a Black man sitting at a table in front of the restaurant. "He was just sitting there, working. Leave him alone."
Dial said that at his previous restaurant, in Middleburg, "I knew every police officer. They would come in to check in or just to talk. I would like to see more officers interacting with the community, talking to people."
Stacey and Darrell Burrell were able to offer some examples of police profiling. Stacey Burrell began by asking Kochis what his relationship is with the Virginia State Police. She said she has not had any issues with town police, but her husband has been followed by state police, "when he's just trying to get home."
Darrell Burrell, who is a business professor, said that he has been pulled over frequently by law enforcement since he was a teenager. "When I am pulled over, I stop and hold my registration and license out the window. It's what my dad taught me to do.
"If my friends and I were going somewhere, he'd make us take two cars. He'd say, 'You can't have four Black kids in a car. You'll get pulled over.'"
He said that he remembered a time in 2018, in Charles Town, West Virginia, when he drove a short distance after he saw police lights behind him. The police officer asked why he pulled over to a lighted area instead of stopping right away. "Are you concerned with the Black Lives Matter?" the officer asked.
Burrell answered that he felt it was a safer place to pull over, for him and for the officers. One officer said to the other, "Let's let him go," and the other countered, "No, let's ask him some questions."
Burrell said the officers pulled him over for a broken taillight, but wanted to know, "Where are you going? Who are you going to meet? What are their names?"
Burrell said, "I was wearing a bowtie, so they wanted to know why I was dressed up."
The professor said that the officers let him go with a warning but kept him there for 10 or 15 minutes answering questions.
The same night, he was pulled over twice more – once for the broken taillight for which he had just received a warning, and once for having his high beams on, which he did to try to avoid getting stopped again for the taillight.
Burrell related another time he was followed after leaving a bar. He was asked if he'd been drinking, what he drank and to take a breathalyzer test. "It kept coming up at .02. They asked me to take it again and again, and I said, 'I've already blown it five times. I'm not doing it again.'" He said they seemed frustrated that it was below the limit.
Stacey Burrell said she worries about their children. "I have an African American son who will be going to graduate school. And our daughter will be driving soon."
Darrell Burrell said, "I tell them, 'Just comply. Don't get upset. Even if it's not right, even if it's not fair.'" Burrell sighed, "It's a common occurrence, and it creates a level of anxiety."
Darrell Burrell explained what he wants everyone to understand: "It's not Black people against white people, it's Black people against racism. It's not Black people against the police, it's Black people against racist behavior."
Another attendee said she read about someone getting pulled over for a broken taillight in England. "They gave them a coupon to a local shop to get it fixed!"
At the suggestion, Fuller lit up and immediately wrote down the win-win solution.
Kochis laughed, "That's a great idea," and expanded, "Our job is to solve problems. Whether it's to find someone a ride home if it's better that they don't drive or take them to jail for their own safety. If we arrive at a domestic and there has been no assault but we know we can't leave these two alone or there might be, we try to find a solution. We ask if there is someone they can stay with, can we give them a ride? Officers deal with these decisions every day."
Kochis said that the focus groups have been enlightening. "When you hear stories about racial profiling from a person, face-to-face, it sticks with you. Let's acknowledge that it happens, and ask ourselves, 'How can we do better?'"