Jury trials can now take place in Fauquier County Circuit Court; the Supreme Court of Virginia has approved the county's plan to mitigate risks for participants contracting COVID-19. Although Fauquier County courts have mostly been functioning normally since the summer, jury trials have been an exception. Jury trials have been suspended since March due to the pandemic.
At least two ongoing cases in the county are likely to be decided by a jury.
The outcome of the animal cruelty charges against Irina Barrett will likely be decided by a …
Irina Barrett, a Broad Run woman accused of multiple counts of animal cruelty, said at a court hearing last month she intends to ask for a jury trial; her next court hearing is Nov. 23, during which a jury will likely be scheduled.
Leviathan Norwood, the 17-year-old accused of killing his mother and brother at their Midlan…
Levi Norwood, the 17-year-old from Midland accused of killing his mother and brother earlier this year, is also likely to go before a jury. Norwood's next scheduled court hearing will take place Jan. 7; Norwood's attorney said at a court hearing earlier this month that he intends to ask for a jury trial.
To resume jury trials, each local court had to submit a plan detailing precautions for mitigating the spread of the novel coronavirus. The Nov. 12 letter from Virginia's highest court approved the 23-page plan for Fauquier County, which was developed by a range of stakeholders including local attorneys, the commonwealth's attorney, county administrators and the sheriff's office. The approval of the plan means that jury trials can resume immediately.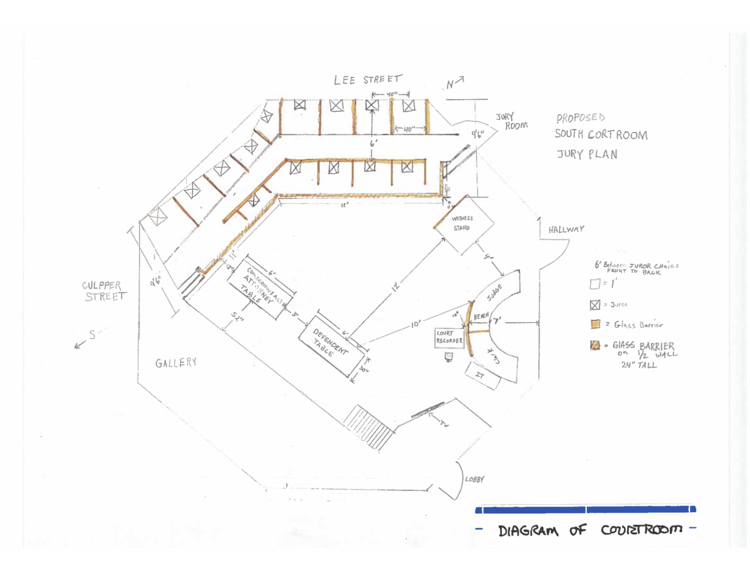 In addition to requiring the wearing of face coverings and screening jurors and other parties for symptoms of COVID-19, the plan stipulates one of the two courtrooms in the circuit court building will be outfitted with plexiglass barriers intended to reduce the risk of transmitting airborne viruses. During jury trials, the other courtroom in the circuit court building will be used for sequestration, court recesses and jury deliberations.
Because both courtrooms will be utilized during jury trials, the John Barton Payne Building in Warrenton has been outfitted for court hearings that do not require a jury. Because of this, previously scheduled non-jury hearings will not be delayed even if a jury trial is scheduled for the same day.