Pam Northam, Virginia's first lady, was in town May 8 for a meeting with early education grant winners in Fauquier and Rappahannock counties. Fauquier County Schools has been awarded two such grants -- the Mixed Delivery Grant, and the Preschool Development Grant, Birth-to-Five.
Kristen McAuliffe manages grants for the school division. She explained that the Mixed Delivery Grant, which comes from the nonprofit Virginia Early Childhood Foundation, will provide $250,000 to the county. The money is to be used over a two-year period, "to field-test potential solutions to barriers that have prevented all eligible children from participating in Virginia's preschool initiative." The grant stresses "out-of-the-box" thinking and private/public partnerships.
The Preschool Development Grant, Birth to Five, brought in $65,670. McAuliffe explained its parameters: "With the ultimate goal of improving kindergarten readiness, grantees are  expected to build relationships with all publicly funded programs – family day homes, child care centers, preschools (including faith-based), Head Start and school based pre-K – in order to measure and increase access and quality." 
The rolling kids' library, Books on the Bus, was front and center last Wednesday to welcome Northam. The van was donated by the Fauquier County Sheriff's Office and retrofitted as a bookmobile. The first lady hopped in, invited the Saint James' preschool class to join her, and together they read a book.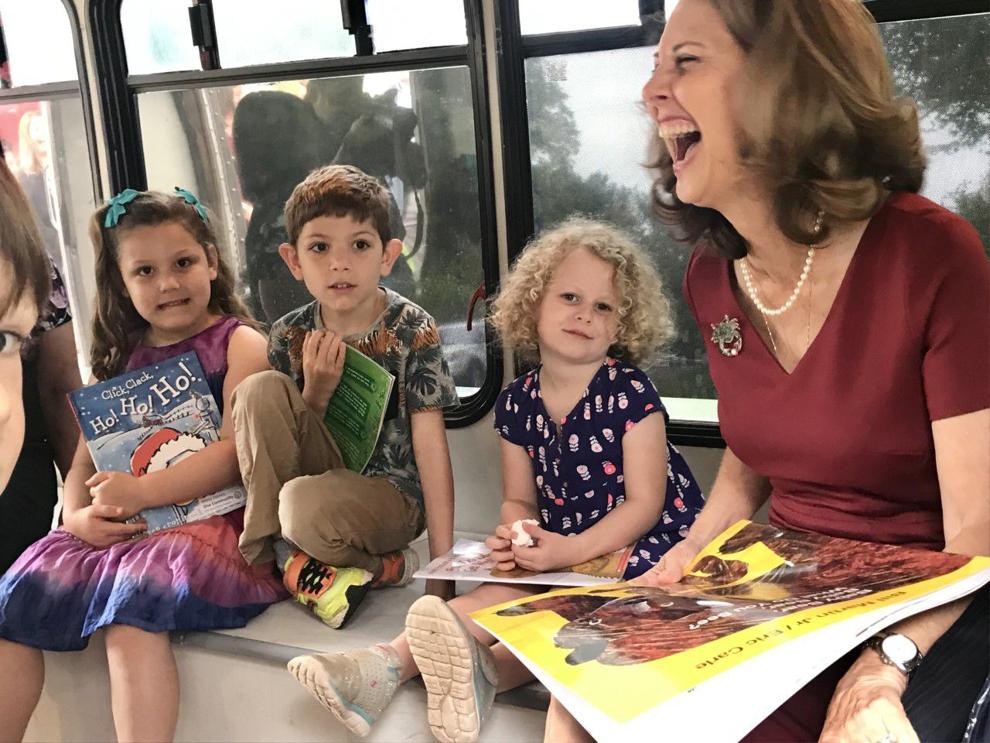 Afterward, Northam joined members of Fauquier's Preschool Coalition for coffee and Red Truck bakery items in the church. (Red Truck is a coalition member, as is the Fauquier Times.) The coalition partners with Fauquier Public Schools in endeavors that raise money, share space, provide scholarships and volunteers, hold workshops and brainstorm for the benefit of preschool children. The coalition describes itself as "a group of community members, educators and parents dedicated to making a difference in the lives of young children in our Fauquier County."
Members of the coalition spoke to Northam about recent efforts to improved early childhood education.
"The PATH Foundation has contributed $81,600 for 'family and community engagement' efforts, workshops, preschool planning and programing initiatives, and the Books on the Bus program," said PATH president and CEO Christy Connolly.
When Fauquier County Sheriff Bob Mosier spoke, he commended Virginia Secretary of Education Atif Qarni, who had accompanied the first lady, for his web-posted curriculum that helped him design an approach to teaching students about human trafficking, "and other challenges in which law enforcement plays a role."
St. James' rector, the Rev. Benjamin "Ben" Maas, told the first lady that when he arrived to the county six years ago, he did a "tremendous amount of research" and found that the county, "with all of its resources, still had this problem -- that one in five students was inadequately prepared for kindergarten. It's been amazing to see how these partnerships have created something that is a lot more powerful than anything St. James' could do alone."
Dawn Sowers, the Fauquier Library public services manager, told Northam that "through this coalition, we have been able to purchase a book for every child for BOB, and money for equipment and supplies for BOB." She also talked about the library's canine reading program (where kids are read to in the presence of a friendly Fido), and how the coalition helped them get the word out to families, preschool teachers and parents.
Also speaking were: McAuliffe; Stacey Irvin, head of school, St. James' Episcopal School; Fauquier County Schools' Dr. Amy Acors; Dr. Eileen Burgwyn, retired FCPS administrator, now with Learning Starts Early Preschool Coalition; Warrenton interim town manager Brandie Schaffer, and Fauquier School Board member Duke Bland (Marshall).
Northam is a former teacher. She said that she and her husband, Virginia Gov. Ralph Northam, a former pediatrician, have long touted the importance of early education as a baseline quality of life requisite.
"What amazing work you all have done," she began. "You all are the perfect example, and we have been seeing this in other communities too, that together we are a powerful force for good. You all are living and walking this purpose. Thank you, thank you, thank you for that.
"We need to make sure that we are serving all children," the first lady said.
"Our job as the state is to make it easier for you to do this work. We are so excited about this grant coming to you. You will continue to be strategic to us, because this goal is so important. Our ears are open and our doors are open to you, and we hope to be able to use you as a model for other communities."
For more information on the county's preschool programs and resources, visit Fauquier Preschool Coalition at fauquierpreschool.org