More than a decade after its founding, Warrenton-based Oak View National Bank will soon have a purpose-built headquarters and main branch. The company plans to build a 7,000 square foot building on a vacant lot on Waterloo Street, just down the road from its current headquarters on Broadview Avenue, according to the bank's CEO. If everything goes to plan, the new facility will be open within one to two years.
The new Warrenton facility will feature a drive thru, something the current location on Broadview Avenue lacks. "The main reason for moving to the new location is to provide drive thru service to our customers," said Oak View CEO Mike Ewing. This week's announcement is the culmination of a five-year search for a suitable property, and 20 to 30 locations were considered.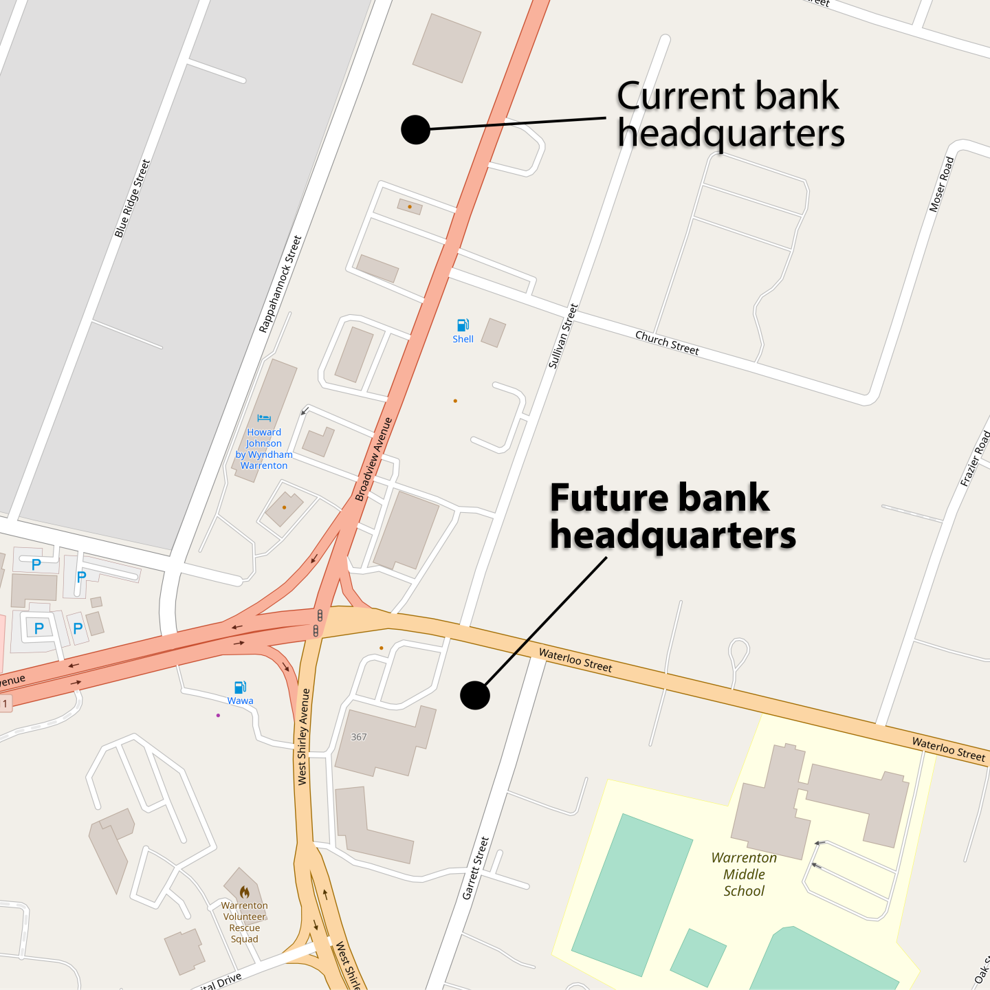 The bank was founded in 2009 and is currently headquartered in a former tractor dealership at 128 Broadview Ave.; additional retail banking branches are located in Marshall and Culpeper and a loan production office is located in Rappahannock County.
The new building will also "allow us to continue to add staff to serve our growing customer base," Ewing added, noting the bank is utilizing about 3,800 square feet of space in its current Warrenton headquarters.
The new site is located on a 1.2-acre lot at 340 Waterloo Street at the corner of Garrett Street and is adjacent to the Waterloo Station Shopping Center. "This location will allow easy access to the downtown area as well as convenient access to the Broadview Avenue Business Corridor," Ewing said.
"We are anxious to get in, but it will take a year or two get through the site plan and special use permit process, grade the lot and build the building," he said.
In addition to the new main office, Ewing said the bank has taken steps to expand and improve its online banking services recently. "We've spent the better part of the last year improving our digital products," he said. Online loan applications and processing, for instance, will soon be available, he said.
"We are firmly committed to remaining an independent community bank and establishing a facility in town is … indicative of that," said Ewing.
Buoyed by the U.S. Small Business Administration's Paycheck Protection Program – Oak View is a participating lender – and an increase in deposits, the bank reported a $764,898 profit the first quarter of 2021, up 310% from the same period last year.