On Thursday, May 21, the Virginia Employment Commission released the latest weekly statistics on claims for unemployment insurance by Virginia residents.
Statistics from the filing week ending May 16 indicate that week-over-week numbers of new claims for unemployment insurance continue to decrease but remain at historically high levels; the trend line for continued claims is still relatively flat.
In the nine weeks since March 14, 4,433 initial claims have been filed by Fauquier County residents, including 211 in the most recent filing week, which ended May 16, a decrease of 21% from the previous week. Initial claims by county residents appear to have peaked during the filing period ending April 4, when 1,029 residents filed for benefits.
Continued weekly claims (for those who had already filed for unemployment and been approved) stood at 2,479 in the county, a slight decrease from the previous week.
Approximately 12% of Fauquier County's estimated 37,475 resident civilian workers have filed at least an initial unemployment claim during the pandemic, and 7% of the workforce filed an initial or continued claim during the latest filing week. (The workforce estimate comes from the U.S. Bureau of Labor Statistics.)
Statewide, in the week ending May 16, 44,699 workers filed initial claims for unemployment benefits, down 14% from the previous week and representing about the same percentage week-over-week decrease as in recent weeks.
Continued weekly claims stood at 392,673 in Virginia, up less than 3% from the previous week. There were only 18,177 continued claims filed statewide last year during the comparable week.
(VEC unemployment data are not seasonally adjusted.)
Phase 1 of Gov. Northam's plan to lift restrictions on businesses and public gatherings began on Friday, May 15, for most Virginia localities – including Fauquier County – but not for some major population centers in Northern Virginia and around Richmond. The start of the reopening plan does not appear to have changed significantly recent trends in unemployment statistics either locally or statewide.
Accommodation and food service industries hit especially hard
According to statewide industry-level statistics released by the VEC for the week ending May 9, people employed in accommodation and food service industries continue to make up the largest percent of those filing initial claims, but their share has fallen since the pandemic response began to cause mass layoffs. In the week ending March 21, these workers made up 45% of those filing initial claims; in the most recent week, that figure stood at 19%.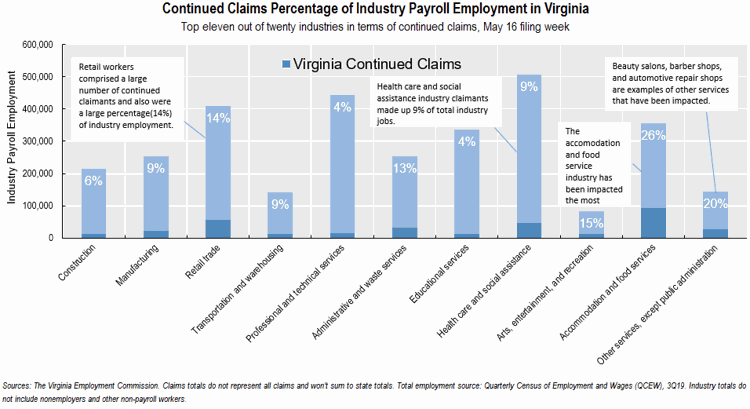 The share of initial claimants who are retail workers has almost doubled since March 21, from 8% to 15%. Job losses in the health care and social assistance industries followed, most recently accounting for 13% of the total of initial claims.
Women, young and black workers disproportionally affected
According to the most recent demographic data, compiled by the VEC during the week ending May 9, job losses statewide continue to affect especially women, young and black workers.
In that week, 48% of workers filing initial claims statewide were under the age of 35. Women made up 53% of claimants; African Americans, despite making up 19% of the state's population, made up 33% of new unemployment claims; white workers made up 46% of claimants, despite representing 67% of the state's population.
Workers of Asian-Pacific ethnicity made up 10% of claims, and those of Hispanic ancestry made up just 0.38% of initial claims that week. The ethnicity of 8% of claimants were not reported.
Overall, 77% of Virginia weekly claimants did not have a four-year college degree.
Initial claims down 9% nationally compared to previous week
Nationwide, the number of seasonally adjusted initial claims for unemployment insurance totaled 2.4 million for the week ending May 16, a decrease of 9% from the previous week's revised total. A cumulative total of 38.6 million workers have filed at least an initial claim for unemployment insurance over nine weeks.
The unemployment rate for April was announced by the U.S. Bureau of Labor Statistics at 14.7%, the highest seasonally adjusted rate recorded since that statistic was first introduced in 1947. The household survey, which along with a survey of firms is the basis for the BLS employment calculations, was conducted from April 12 through April 18.
The national unemployment rate for May will be released on June 5.