It's not an extensive project -- 0.36 of a mile. The estimated $5 million Rogues Road project in New Baltimore near Vint Hill would add a northbound left turn lane from Rogues (Va. Route 602) to Kennedy Road (Va. 652).
A pedestrian crossing would be added at Academic Drive, which is where Kettle Run High School and Greenville Elementary School are located.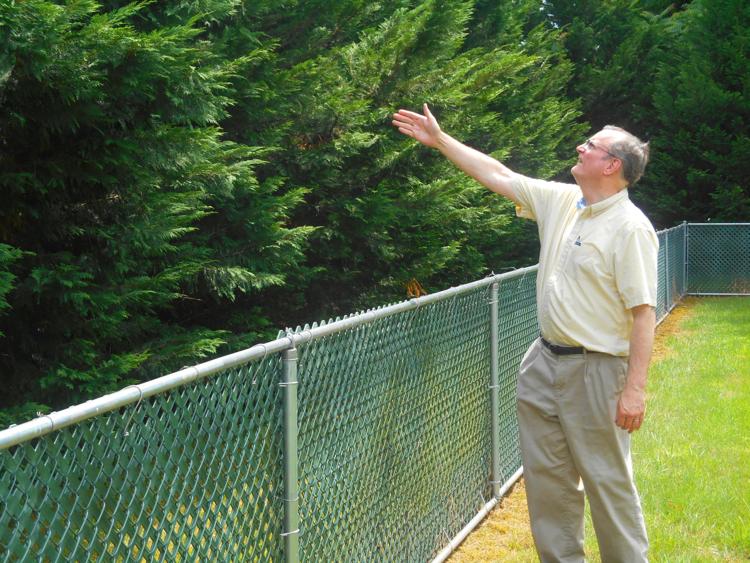 A 10-foot-wide, approximately 900-foot-long shared-use path would be added, running along one side of Rogues from Grapewood Drive in the Grapewood subdivision to an existing shared-use path on Kennedy Road.
It's less than half a mile, but several adjacent homeowners are voicing objections. They say they don't want to lose trees and other natural buffers so that utilities can be relocated. The current buffer shields their property and muffles traffic noises. 
At this point, they are not willing to grant property easements for the relocation of utilities even though they would be compensated. About $1.1 million of the total project cost is budgeted for right-of-way acquisition and utility relocation.
Patty Bowman lives in a historic home on Rogues Road near the intersection of Academic Avenue. "We don't want Rogues to become another Vint Hill Road," said Bowman, referring to high traffic volume. She said she could live with the road improvement if the shared-use path was dropped from the project or if the path was put on the other side of Rogues rather than on her side.
Bowman and fellow homeowners Roger and Debbie Long, Linda Gossard, Joanne Wilkins, Veronica Adams and Lori Wicka will be impacted. Long, Adams, Gossard and Wicka are cul de sac neighbors within the Grapewood subdivision. 
"The road will be closer. All the trees that are a buffer will be down," complained Wicka. She worries about vandalism that could occur if the trees that now hide her property come down. She said she'll lose land to the project's new turn lane.
Roger Long said he'll lose 8-year-old trees he planted, some of which are 20 feet high. He said the road will be 18 feet closer to his house and he is concerned that he will lose a fence and a workshop.
Long suggested to VDOT that it install a drainage pipe to carry runoff, covering it and using that new surface as part of the 10-foot-wide path. Doing so may make it unnecessary to relocate four utility lines, he said.
Gossard called the project "a waste of money" and termed the share-use path a "sidewalk to nowhere."
The opponents have told VDOT what they think of the project.
VDOT heard comments for and against at a public hearing June 4 at Kettle Run High School. The comment period continued until June 14. VDOT reports that 20 people attended the public hearing. Comments were received from 15, both orally and written. Seven (46 percent) were in support of the project, five (33 percent) were not and three (21 percent) were neutral or suggested a modification to the project's scope, according to VDOT.
The project isn't in its final form, so changes could still be made. Mark Nesbit, resident engineer in the Warrenton office of the Virginia Department of Transportation, said that detailed design plans have yet to be drawn up. Once that's done, right of way acquisition will begin next spring. 
The project will be advertised for construction in the fall of 2021 and be completed during the winter of 2022. The project is being funded by the state.
Nesbit said the shared-use path will lead to the traffic-signaled Grapewood/Academic Avenue intersection and connect to a shared-use path at Vint Hill.
Though it won't connect to Kettle Run or Greenville schools, the school board, should it choose to do so, could apply for grant funds to put in a pedestrian path.
Nesbit noted the county's New Baltimore Service District plan calls for developing pedestrian links from neighborhoods to schools. It calls for a multi-purpose trail along the Rogues Road frontage between Finch Lane to the signalized Grapewood/Academic Avenue intersection, a trail connection from Brookside to Grapewood Drive, pedestrian crossings at Academic Avenue/Rogues Road intersection; and a trail extension to both Kettle Run High and Greenville Elementary schools.
Though the Fauquier school division discourages students from walking or bicycling to school for safety reasons, it doesn't prohibit them from doing so, according to Tara Helkowski, public information officer for the public schools.
"A lot of communities are instituting safe walking/biking zones, but our infrastructure is old, and a lot of communities lack sidewalks," Helkowski said.
Reach James Ivancic at jivancic@fauquier.com.