A pivotal figure in the little-known efforts to export cattle from Virginia to Europe in the 1960s, the late John P. Middleton Jr., of The Plains, was honored at a brief ceremony at the Marshall Livestock Exchange in January. Middleton died in 2011 at the age of 89.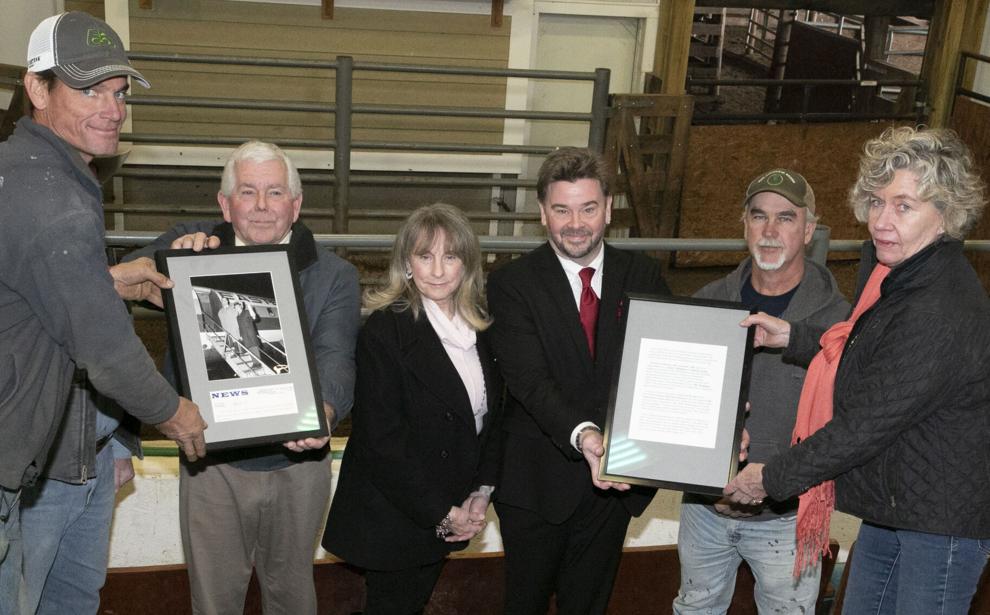 John Middleton's son, Todd Middleton, of Nokesville, still speaks with considerable emotion about his father and the memories of growing up on a small farm outside The Plains. "He was the guy who could walk in a room, and there wouldn't be a stranger when he left," Todd Middleton said of his father. "He would always ask about the other person, he never liked to talk about himself."
The Middleton family owned a large cattle farm outside The Plains until the Great Depression, when everything fell apart. John Middleton and his brother, Jack, went off to fight in the war. By the time they returned, all but a small corner of the farm had been lost to foreclosure, Todd Middleton said; his father started over, building a cattle brokerage business over the next decade. He eventually partnered with a Delaplane resident, Dennis McCarty III, to form M&M Cattle Company.
John Middleton traveled all over Virginia and sometimes to surrounding states to facilitate cattle sales, his son remembered. "Back then it was very labor intensive, to go and either buy or sell cattle. It was very time consuming." The whole system relied on brokers like his father – trust in the person facilitating the deal was vital. "You were only as good as your last deal and your reputation for being fair and being honest," he said.
Cattle connects two worlds
As the 1960s dawned, Fauquier County was still isolated from the rest of the world in a way that is practically unimaginable today. Only about three in five homes in the county had a telephone, the U.S. Census Bureau found; about two-thirds had a television. Construction of Interstate 66 was completed in 1961. Just 24,000 people lived in the county, about the same as at the beginning of the 20th century and only about 6,000 more than in 1790. (The county has more than 70,000 residents now.)
But the world was changing and becoming more interconnected. Free trade agreements among countries within the United States' sphere of influence meant that the protectionism that defined the pre-war years was largely a thing of the past. Despite the destruction of World War II, the world was experiencing an economic boom.
Italy, for instance, had been devastated by two decades of a Fascist dictatorship and then by a brutal conflict between Nazi and Allied armed forces on the peninsula – which was in turn accompanied by a ruthless civil war behind the front lines.
But only a few years after the end of the second world war, Italy's economy was growing at a breakneck pace, fueled by an influx of capital – about $14 billion in 2020 dollars -- under the Marshall Plan. And in 1957, Italy was one of the founding members of the European Economic Community (the multilateral trade agreement that would later become the European Union) opening up new markets and sparking an era of unprecedented prosperity.
This all meant that more Italians could afford luxuries, like beef and cow's milk, especially in the wealthier industrial regions most buoyed by American financial aid. "The growing demand for beef is evident in many countries," a U.S. Department of Agriculture said in a 1964 press release. "Consequently, it becomes evident that there is a large market to be filled with cattle." The old standard of European beef cattle was leaner than consumers now demanded, the press release explained, giving American producers an opportunity to market cattle overseas.
In the early 1960s, the Virginia Department of Agriculture initiated an aggressive marketing campaign in Europe to promote trans-Atlantic cattle sales. "[I]t is apparent that Virginia cattlemen are gearing themselves to operate successfully and competitively in this rapidly developing outlet for their livestock," a department representative said in the same press release.
Virginia cattle brokers lead the way
John Middleton and McCarty were two of these enterprising cattle brokers. Another was Larry Sykes, of Bundy and Sykes Cattle Company in Lebanon, Virginia. In 1964, Sykes arranged the export of 800 feeder cattle (these are beef cattle not yet at a sufficient weight to be slaughtered) to Italy, the first shipment of live cattle to Europe since 1891.
A year later, Middleton, McCarty and the Richmond-based auctioneer -- longtime friend of Middleton -- Dennis Ownby of Ownby Auction and Realty Company prepared a shipment of 350 dairy cattle for Italy; the cattle were purchased by an Italian dairy farmers' association to breed. "I feel that this market opens the door to the profitable raising and marketing of another commodity besides milk for our dairymen," Middleton was quoted as saying at the time.
Middleton, McCarty and Sykes facilitated the shipment of 1,200 feeder cattle to Italy later in 1965, some of which were purchased at the Fauquier Livestock Exchange in Marshall. "It's taken a lot of work and a few headaches to bring about this shipment," Middleton told the Fauquier Democrat at the time. An accompanying photograph shows Middleton, McCarty and Italian importer Emilio Gaddini with broad smiles on a Norfolk, Virginia pier on the day shipment left Virginia.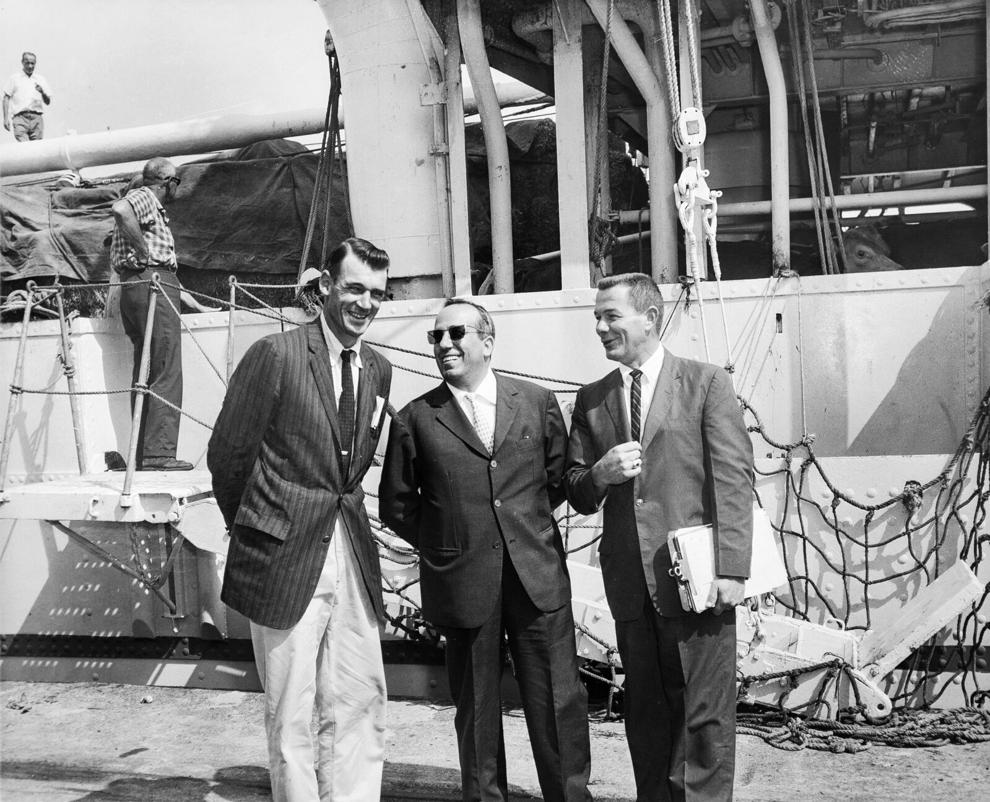 One of those headaches was a last-minute breakdown of a deal with unionized longshoremen at the Richmond port. Middleton and his business partners had negotiated a deal for the workers to load the cattle at a fee of 60 cents per head, newspapers reported at the time. "So, the day has come, it's all come together, trucks coming from all over, boat is waiting," Todd Middleton explained," and just about the time they're ready to start loading, the union guy comes up and says, "$1.80 head or else we won't do it."
John Middleton called his twin brother, Jack Middleton, also of The Plains, an influential figure in the state Republican Party, to negotiate the crisis. "It didn't look like anything was going to happen, but at the last minute Jack was able to get the union down to 90 cents a head," Todd Middleton said. "He had the political influence and had them change their minds." The crisis was averted, and the cattle made it onto the ship.
John Middleton would subsequently make several trips to Europe on behalf of the Virginia Department of Agriculture and trade organizations to promote American cattle. Todd Middleton recalled some of his father's stories about the trips, which sometimes resulted in comedic culturing misunderstandings.
On one trip, Todd Middleton said, his father arrived in Spain in August, when most Spaniards take a vacation. "They closed down pretty much the whole country to go on vacation … so my dad and Dennis [Ownby] get over there … and they couldn't get anything done, nothing was open," he laughed. "So, they just had to make the best of it."
On another occasion – Todd Middleton remembered it as occurring in Italy – his father and Ownby were offered a local delicacy (something to do with baby birds and sauce, he recalled) and made a heroic effort not to be rude to their dinner hosts. Ownby ended up ruining a suit jacket by hiding the foul-smelling morsels in his pocket after he mimed eating them.
Their efforts paid off. A photograph especially dear to Todd Middleton shows a triumphant John Middleton and Ownby stepping off a plane at Dulles Airport (which had opened just four years earlier) in January 1966. Middleton is holding up a signed contract for a large shipment of dairy cattle.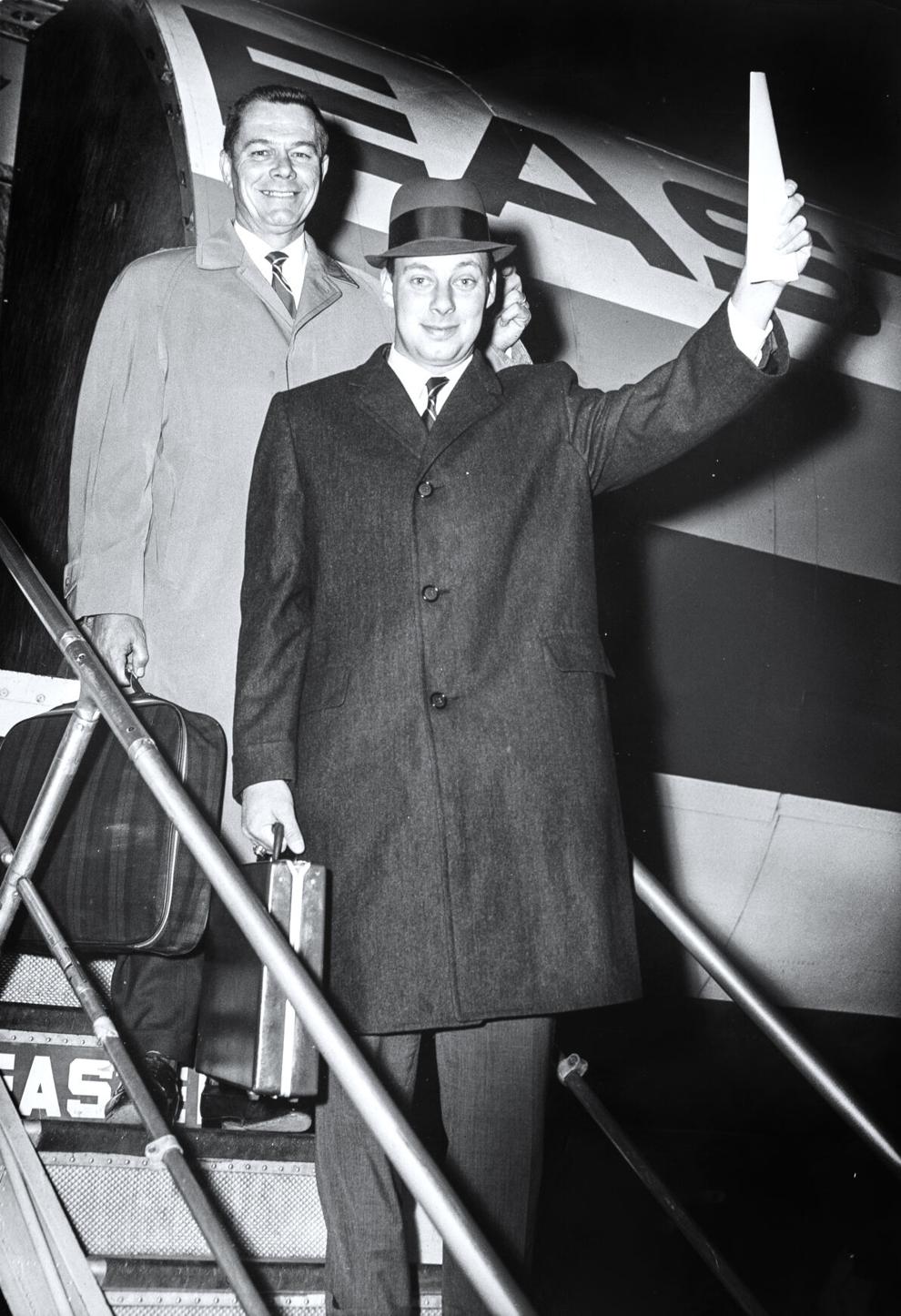 "That's what kind of opened the floodgates," Todd Middleton recalled. By March 1966, more than 10,000 head of live cattle had been shipped from the United States to Italy, the Free Lance Star reported. John Middleton stayed involved in the overseas cattle trade, but gradually stepped back from a front-line role as more American cattle brokers and producers got involved.
The "floodgates" had opened; by 1973, the United States cattle export market had grown more than fourfold compared to 1964. Countries all over the world – even those within the Soviet sphere of influence -- imported American beef and dairy cattle for their herds.
Todd Middleton recalled his father was offered a lucrative position with the state agriculture department to continue his work promoting exports, but he turned it down. "My father had a very unconventional job," his son said. "[He] never worked for anybody up until he passed."
John's wife, Virginia Middleton, was an "awesome stay-at-home mom" with a degree in accounting, Todd Middleton said. Like her husband, she lived well into her 80s. After the couple's four children left home, she worked as a part-time accountant and was always involved with the local garden club and with charitable programs at Grace Episcopal Church in the Plains.
Both of Todd Middleton's parents lived to the end of their lives on a small corner of the once-vast farm where John Middleton had grown up before and during the Great Depression. "My father never really retired," Todd Middleton said. "We had a great set of parents."