It was simple and mostly quiet. About 120 people gathered Saturday morning on sidewalks around Courthouse Square in Warrenton to promote four messages: black lives matter, listen to stories, call your legislators, and – most importantly – vote.
Unlike previous demonstrations in recent weeks, there was no chanting of slogans. Besides a brief address and a prayer at the beginning of the event, there was little talking at all, except among participants.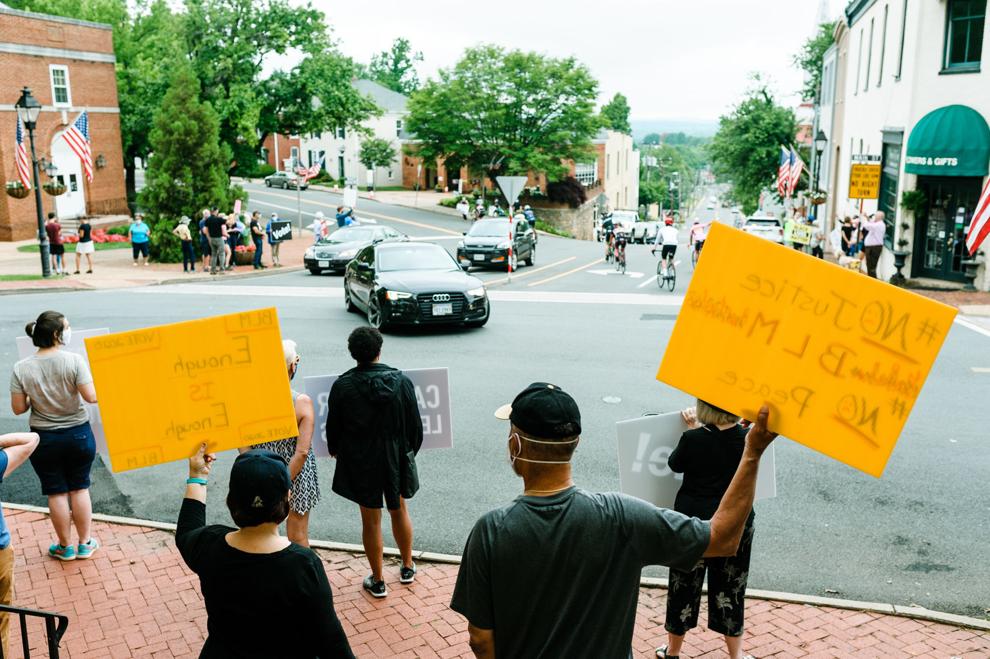 For about a half an hour, participants spread out along sidewalks waving at passersby and holding up signs. Traffic flow was not affected. The crowd then re-gathered briefly in the plaza across the street from the courthouse as organizers made brief addresses, and then the crowd disbanded. Officers from the Warrenton Police Department were present but had little to do; mostly, they engaged in friendly conversations with attendees.
The event was the first of what organizers say will be a weekly "vigil for action" in support of the black lives matter movement. The vigils will be held every Saturday morning until Labor Day, at 10 a.m. in front of the courthouse.
The principle organizer of the vigil was Scott Christian, a resident of The Plains, in his capacity as chair of the northern piedmont chapter of the Virginia Interfaith Center for Public Policy. Representatives from the Prince William chapter of the League of Woman Voters were also present, along with Ellsworth Weaver, president of the Fauquier County branch of the NAACP.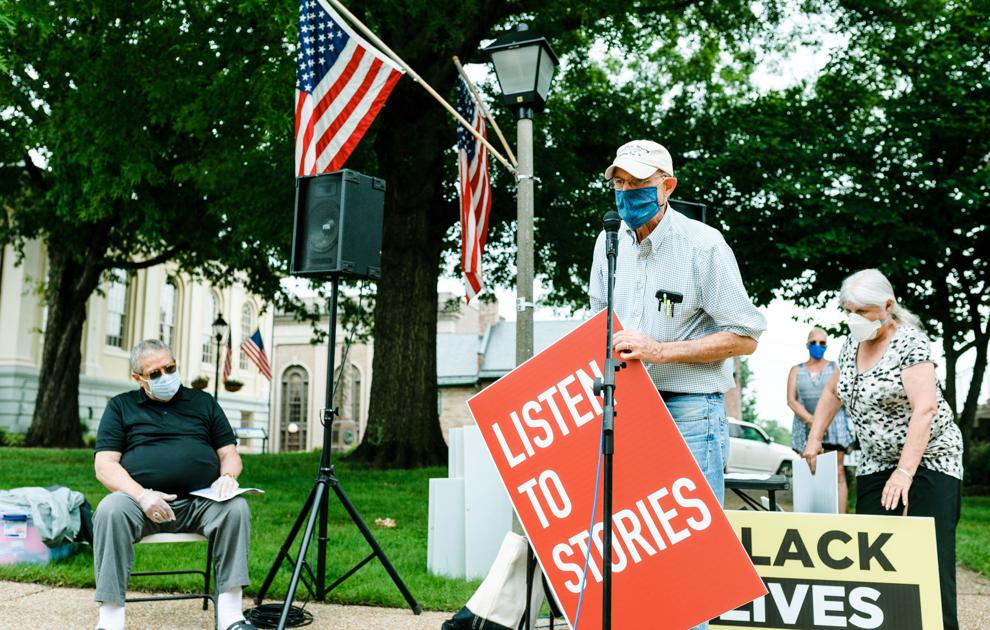 "The [VICPP] chapter has organized vigils and rallies before," Christian explained after the event. "It seems like the one thing we could do in this time to keep the issue in front, even for ourselves." He elaborated, "If all these people [who attended] go back [home] and have a conversation or read a book or call a legislator, then you've accomplished something." He hopes that hard and honest conversations can happen among groups were mutual trust has already been established.
He told the crowd at the beginning of the event, "The most important thing, of course, is not what we do here but what we do between the intervening Saturdays."
Christian said that keeping the issues of racism and inequality at the forefront of people's minds is key for making concrete progress on those fronts. "For me, it's both personal and political. There are things that I need to change in my heart and mind … but also, there is lots of legislation that needs to be changed," he said, citing criminal justice reform in particular.
"Peace and unity are important," he added, "but if that's not coupled with specific action then I don't think we'll see real change."
For people of faith in particular, he said, politics and partisanship have become intertwined, making some religious people reluctant to become involved in advocating against injustice and inequality. He mentioned the etymology of the word "politics" – in the original Greek it means, roughly, "affairs of the city" – and said, "as people of faith, we are obligated to be involved in the affairs of the city."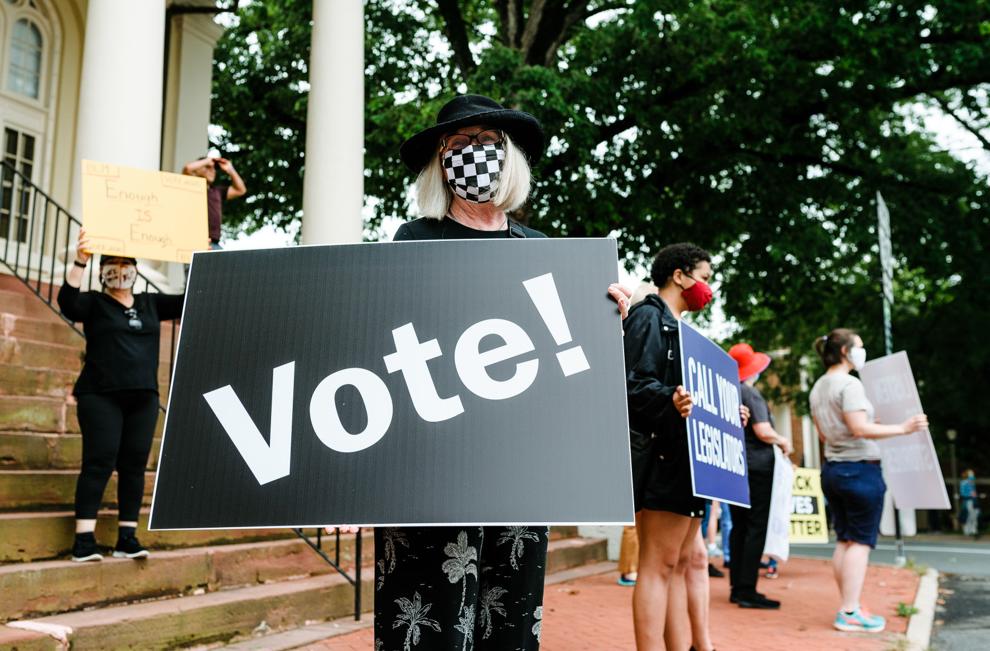 Ellsworth Weaver, who is an ordained deacon at St. James Baptist Church in Bealeton in addition to his role as NAACP chapter president, prayed at the event's start before the participants fanned out along the sidewalks. "All of us that pray to you … are members of the same family," he prayed, later adding, "Some people have taken advantage of the opportunity to take advantage of others. We pray, Lord, that those days are behind us, but that they will not be forgotten."
Weaver said after the event that he hopes that the anti-racist momentum that has been building will lead to more permanent change in perceptions and societal structures. "This is a good awakening, not just for Warrenton but also for America," he said. "The issues of racism and inequality have been hiding under rocks for a very long time. It's time we move them."
Barbara Amster and Margaret Strano, representing the LWV, had voter registration forms available for anyone who needed them. "Our purpose is to involve citizens with their government," Amster explained. Her T-shirt read, "Vote! Democracy is not a spectator sport."
Amster emphasized that the LWV is a non-partisan organization with a long history of educating voters. (The LWV, for instance, sponsored three televised presidential debates in 1976, the first public debates since the famous 1960 debates between John. F. Kennedy and Richard Nixon.)
Morgan Geddis, of Warrenton, attended the vigil with her young daughter, Leia Dolin. "I'm here because all lives matter," Geddis said, "I have a 15-year-old son and I want to be part of the change. I want my kids to see that there is good in the world. I want them to work with the cops, not run from them."
Rachael Cowne attended the vigil with her mother, Teri. "This needs to be heard; not all lives matter until black lives matter," Rachael Cowne said, holding a sign with the names of black people who have been killed.
Her mother chimed in, "People say, 'all lives matter,' and they do. But right now, black lives matter, and until that message is clear, I'll be out here with my daughter."
Barbara Ermler, of The Plains, stood in front of the courthouse holding a sign that read, "Vote!" "I'm here because it's so important that we not let this movement fail again," she said.
"I'm here because black lives matter," said Laura Jackson, of Warrenton, holding a homemade sign. She said that she hopes the recent wave of protests will not end only with words. "I hope it will accomplish real policy change," she explained.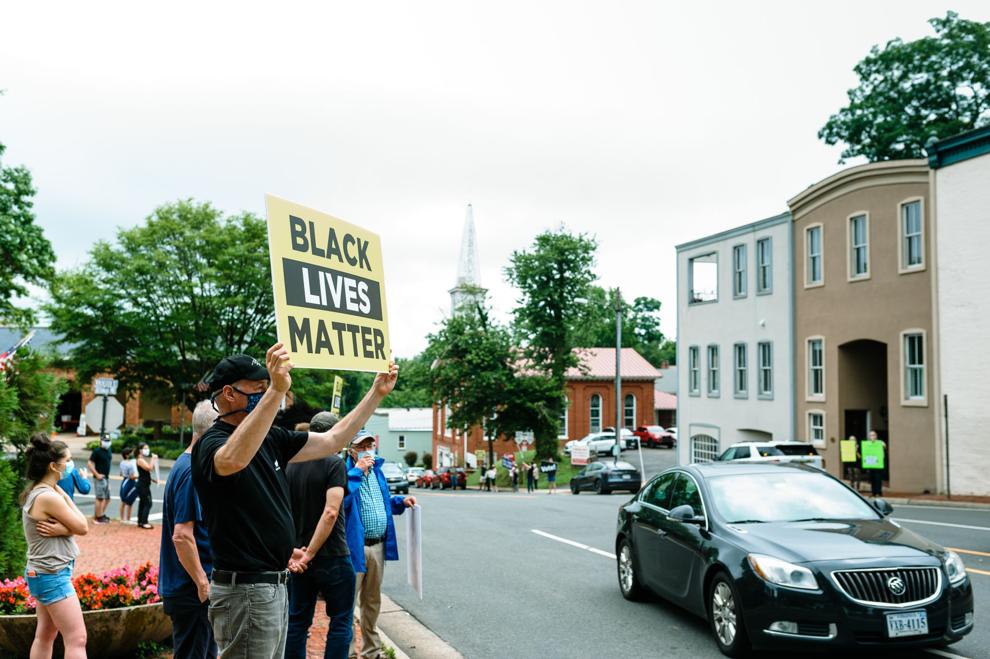 John Lesinski, a Washington, Va. resident and a candidate to be the Democratic Party's nominee for the 5th Congressional District seat, held a sign reading "black lives matter" at the intersection of Winchester Street and Alexandria Pike. "This is an amazing turnout of concerned citizens," he said afterward, "… to address one of the real pandemics we are dealing with right now: racial injustice."