A youth arranged to meet a friend to sell them a pair of Space Jam shoes on Thursday, but the owner of the sneakers says the friend and another person  threatened him and took the shoes, according to police.
Sgt. James Hartman of the Fauquier County Sheriff's Office said that the owner of the shoes negotiated a price with the friend; the victim met the friend at the friend's residence to make the exchange. Once at the residence, the victim was led to the basement by the friend.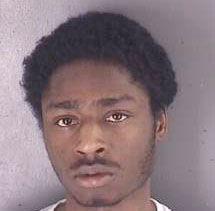 The victim said he was then approached by a man wearing a black hoodie and red bandana over his face. The victim was threatened and the shoes were taken, reported Hartman. The victim said he was eventually able to leave the residence and met with his father, who, with his son reported the incident. 
Deputies executed a search warrant at the residence and recovered the shoes and other items. Two suspects were taken into custody. A juvenile, 16, of Sumerduck was charged with robbery and conspiracy to commit robbery. A juvenile detention order was granted and the juvenile is being held in a regional juvenile detention center, said Hartman. 
Deputies also charged an adult, Keshaun James Brittain, 19, of Sumerduck, with robbery, conspiracy to commit robbery, abduction and contributing to the delinquency of a minor, Hartman said. Brittain was held on a $2,500 secured bond at the Fauquier County Adult Detention Center. 
Hartman said, "This a good time to remind citizens of our internet purchase and exchange locations in Fauquier County. All locations are under 24/7 video monitor in well-lighted public areas." The locations are in Vint Hill at the Village Green Community Center (4235 Aiken Drive, Warrenton), in Warrenton at the Sheriff's Office (78 West Lee St.), in Bealeton at the library (10877 Willow Dr.) and in Marshall at the Marshall Community Center (4133-A Rectortown Road).