UPDATED at 3 P.M.: Warrenton Town Manager Brandie Schaeffer said that detectives have identified the deceased in this morning's shooting as Fabian Jorge Sosa, 27. The Office of the Chief Medical Examiner will be conducting an autopsy to confirm cause and manner of death. The investigation remains active and ongoing, she said.
Detectives are currently following leads based on witness and victim statements, she added. Anyone with information regarding the shooting is asked to contact Detective Mike Gemmell at 540-347-1107, x245.
ORIGINAL STORY: Three men were shot early Wednesday morning at an apartment complex on Jackson Street in Warrenton. One victim has died; two others with serious injuries were transported to regional hospitals.
Warrenton, Fauquier County and Virginia State Police officers are working at the scene.
Warrenton Town Manager Brandie Schaeffer said in a press release that at about 4 a.m., Warrenton police officers were called to a reported shooting. "Witnesses called 9-1-1 and reported hearing yelling and gunshots. When officers arrived at the complex at 393 Jackson Street, they discovered three gunshot victims in an apartment."
She reported that one man was airlifted to a regional trauma center with life-threatening injuries; a second man was ground transported to a regional trauma center with severe injuries. A third man was pronounced dead at the scene.
Schaeffer said that witnesses described three suspects running from the scene, north toward Broadview Avenue. "The only description available at this time is they were wearing dark clothing and hoodies. It is believed at least one of the suspects may be injured."
Sgt. James Hartman of the Fauquier County Sheriff's Office said that police conducted a search for the suspects in the early morning hours. Officers checked with business owners in the area, and sought surveillance video that could be helpful. Fauquier County Sheriff's Office K-9s were also employed in the search for the suspects.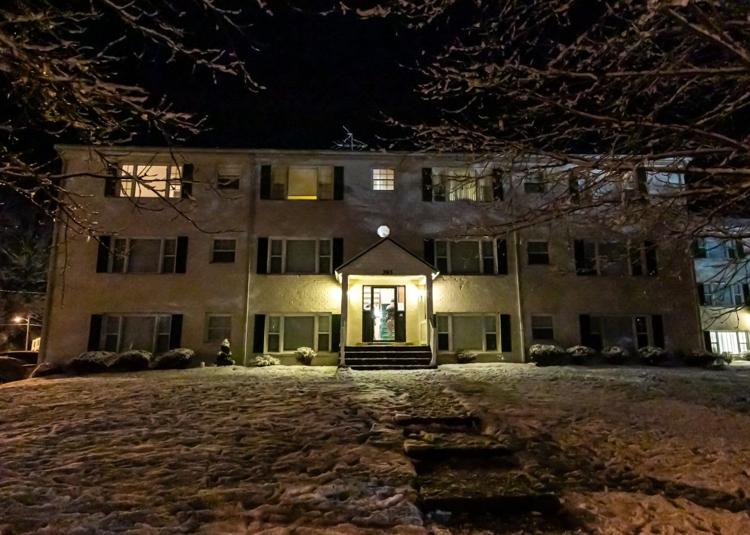 Schaeffer said at about 7 a.m. that police were seeking a search warrant, but they were securing the scene until that was obtained. Surveillance footage from around the apartments is also being sought. 
The Warrenton Police Department is being assisted by the Fauquier County Sheriff's Office and the Virginia State Police. There will continue to be a large law enforcement presence in the area.
"We'll be here all day," said Schaeffer.