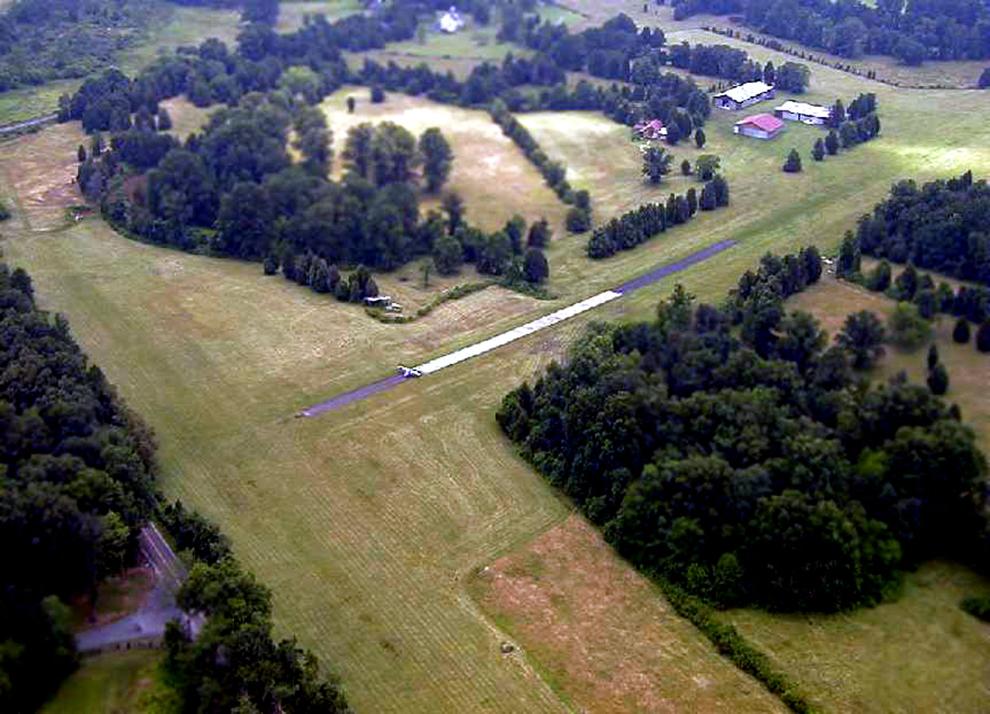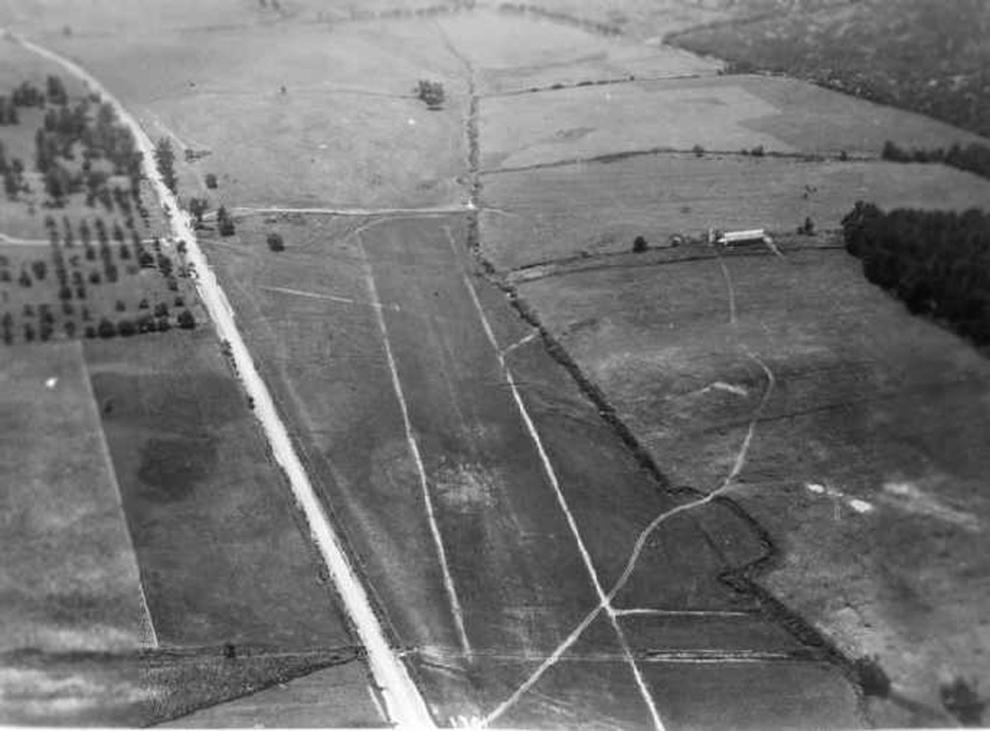 The early history of aviation in the Warrenton area is most closely tied to the airfield situated along Green and Green Meadows roads. Known today as Warrenton Air Park, the property has had only three owners over the past 80-plus years; all of them have been pilots. As part of his autobiography, the current owner, Tommy J. Richards, 82, has compiled a detailed history of the airport.
The first move to bring air service to Warrenton was in October 1935, when Clifford P. Zieger (1906-1970), an experienced aviator and instructor, applied to the county for a charter for a commercial flying venture. 
According to the application, Zieger would operate a Waco Corbin aircraft out of an airfield located at Meadowville, north of Warrenton, offering charter trips "anywhere in America."
The charter was granted, but it was determined that the Meadowville airstrip, located between two mountain ridges, could not be used under certain wind conditions.
So, in January 1936, Zieger purchased a 263-acre farm southeast of town from Herbert Myers, where he and his partner, Graham Cameron, established Virginia Air Service Inc. The following May, the Town of Warrenton leased the property "at a nominal rate," with the idea that a municipal airport could be established there. Such a lease also qualified for State Highway Commission funds that could be used to build and equip the airport. 
The facility was named Zieger Field, and among those taking flying lessons there at the time were Randy Carter, John Drake, Hugh Moffett, Dick Glascock and Irvin Garrett.
By late 1937, Carl N. Dunn Jr. was hired to operate the airport, as Zieger had taken a position flying for Eastern Airlines, out of Newark, N.J.  He remained as secretary and treasurer of Virginia Air Service, and usually returned to Warrenton on weekends.
Activities at the airfield
Zieger Field was the site of many aviation events and air shows, including parachute jumping, handkerchief pick-ups from a moving automobile to a speeding airplane, aerial balloon bursting and other stunts. U.S. Army aircraft, including Boeing P-12E pursuit planes and B-E-7 trainers, also participated in the airshows, flying strictly within Department of Commerce regulations.
Zieger competed in air races across the country, facing off against aircraft pioneers like Howard Hughes, according to his son-in-law, Rick Morley.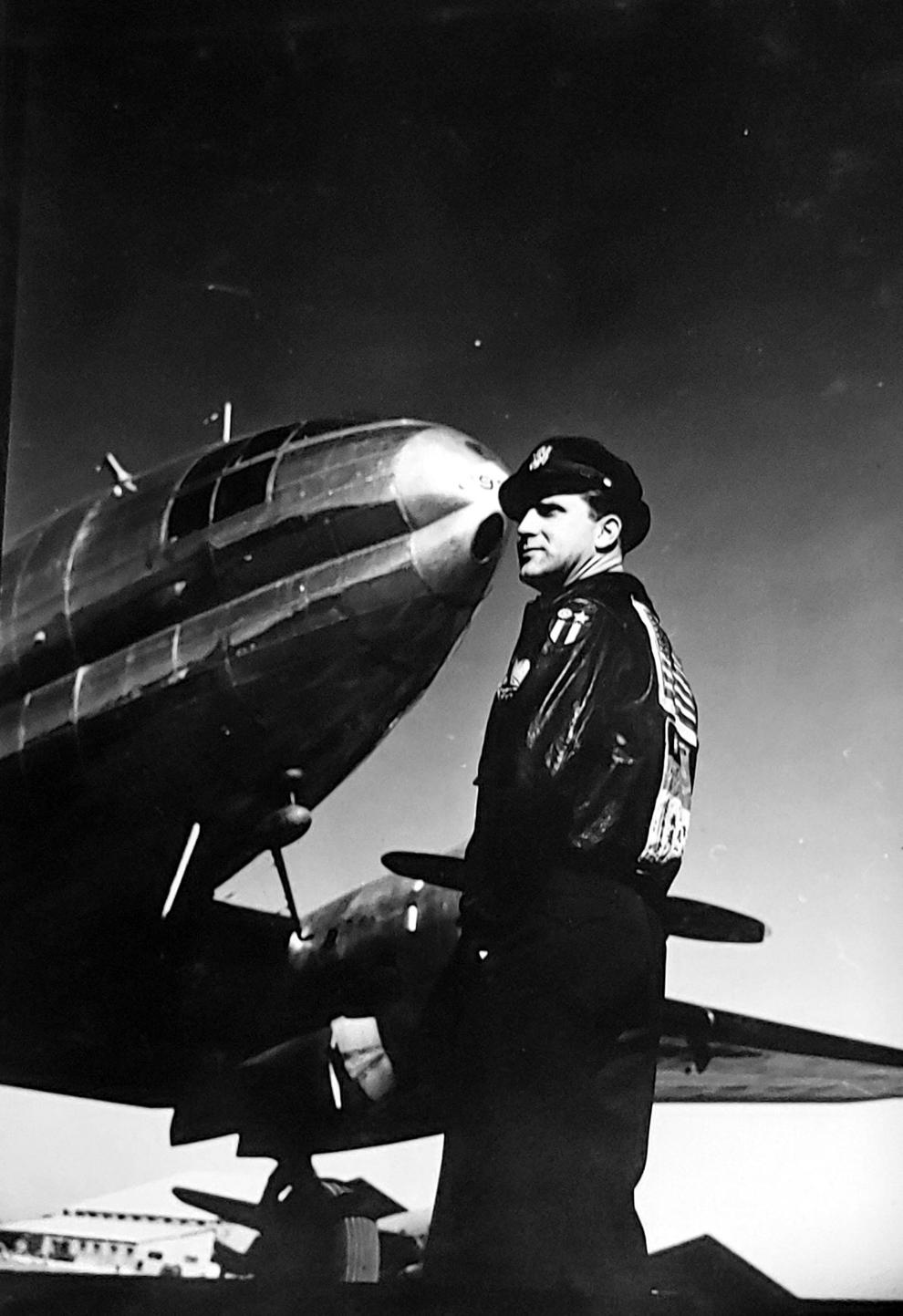 Zieger was to compete for the 1939 Bendix Trophy race, piloting a Wendell-Holmes 92. However, engine failure caused the airplane to crash on take-off while en route from Utica, N.Y. to the Pratt & Whitney factory in nearby Hartford Connecticut. Zieger missed the race.
With America's entry into World War II, in the fall of 1943 Zieger was commissioned in the U.S. Army Air Forces. He flew 56 missions "over the Hump," as the dangerous run over the Himalayas was known. 
He later served as chief pilot of the North African Division of the Air Transport Command, and 
was the first American pilot officer to land in Paris after the city was liberated, bringing Gen. Charles DeGaulle from his Free French headquarters in North Africa to the city. 
"I really had a thriller in Paris," wrote Zieger in 1944 about the experience in a letter to his friend, Ian S. Montgomery of Warrenton. "We were in Paris two hours after the Germans left. I was in the parade and all, enjoying it immensely for about 10 blocks, when the snipers opened up. There was quite a war on the Champs Elysees."
Zieger also charted Pres. Franklin D. Roosevelt's course to Yalta for the Allied conference held there in February 1945.
Back home, a military flight school was operated at Zieger Field. It is believed that most of the students were women in training to be WASPs (Women's' Airforce Service Pilots), who would later perform stateside aircraft ferrying and testing responsibilities.
Zieger returned to Fauquier after the war, and at the invitation of WWI ace Eddie Rickenbacker, founder of Eastern Airlines, resumed his career as an airline captain and moved to a large farm near Ridgefield, Connecticut.
In1948, Zieger sold the airfield property to John Cutting, also a WWII pilot. Wishing to continue the airfield there, in October 1950 Cutting had the operating license transferred to his name. 
The field was identified as an active public-use airfield until some point before 1956, when it was re-designated as a private airstrip. Cutting renamed the field "Airport Acres," and flew his Cessna aircraft from the field. 
Cutting continued flying until he could not pass the FAA medical exam. He sold his aircraft, and around 1961 the operating license for Zieger Field was "revoked later on request of the applicant as no aircraft were based there." 
The Cuttings moved to Hesperides Farm, northwest of Warrenton, and in the fall of 1963, sold the airport property to Charles E. Beatley, a United Airlines captain and four-term mayor of the City of Alexandria. Beatley renamed the property the Warrenton Air Park.
According to research by Tommy Richards, "Prior to the sale, upon application by Mr. Cutting, a Special Use Permit was issued to 'locate an airport on Route 616 between Opal and Warrenton, this being the same site as the old Zieger Airfield.' The permit has no restrictions and no expiration date."
As shown in a 1966 aerial photo, the two airstrips originally separated by Licking Run were linked after Beatley installed a three-foot culvert, and an 18-foot-wide section of runway 750 feet long was paved. "This hard surface was to prove useful as the 'launch pad' for the gliders that were soon to appear," according to Richards. 
In October 1969, the Capital Soaring School moved from Godfrey Field in Leesburg to the Warrenton Air Park. In 1974, it was incorporated as the Warrenton Soaring Center, and was a dealer for Schweitzer gliders.
During his ownership, Beatley added a clubhouse and hangar space. By 1992 – the year the Warrenton Soaring Center disestablished – the airport had three grass runways in operation.  
"Ultralight aircraft began showing up just as the gliders were leaving," wrote Richards. "Around 1998, the United States Ultralight Association Flying Club 1 moved its main base from Whitman Strip to Warrenton Air Park."
Beatley died in December 2003, and in April 2004, Tommy Richards purchased the 76.5-acre Air Park property from the estate. As luck would have it, Richards had built an ultralight aircraft, and was looking for a place to fly it. 
An aeronautical engineer, Richards had a long career working for Lockheed, CSC and NASA, and was involved in the Apollo Lunar Mission. He earned his private pilot's license in 1981 and has owned and flown a number of different aircraft over the years. He currently works as a professional proposal writer, as well as operator of his Air Park-based company, Grassroots Flyers. 
In 2005, Richards began expansion of the facility, adding hangar space and opening the field for Powered ParaGliders. 
The next major activity at Warrenton Air Park was the opening of the D.C. Skydiving Center, which operates from April through November, and has an average of 7,500 people jumping each year. 
This summer will be the last at Warrenton Air Park for the skydivers, who will be moving to the Warrenton-Fauquier Airport. In its place, Richards will continue normal flight operations and limited pilot training.
He is also making plans for one or two special events in 2019, including a "Parade of Planes" with aircraft exhibits and an air show. As in the past, these exciting events will be open to the public, and will recall the 1930s, when Cliff Zieger was making aviation history in Warrenton.