Even in the middle of a pandemic, sometimes baseball games are still canceled for old-fashioned reasons. 
Dark clouds loomed on the horizon as a Little League scrimmage between the "Nationals" and the "Orioles" commenced Thursday evening in Vint Hill. The uniforms were mismatched and unofficial, and the kids were 10 to 12 years old. About an hour into the game the thunder started, followed shortly by rain, ending the game after only a few innings. 
The scrimmage was part of a free, informal summer league organized by Greater Fauquier Baseball Little League after its spring season – usually the highlight of the baseball calendar - was canceled entirely as the novel coronavirus pandemic spread to Virginia in March.
Canceling the spring season was "heartbreaking," said league president Bryan Kniceley, and the summer "sandlot" league was a way to get kids back out on the field, even if it wasn't baseball as usual.
Families didn't have to pay any registration fees for the summer league, which began in late June and will end this weekend. If the games had umpires, they were volunteers. Technically, no one kept score. (In reality, of course, almost every player and coach knows the score at any given moment.) No new uniforms were distributed to players. 
"Everybody has been very supportive [of the summer league]. We got a lot of positive feedback," Kniceley said.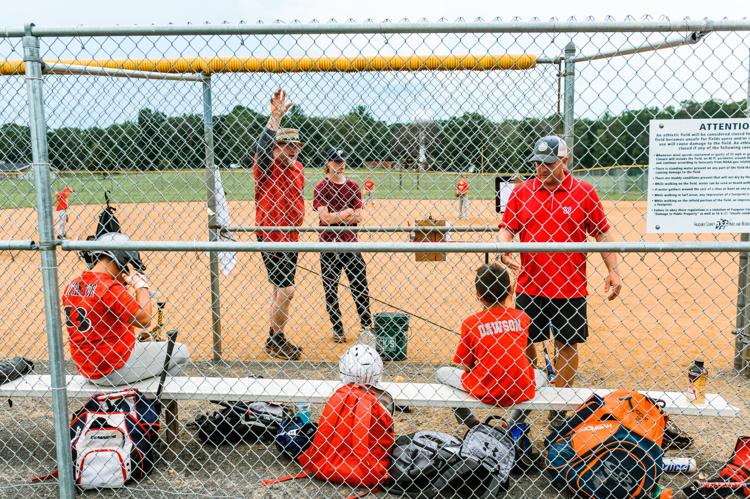 The local Little League is one of several youth sports organizations cautiously resuming practices and competitions as the fall season – usually a busy time for youth sports – approaches. To use fields owned by the Fauquier County Department of Parks and Recreation, like the one in Vint Hill, each league or team - some travel organizations applied individually - had to submit a return-to-play plan to the department. 
"Groups were asked to consider social distancing in dugouts and team benches, group size restrictions, no shared equipment, and the need for an additional waiver related to COVID," explained Thomas Schoenauer, the parks department's superintendent. "The department also asked each group to identify a designated COVID-19 league representative who would be the point of contact for questions and enforcement." 
As of Friday, the parks department had approved return-to-play plans from four leagues: Greater Fauquier Baseball Little League, Warrenton Youth Sports Club, Fauquier County Soccer Club and Fauquier Youth Football. Each league has a plan for fall competitions beginning in August or September. Six travel baseball organizations (who compete in several leagues) also have approved plans in place to use county fields, along with one travel lacrosse organization. 
"Not all sports have plans to return, so our fields are at about 75% capacity heading into the fall," he explained.
"At this time, we haven't had any major issues with approved groups not following their plans," Schoenauer said. "It has more been groups walking on to the fields not being aware of our protocols, who we educate and ask to follow all necessary items to properly schedule field use."
The 16-point Little League plan, for instance, forbids the sharing of equipment among players and asks players, coaches and spectators to maintain 10 feet of separation whenever possible. Enclosed dugouts are off-limits entirely. For fields with fenced dugouts, like the one in Vint Hill, players are encouraged not to congregate, instead spreading out nearby or sitting with their families between innings. The frequent use of hand sanitizer is encouraged.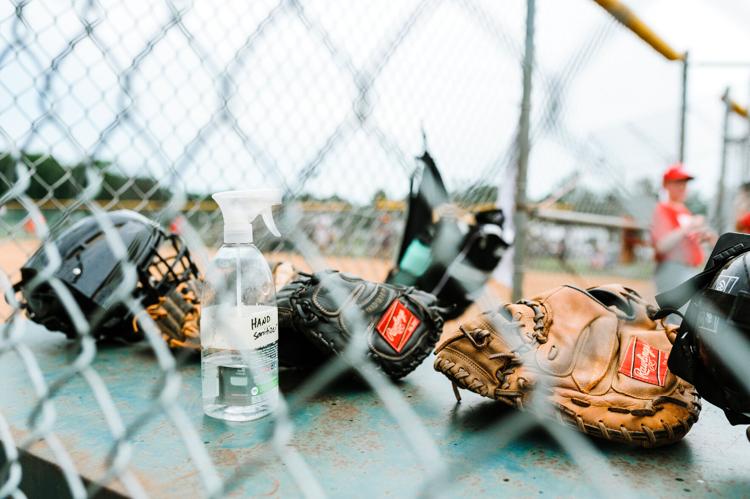 Even with the restrictions, Thursday's scrimmage mostly looked like a normal evening at the ballfield. The effects of the pandemic were only noticeable upon close inspection: a bottle of hand sanitizer on the dugout bench, the lack of the usual congratulatory high-fives between innings. Kids and parents alike were just happy there was something fun to anticipate after schools and other activities had been shuttered for so long. 
"As soon as they said they were doing [a summer league], we signed up," said Kiley Gonzalez, of Bealeton, as her son Channing, 10, was at-bat during Thursday's scrimmage. "A lot of the kids really missed this." 
One of Channing's coaches, Mike King, of New Baltimore, said, "I think it makes the world feel a little bit back to normal. I think people are looking at this as salvation, honestly, from a discombobulated world." He added that, since the spring season was canceled, "I think that there will be a little bit more emphasis put on the fall." 
King's 10-year-old son, Dawson, lit up when considering how the summer league affected his life after so many other activities were canceled. "It really helped with my boredom," he said. "There was so much boredom." He will attend Highland School in the fall; he is most looking forward to seeing his friends again. 
Going into the fall season, which will have the same COVID restrictions in place but follow a more traditional structure - with paid umpires, uniforms and scorebooks - Knicely said that registration numbers are down compared to last year. "I'm sure most parents have their focus on what they are doing for school," he said. But, he added, "We hope that people look to us, kind of see us as kind of an outlet for their child."