The morning was crisp and sunny on the lot behind Warrenton's Brumfield Elementary. Rows of stacked firewood were either ready to go or still drying out. An ax dropped in intervals, and smoke wafted from a burn pile of scrap wood. As wheelbarrows rolled by, children wandered the field offering bottled water, and hay was being laid over the deep mud. It was a typical Saturday for volunteers in the "wood ministry" of a number of county churches. 
Warrenton Baptist and St. James' Episcopal share this 50-acre field, donated by Arabelle Arrington to Warrenton Baptist nearly a decade ago. For the last two years, Colin Borgstrom's volunteers from St. James', and Tom Williams' volunteers from Warrenton Baptist have alternated Saturdays here where they receive donated wood, chop it, season it and deliver it where needed. Their combined efforts deliver a truck-load of wood per week, all winter, to 25 homes in the central and south of Fauquier County. 
Grace Episcopal in The Plains and Grace Bible in Marshall have smaller operations, delivering wood to homes in the northern end. Others volunteer as well. And all share information and resources.
"I've taken three calls just today asking for a delivery of wood before the snow comes," Judy Williams said last week. She and her husband, Tom Williams, took over the operation two years ago. She fields the calls. He organizes teams and deliveries. 
"Lynn Ward and Claiborne Crain, as members of Warrenton Baptist church, started the wood ministry about five years ago," Tom Williams explained. "Lynn was forming Fauquier Community Coalition, which is a nonprofit that identifies needs in the community and then connects churches to work on the projects," he said. "They became aware of the number of people in the county that relied solely on firewood to heat their homes but could not afford to purchase it." 
Firewood costs about $175 a truck load, which is about half a cord of chopped wood.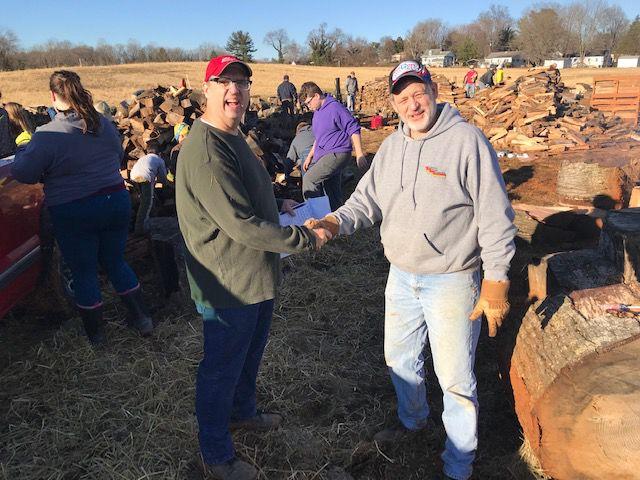 "St. James' initially joined to help split firewood, and then two years ago, seeing the extent of the need, decided to ramp up the ministry by working in the wood lot every Saturday year-round," Tom Williams added.
The operation delivered 102 loads of wood last year , or 51 cords. "We only add clients who have a financial need and heat primarily if not exclusively with firewood," Tom Williams said. He thinks this year will exceed last year's 800 volunteer hours and 102 deliveries.
Professional arborists deliver trees already cut into huge rounds, he said. "People have offered to donate standing trees to the ministry but we don't have the expertise, equipment or insurance to bring wood to the lot." 
One generous individual recently donated more than 20 cords of wood. "Already split and dried and ready to deliver," he said.
The volunteers, usually working a two-hour shift, process the wood using axes brought from home and three log splitters -- one purchased and two donated. They built a shed to house the machinery, but otherwise the lot is empty. 
"Were raising money to build a welcome center up there, where that huge tree is standing," he said.
They have about 20 people with pickup trucks who have volunteered to deliver the wood to folks. 
"Our clients contact us when their supply is getting low and we send out a request for delivery to our drivers. The first to respond gets the job." They also try to "make a connection with these families to see if they have other needs that our related organizations can meet," Tom Williams said.
Jeannette Clarke, 62, stood in her driveway in Midland last Saturday as her husband Nigel helped unload firewood from the back of Jay Heroux's truck. Heroux, a new member of Warrenton Baptist, had delivered the half-cord of firewood, hitting the wood lot in Warrenton to pick it up at 9 a.m. 
"That much wood ought to last about two weeks," Clarke said, her voice alternating between high-pitched and normal. "'Because of my surgery -- on my throat," she said. 
Clarke has diabetes. Her husband has a bad wrist and a broken nose. "Horse did it. Did it with his face," Nigel Clarke said. 
The couple live in the cinderblock house with their grown daughter who is autistic. The extended family owns some acreage there, "but it falls to me to pay the taxes, and it's real hard to keep up." The county can offer no relief, she said, "until I'm 65."
 Their clothes, toilet paper and soap are church donations. Their food comes from "the food bank," she said.
"My grandfather built this house, she said. "He was a minister at Ebenezer Baptist Church. He married many a couple right here." Clarke pointed to the concrete front porch. She had on a coat and a pair of shorts. "No, baby, don't worry about me. I stay upstairs next to the [wood] stove all day and night!" 
After he'd swept out the truck, Heroux hopped down and said a prayer with the Clarkes. 
"Amen," they both said afterward, waving as the truck pulled out. "Bless y'all. Thank y'all," Clarke said.
"I have to tell you my favorite wood ministry story," Ward, who founded the wood ministry at Warrenton Baptist, added later. 
"I got a call from Culpepper and the caller said there was a woman in her 90s who was still living in the house she was born in. As a young woman she walked seven miles to a house where she was a maid and house cleaner and then the seven miles back home, regardless of the weather. Her pay was 25 cents an hour," he said. 
"So many of our clients have worked hard all their lives but didn't have the opportunities many of us received."