The Fauquier Education Association, the local branch of the state's largest educators' union, now supports starting the academic year with a 100% virtual model. Citing results from a survey this week of its members and a growing number of new cases of the novel coronavirus around the state, the association's official position has changed; the FEA previously signaled support for the "blended" model that was approved by school board members July 13.
"[I]t is clear from the data in our membership survey that many concerns and questions still revolve around [the blended] plan," said a July 23 open letter from the chapter's leadership to school board members and Superintendent of Schools David Jeck. The letter argued that, with completely virtual instruction, "we can allow educators to give a quality education without the daily distraction of fear and without the risk of losing their life or the life of a loved one."
The letter urges school board members to reconsider at their July 27 meeting their previous decision to begin the year with some in-person instruction. The push for a completely virtual instruction model follows decisions by nearby school divisions in Prince William County, Loudoun County, the city of Manassas and Fairfax County, all of which will begin the academic year with an all-virtual model.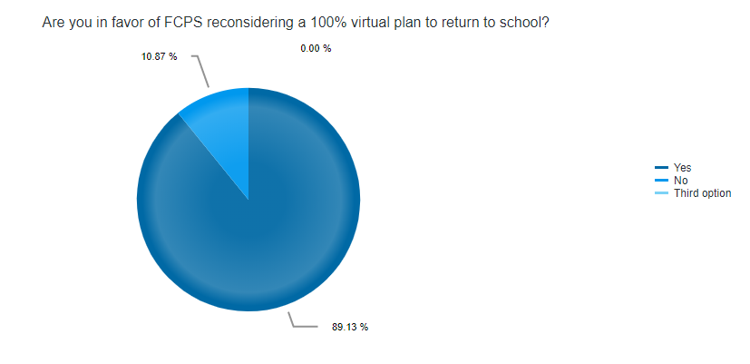 Of the 325 union members who responded to the survey, 89% supported starting the year with completely virtual instruction, according to a statement from FEA leadership Friday morning. "We also would like to note numerous staff who are not members of our association have reached out with their concerns and support for 100% virtual as well," the statement said.
The survey also asked members if they supported the blended instructional model approved by the school board, and 34% said they did. "In breaking out the data with comments, it was clear that the majority of that 34% would support a plan with the county, however that they strongly support [entirely virtual instruction] if choosing between the two options," the statement said.
Attached to the statement were a number of quotes from school division employees' responses to the comment section of the survey. These responses referenced, among other concerns, the difficulty of enforcing physical distancing among students, health risks for teachers and a concern that the cleaning measures necessary under the blended plan would place an undue burden on custodial staff.
"I am very afraid of parents sending sick kids to school. We know this happens regularly," said one comment.
"Social distancing does not exist with small children," said another.
Another survey respondent said they felt "forced into returning [to work] under circumstances no other workplace would fathom," adding that students and staff "should not be the guinea pigs to see if our economy can handle reopening!"
A transportation worker cited concerns about wearing masks in the summer heat at the beginning of the school year. They added, "As a parent, I am concerned about sending my children back into an environment that is unequally populated by those who see the need to mask and take precautions, and those who think that the whole virus is a hoax."