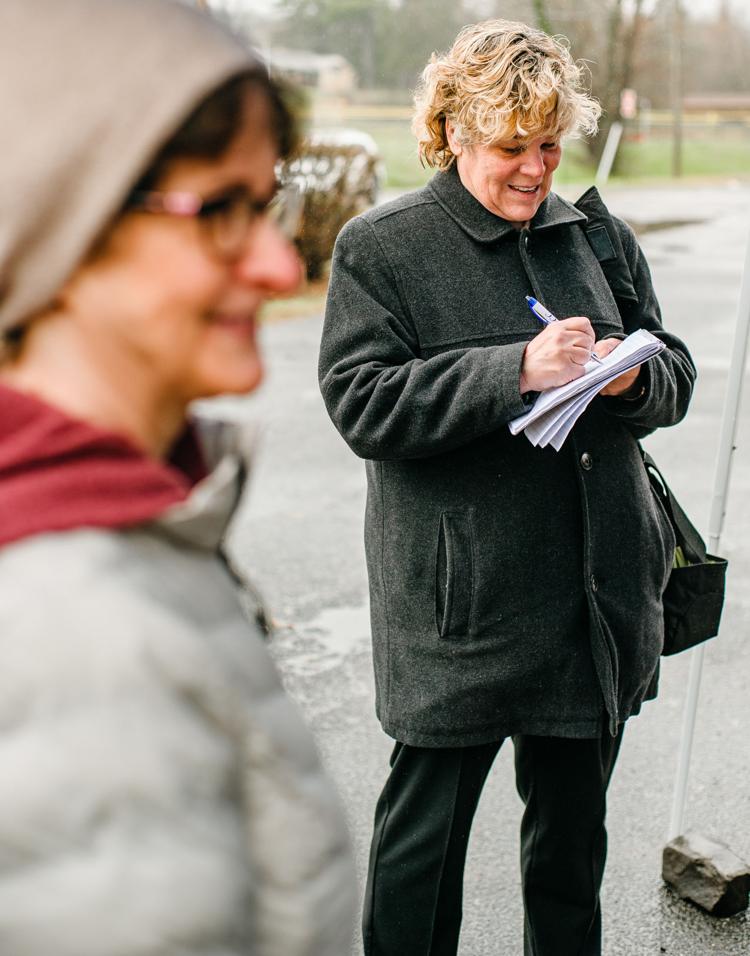 As life in Fauquier County was shutting down amid the coronavirus crisis, two Fauquier Times journalists raced around, notebooks and cameras in hand, gathering information for 37 articles they would write about the local effects in the first week of the national pandemic.
Robin Earl, 60, discovered that the Poet's Walk nursing home had suspended outdoor trips, that county supervisors had met twice in one day in emergency sessions and the Warrenton city manager's conference call-in had drawn a remarkable 100 people. As grocery shelves emptied, she guided readers to small farmers with meat and eggs for sale. She alerted students to the day they could retrieve their textbooks before school closed and interviewed volunteers at Fauquier High School handing out free lunches in the rain.
Coy Ferrell, 28, visited Main Street merchants to create a list of businesses offering curbside delivery. He interviewed families, food banks, the election registrar and budget officials. He shot photos of the lines outside Walmart, a bookstore owner and food preparers.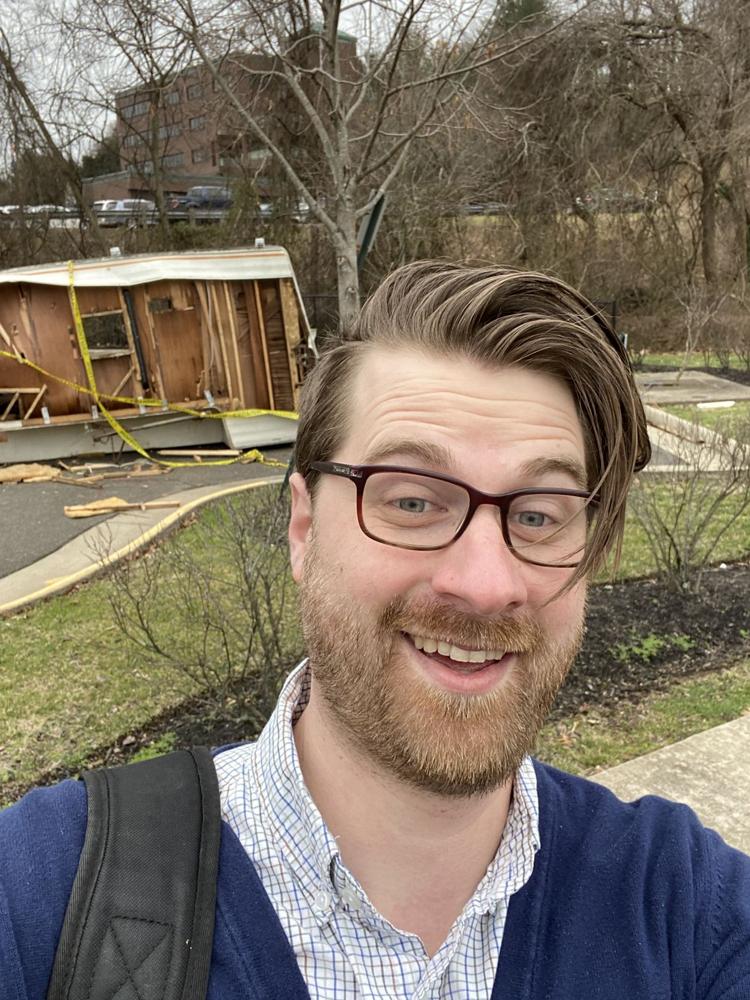 But inside the reporters' Culpeper Street offices another critical story was unfolding. At the very moment residents needed the Times more than ever, the newspaper was fighting for its own survival.
On March 5 -- one week before President Donald Trump declared a national pandemic -- circulation manager Nancy Keyser had stood in the darkness on the Times loading dock at 1:30 a.m. and thanked her 30 carriers one last time. Some had delivered papers for more than 20 years. To save money, most were being replaced by postal service delivery. "There were people who cried. It was very emotional," Keyser, 59, said later. "But either we make these decisions, or we go out of business."
Like local newspapers across the country embattled by years of declining revenues, the Times' financial state was already fragile. With businesses now shutting down and advertising suspended due to the coronavirus, the situation turned dire quickly.
In the last two years, Publisher Catherine Nelson had moved the staff to a smaller office and laid off an editor-in-chief and several others. Last November, the owners and board of directors took the dramatic move of transferring the paper to a nonprofit, the Piedmont Journalism Foundation, allowing it to receive tax-deductible donations.
On March 16, Nelson cut the Times from 40 to 24 pages, stopped sending newspapers to schools, eliminated most non-news sections and reduced the number of copies printed. 
But this wouldn't be enough either. The hardest part was to come. 
The Fauquier Times' situation is far from unique. Since 2004, one in five U.S. newspapers have been forced to close from financial distress, according to recent research by the University of North Carolina. Newspaper chains have been gutted by hedge funds and corporate consolidations.
Some 1,776 local newspapers, including century-old weeklies like The Times, have folded since 2004 and there are 50 percent fewer local journalists.
Before the 2008 Great Recession, Fauquier County was covered by 25 full-time reporters, photographers and editors at two local newspapers, said Lawrence K. "Lou" Emerson, a former editor at both publications. Now there are only four full-time journalists, two at The Times and its Fauquier.com website, and two at Emerson's FauquierNow.com, including himself.
The recession prompted a steep drop in advertising revenue at the same time that publications were offering themselves online for free. The result was the collapse of an age-old business model based on ad sales.  
About 85 percent of small newspapers' revenue historically have come from advertising inserts from grocery and big-box chains and the back pages—classified, employment and services ads, as well as obituaries and government legal notices. Paid subscriptions to homes and businesses make up the rest. 
Jeanne Cobert, 63, used to fill the back pages. An employee for 21 years, she remembers arriving each morning by 7 a.m. to greet farmers bringing in homemade classified ads to sell their equipment, cattle and hay. "I just loved our farmers," said Cobert. 
The year before the recession, Cobert had sold $1 million worth of ads, filling 10 to 12 pages each week, she said. Then came Craigslist, Google and social media, whose secret algorithms allow businesses to target only the customers most likely to buy their products, greatly reducing their ad costs. "Facebook was another nail in my coffin," she said. A good week now is one or two pages.
Cobert is troubled that readers don't realize the money and work required to produce the newspaper. She has followed more than one person out the front door who grabbed a copy off the office rack, assuming it was free. "Hello?!" she said she would yell out to them. "That's a dollar!" (The price is now $1.50).
For years, Cobert and her sales colleagues have quietly carried the psychological burden of making payroll, they said. "It's a huge burden to realize you have the paycheck for everybody on your shoulders," said Marie Rossi, 69.
With the goal of improving the newspaper, 47 local investors bought the Times from longtime owner Arthur "Nick" Arundel's son, Peter, in 2016. Since then it has won numerous state awards and last year, the Virginia Press Association awarded it best newspaper in its class.
The business side has not fared as well. In the first year, revenue projections were high, and the newspaper lost money. Cost cuts as well as contributions from board members and some investors helped it through the initial tough times. Since November, when the PJF took ownership, donations from local individuals and foundations have been essential to its continued operations. 
But the newspaper's managers and PJF officers say The Times is not likely to survive without increased community donations and subscriptions.
"We've all been working so hard to beat the odds that have wiped out so many other small papers," said Landon Butler, chairman of the board of directors. "At this moment especially we are making a special appeal to our community. With strong community support, we can get through this."
A workforce of older women
Including the two reporters in Fauquier and two at the Prince William County edition, the Times has nine full-time employees and five who work part-time. Most are women older than 60 who grew up in or moved to the county to raise families.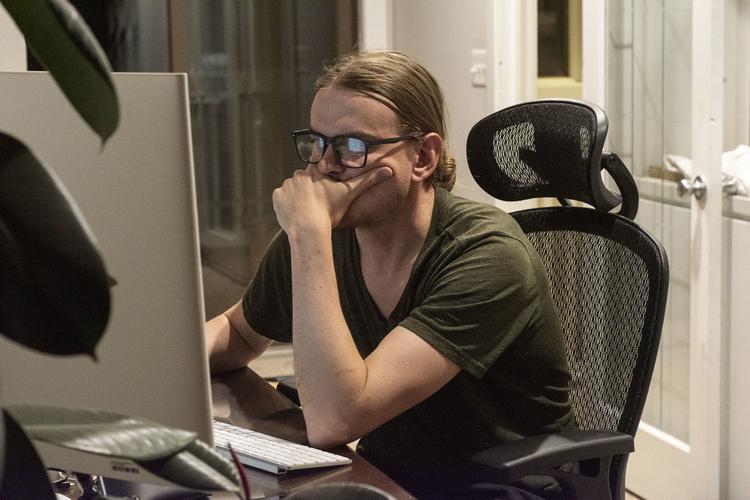 The tech-savvy art staff have had their hours reduced, but the graphic artists are still producing videos, managing social media and designing the news pages and website. Working remotely has a new layer of difficulty to their deadline-heavy responsibilities.
Nelson, an industry consultant and former publisher at several newspapers before she was hired in 2018, is 69 and uses her free time to run 5K and 10K races. 
Early some Saturdays or Sundays morning, she can be found standing in her pajamas in front of the horse stalls below the barn apartment she rents, trying to get cellphone reception to make sales calls, arrange special sections, troubleshoot technological snafus.
Earl, too, often ends up working in pajamas, proofreading late at night in the kitchen, editing in the bedroom, checking messages coming in on her watch. Recently her knees have begun to hurt so she gave up coffee and chocolate. "I know!" she said, acknowledging the bad timing.
Earl moved to the county 16 years ago, worked at The Times from 1996 to 2007, then for 10 years as the Fauquier Hospital spokeswoman. Last year she was hired as managing editor. All to say, Earl has sources. One called last Valentine's Day: "You might want to listen to your police scanner—something big has happened." 
Through the crackle she caught the words "double homicide." She texted Warrenton police spokesman James Hartman. "Meet me at Mary Walter," he answered. She knew the elementary school; her three children had started school there.
Earl drove her 10-year-old Prius, always packed with extra clothes and a camera, to the school where police had set up a command center. It was a subfreezing evening, so she hopped into Hartman's squad car to keep warm. They waited. Facts were few. After 90 minutes, Earl drove home to Bealeton and made herself "a ham-and-cheese-no-bread sandwich," she said.
At 10:28 p.m. Hartman texted again: "Things have changed. You might want to come back to Mary Walter."
She bundled up and drove back, then returned home again an hour later. After midnight, the police department released a photo of the homicide suspect: Levi Norwood, 17, had allegedly shot to death his mother, Jennifer, and his 6-year-old brother, Wyatt, then wounded his father, Josh, at their home in Midland. Earl added it to the website next to the news article she had written earlier that night.  
The next day, a Saturday, she canceled a dinner with her daughter, MacKenzie, the daughter whose bassinet Earl used to bring into the newsroom only weeks after she was born, the one who grew up playing in the newsroom when there was no babysitter. Earl worked until 11 p.m. again.
The double homicide, like the coronavirus and the Sept. 11, 2001 terrorist attacks, adrenalized the Times journalists in the way that calamity does. Getting critical information to the public is one they take seriously.
For Nelson, Earl, Ferrell and Jill Palermo, a political junkie and the editor of the Prince William edition, knowing what is happening every day, sometimes every minute, is an addiction they are happy to have.  
Palermo, 51, jumped in to help Earl on the double-homicide, though she and her family were visiting her mother in Tucson, Arizona. She would read through Earl's articles and repost them on the Prince William Times website. One arrived just as Palermo's family was pulling into the Tucson airport to return home. 
As her husband filled the rental car with gas, he warned her she would have to get out within minutes. Her fingers flew across the keyboard.
Moments later, a Hertz attendant opened the driver's side door. "Okay, I am getting out of the car now," her husband said as he and their daughter left. Palermo didn't move.
"Ma'am, I'm going to need the car pretty quickly …"
"I know, I know …" she replied, finishing as the attendant pulled the car forward. 
"My husband has lost a lot of patience with the fact that I work a lot of the time," Palermo said later, throwing up her hands in a "what-are-you-going-to-do" gesture.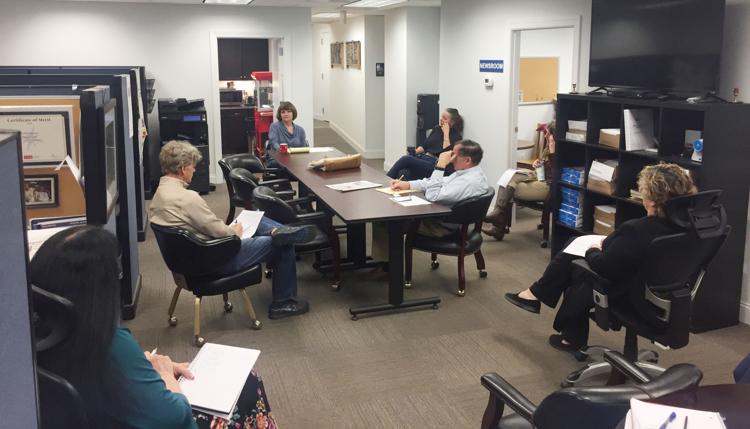 On March 19, at the regular Thursday morning editorial meeting, the staff sat at a safe, new distance around the old conference table to discuss upcoming stories. Anecdotes made the rounds: Nick at Nick's Deli in Marshall had had to put the toilet paper behind the counter. Both Claire's at the Depot and Molly's Irish Pub had quickly run out of corned beef sandwiches on St. Patrick's Day. The Salvation Army store had closed. 
Nelson took a seat at the head of the table. She looked tired. It had not been a good night. The printing company's presses had broken down; the new post office deliveries would be a day late. She had been up until 4:30 a.m., pressing the printer for details. The front office phone hadn't stopped ringing with readers concerned that the newspaper had been infected by the coronavirus or a carrier had skipped their house. 
She began slowly, deliberately.
"I want to talk about our situation," she said. "But first and foremost, in my mind is your health and safety." Everyone must start working from home.
After a hellacious week of effort--and just when readers would need more local news than ever -- she had to announce more cutbacks.
She read a list of names. Next to each was either reduced hours, layoffs or furloughs.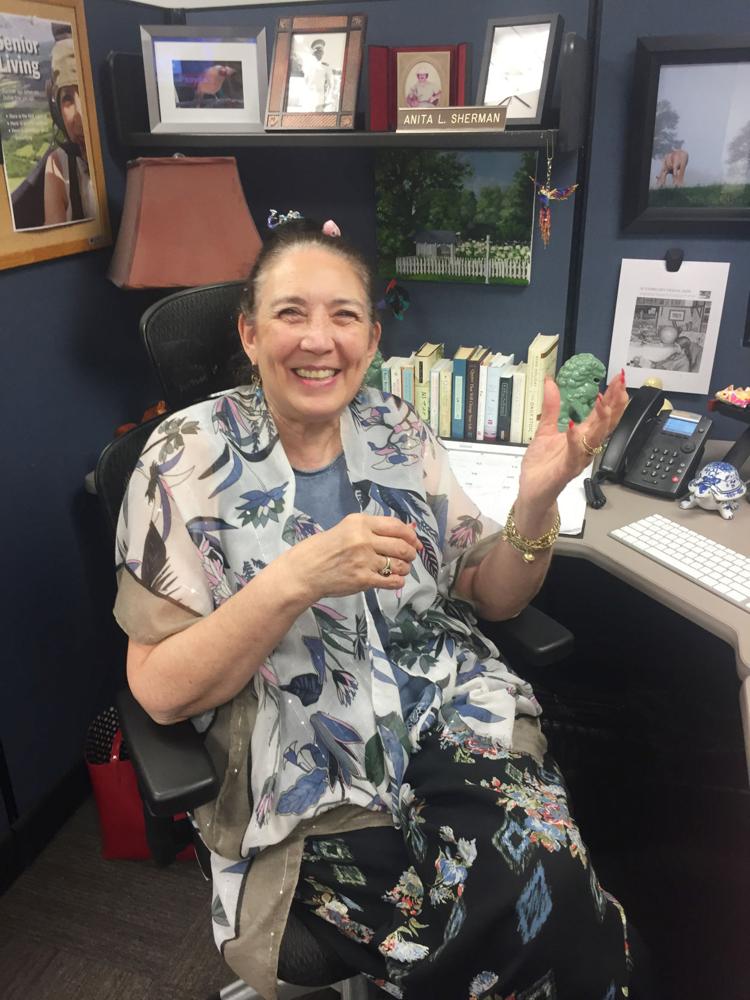 The longtime production director and circulation manager were the first to be laid off, Nelson said. One other staff member on the business staff was being let go for now, as were beloved community editor Anita Sherman and highly regarded sports reporter Jeff Malmgren. A half-dozen others in production and business affairs would have their hours cut. Overall, the full-time staff was being reduced by 25 percent. 
That left only two full-time news reporters, Ferrell and Earl, and one part-time sports editor, Peter Brewington in Fauquier.
"Hang in there," Nelson told them, trying to smile. "Wish us well and if we get this managed, come back … we're in survival mode. What's happening is tragic.
"We understand our mission as a public trust. I've been fighting for democracy through newspapers for a long time." She paused. "... Now I'm going to get teary … I feel proud to work with one of the best teams ever. I want us all back together as quickly as possible."
The room was quiet for only a few seconds. 
"All right," she said, sitting up in her chair. "Let's have an editorial meeting."  
Dana Priest is a board member of The Fauquier Times and sits on the PJF's news advisory committee. She is also a reporter for The Washington Post and the John S. and James L. Knight Chair in Public Affairs Journalism at the University of Maryland.