New owner, same name.
Designs by Teresa, the florist shop that's been a fixture at the corner of Main Street and Alexandria Pike in Old Town Warrenton for years, will continue its place as a Warrenton fixture.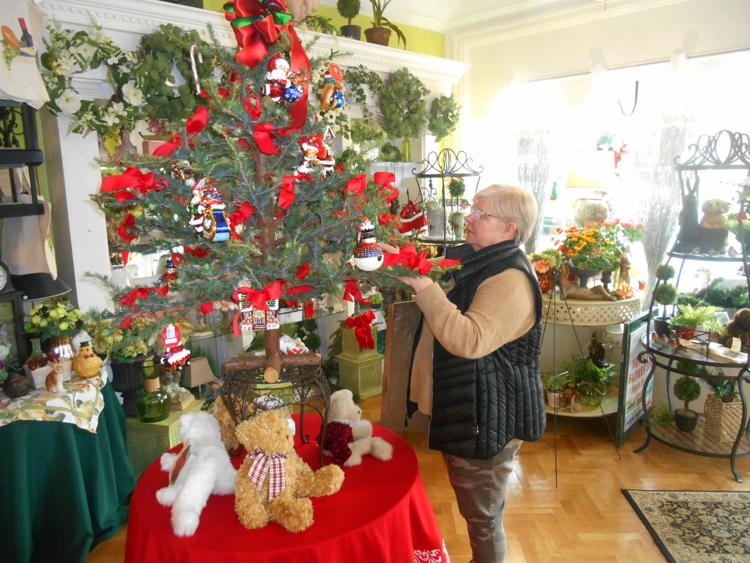 David and Virginia Gerrish purchased the florist business on Oct. 31 and decided to keep the business's well-known name. Former owner Teresa Bowles has been helping out during the transition, but she'll be stepping aside to enjoy a well-deserved retirement.
The two full-time employees and one part-timer are continuing in their roles. "It's the same people delivering the same service and high-quality product," said Virginia Gerrish during an interview during the week after Christmas -- when the business was closed.
She and her husband bought the shop as well as the building it occupies at 7 Main St., which includes office space and an apartment upstairs.
Bowles explained it was time to enjoy life outside of running the florist shop. "I've been doing the same thing for 51 years. I worked for my aunt for 16 years and as soon as she passed away, I opened my own shop. I never had another job," said Bowles.
Retirement gives her a chance to do some things she never had time to do … simple things like getting together with friends, for example.
"I actually have got time to go out to dinner with friends," Bowles said. "Friends of mine would ask me to take trips with them, but sometimes I would have to say, 'I have two weddings that weekend.'"
 Still, "I feel very blessed to think I never opened eyes not knowing I had the flower shop to go to. I never had to look for another job," Bowles said.
Bowles has been living in the apartment above the shop at 7 Main St. in Old Town Warrenton, but she's building a new house on North Chestnut Street.
Longtime employees remain
"I'm glad someone local has taken over," Bowles said. Her daughter, Tina Culver, is one of those continuing to work at the shop.
"Tina is definitely an artist" when it comes to flower arrangements, said Gerrish.
Shannon Stalwick is another full-timer who is staying on. Gerrish said Stalwick is the store's delivery person and "right-hand woman. She can do anything!"
Gerrish said most longtime customers have adjusted to the change in ownership well. Some changes are happening on the business side, but otherwise things will look like before, she said.
She said she and her husband bought the business because they didn't want Warrenton to lose another mainstay like the Fabric Emporium and Piccadilly Ltd. gift shop.
"The whole purpose was to keep the business going – the continuity. We kept the name so that people could go on the internet and continue to find us and not do something new that people are unfamiliar with," Gerrish said.
"The more we investigated and checked it out, we thought it was important to keep it going," she said. "My kids are grown, and we were looking for a business to get involved with."
Gerrish said she formerly ran an import business and helped start a nonprofit organization. Her husband is the branch manager of Wells Fargo Advisors in Warrenton. They are both Air Force veterans. Virginia Gerrish is also on the architectural review boards of the town of Warrenton and Fauquier County.
Gerrish said she took a master gardener course and raises flowers at home. "We have a big yard. I like perennials," but, "I never thought I'd be a florist. I knew it was going to be a challenge, but so far every challenge that's presented itself has led to a workable solution," Gerrish said.
She said she's typically the first to arrive in the morning and the last to leave, but says, "My goal is not to work so many hours."
The store's hours are 9 a.m. to 5 p.m., Monday through Friday and 9 a.m. to noon on Saturday. The shop is closed on major holidays, plus the week after Christmas and the week after the Fourth of July.
The shop gets its flowers from two wholesalers. Roses are the most popular variety, followed by daisies, lilies and hydrangeas, Gerrish said.
"Carnations get a bit of a bum rap. They're thought of as cheap, but they are everlasting and can be very beautiful," Gerrish said. They also come in a variety of colors.
The shop supplies flower arrangements for weddings, receptions, funerals, anniversaries, birthdays and other life events.
Some businesses are steady customers. They order flowers to adorn their offices.
When ordering flowers for a planned event, early is always better, Gerrish said. "It's always a good idea to order ahead of time – six months ahead for a wedding," she said.
Customers either pick up their orders or can have them delivered at a price determined by the distance. "We have to be particular about where we go. It's good to pick up the orders but we really try to work with people," Gerrish said.
The shop's website is designsbyteresa.com.
Reach James Ivancic at jivancic@fauquier.com