Families and young people have only just begun to process the myriad disruptions to daily life brought about by the coronavirus outbreak.  
Schools are closed or have moved all classes online; sports, from the professional level down to local T-ball leagues, are cancelled for the foreseeable future. Formal gatherings and activities of any kind have been almost universally suspended.  
In a normal year, families could expect two to three more months of classes, depending on the school system. Along with that, they could expect a certain structure to their lives.  
Now, not so much. The pandemic has affected almost every aspect of life.  
Brittany Franey lives with her fiancé and their four young children in Warrenton, near Rady Park. She was at the park at midday on March 18, with several other moms watching their young children play.  
Franey is especially concerned that the unexpected time away from the classroom will cause some kids to fall behind academically. Her children attend a public elementary school, which will be closed through at least April 13. 
"This is their prime time for learning," she said of her kids. "We had one who was struggling [in school]," she explained, adding that her son had recently improved academically. She worried that school closures will adversely affect him and others. "Kids with issues like him, I think it will set them back."  
Her youngest child has cerebral palsy and usually goes to therapy twice a week. But those appointments have been suspended for now, leaving her worried about her child's health too.  
"It's a lot, in a short moment in time, for everyone to cope with," she said. Her kids are too young to fully comprehend what is happening, and she is careful in her conversations with them not to unduly alarm them. One of her children is already prone to anxiety, she said. 
Some concerns are bit more mundane: "When you have multiple kids, it's hard to tell them to stay inside," she laughed.  
Juliette Moore, a senior at Liberty High School, was having coffee with a friend, Angéle Cipriotti, who is a freshman at George Mason University. Both live in Bealeton, and both are trying to work out what the pandemic means for their lives.  
One side of the equation is academic. "I paid to go learn in a classroom," said Cipriotti. GMU has moved classes online for the rest of the semester, which Cipriotti said would make it difficult for her to get as much out of her education. "All of my classes are discussion based. It's going to be really difficult for me."  
On a social level, she said that the abrupt end of time on campus also affected her. The university was on spring break when they made the decision to have classes go online for the rest of the semester, so, she said, "I never got to say goodbye to anyone." 
Cipriotti's parents are both unemployed; her mother lost work as a result of the cancellation of large gatherings due to the outbreak. "It's definitely hard because now I have two parents who are jobless. It's not like we're really struggling, but it's a little scary," she said.  
Moore works as a food server in Bealeton in addition to her schoolwork. Most of the wait staff have been transitioned to be delivery drivers now that restaurants can have so few patrons on the premises, she said. "A lot of people who work there rely on that paycheck to feed their children," she said, worried about what would happen if they lost their jobs.  
"My parents are on a tight budget too," she said.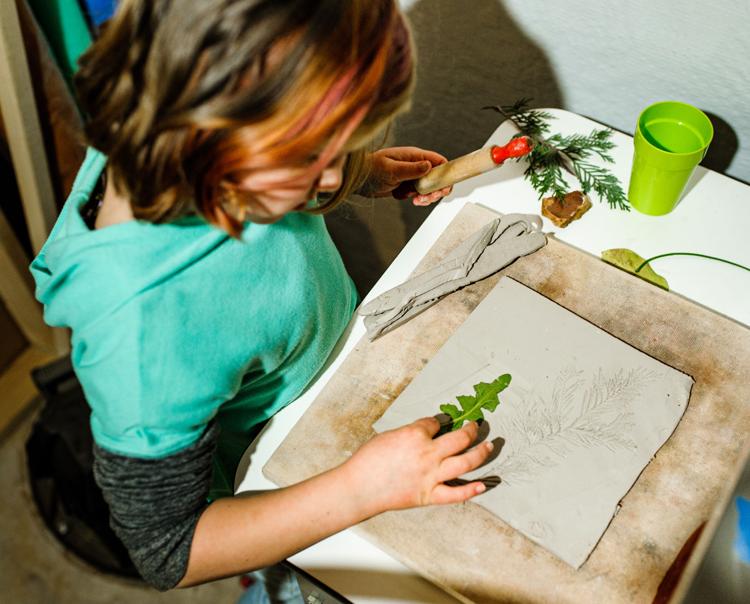 Kristina Gorg, of Warrenton, is a stay-at-home mother of five; her children range from age 2 through 18. Because her school-aged children attend private schools, they can be – and have been – assigned daily homework remotely, unlike their public-school peers.  
She stood in her driveway off a quiet residential street. "We have done Google Classrooms so the kids do have assignments every day," she said as her 2-year-old ran laps around the family car. "I have one in there, a third grader, who is not very happy right now that his break is being taken away," she laughed.  
One challenge, she said, will be sharing the family's computers to do homework. They have two computers and an iPad, but four children with assignments due daily. Their schools don't have the resources to provide every child with a device, she said.   
Inside, the third grader, Sebastian, showed off his stack of textbooks and other materials on the kitchen table, his classroom desk for the time being. He is a student at St. John the Evangelist Catholic School in Warrenton, and so far, he said, doing schoolwork at home has been "good."  
As far as getting along with a house full of siblings, he said that has also been "good," but after some thought, added, "except for my brother - we have our differences." He smiled. He also plans to build forts in the backyard and play with Legos while school is out.  
Kristina Gorg said later of her children's response to the disruptions of normal life: "I think the younger ones are just excited that their siblings are all home to play with … and want to know 'why do they have to do schoolwork?'" The older children have friends who are exchange students who couldn't return to their home countries because of travel restrictions, she said, "so I think they understand it to a better degree." 
Gorg said that her husband, a landscaper, is still employed and cautiously hopeful that his income will continue to come in at a sustainable level. "Right now, he's on a job and it's good. We'll see what happens." 
Amber Kiffney lives down the street. A mother of three, she already works at home for her public relations job, so her routine has not changed too much, although now her husband, an engineer, and kids are at home during the day with her for the foreseeable future.  
She and her children had just collected bits of nature along the neighborhood walking trail; she was showing them how to imprint the leaves and twigs into soft clay to make designs, before folding the clay into bowls and firing the them in a kiln.  
Kiffney said that she is doing her best to keep the kids learning during the school closures, and she appreciates the support from the children's teachers at C.M. Bradly Elementary.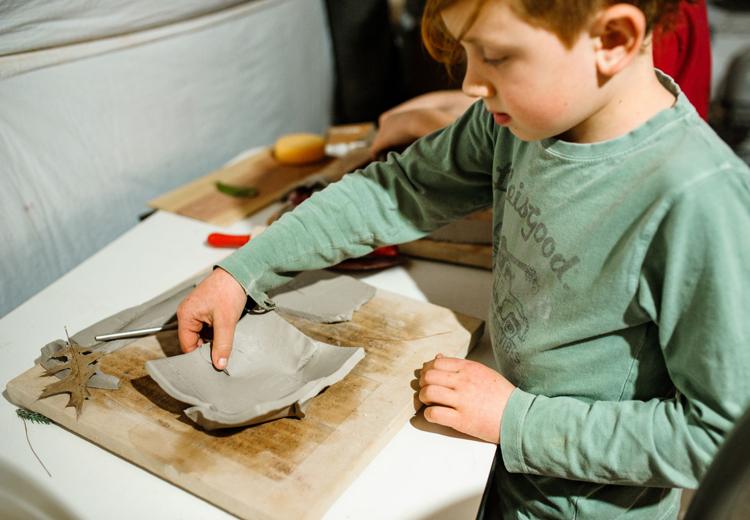 "Many of the teachers did send work home [with the kids], which we are very grateful for," she said. Teachers, she said, "have all been very reachable, when there's been a question about work, or just wanting to check in on the kids." 
Nikki Whipkey lives in the same neighborhood with her husband and 8-year-old son. She was out for a walk in the neighborhood with her son -- who rollerbladed ahead of her -- and an energetic golden retriever.   
An art teacher at a private prep school in Northern Virginia, Whipkey is trying to prepare material for her students while keeping up with the changing situation; the school is technically on spring break right now but will be physically closed for the foreseeable future.  
"A lot of schools are already shutting down for the year," she said, citing examples in other states. "It's really scary, and it's hard to even shift or transition into any kind of break. And we're a college prep school so the expectations are very high for us as teachers, and the kids." 
She said that she is currently being paid as she normally would be, and her husband, a construction manager, is so far mostly unaffected. "But it's really scary," she sighed, "I mean we're essentially a paycheck to paycheck family too, with a new mortgage. We just bought a house last year. 
"We're fine. I'm going to keep getting a salary according to my school, but you know if one thing changes, life as we know it really changes."  
Whipkey's parents live in Pittsburgh. "My dad he has all the conditions for immediate fatality if he were to get it (the coronavirus)," she explained. "There's a lot of anxiety on my end, just feeling kind of hopeless, or helpless." 
Her son seems to be handling the disruption well, she said, but he has noticed his parents' concern. "For the last two weeks he's like 'mom, you've got to turn NPR off' … so we've just been listening to Harry Potter audiobooks, which has been great." 
"It's a hard thing to wrap your head around, I'm trying not to live in that space of worrying all the time. I have an 8-year-old that needs to me to be present and not afraid all the time."  
Whipkey's son's birthday is next week. "We're not going to get to celebrate the way we hoped to," she said, "so it's just sort of creative, trying to figure out how to get family members and friends to send videos, and just finding ways to stay connected, but where we're not just, like, worrying."  
She is confident that people in the community will support each other during the crisis. "It's a little scary – or a lot scary – but we do our part, right?" 
Reach Coy Ferrell at cferrell@fauquier.com