Although some county offices opened on Wednesday, June 24, Fauquier Public Library Director Maria Del Rosso said in a June 22 phone call that the interior spaces of the county's library buildings will most likely not reopen this month.
The library's reopening plan has been approved by the county administrator, but staffing shortages make reopening buildings to the public unfeasible. "The staffing is critical," she explained, adding at another point, "We're looking at a few weeks beyond [June 24]."
Several library staff members at the Warrenton branch have resigned or retired – Del Rosso made it clear that not all the resignations were directly attributable to the pandemic - and there are now seven vacancies at that branch and a total of 11 vacancies for FPL as a whole. Additionally, five FPL staff members have been on long-term leave during the pandemic, although Del Rosso said she anticipates some of those staff members will come back to work soon.
Del Rosso said she is proud of the FPL staff members who have worked to keep the libraries operational, but the staffing shortage is beginning to take its toll on current employees. Even if all other criteria for reopening were in place, "We would not be able to reopen tomorrow" because of the lack of adequate staffing.
As an exception to the hiring freeze implemented in March by County Administrator Paul McCulla, the library system has been authorized to fill three of the 11 vacant positions. The three positions for which FPL is accepting applications are for the Warrenton branch. The job listings were posted last week, Del Rosso said. "We're expecting many robust applications."
The FY 2020 county budget authorized 34.3 full-time-equivalent positions in the library system, which accounts for a maximum of 49 individual employees.
The good news, Del Rosso explained, is that most of the personal protective equipment required by the reopening plan has been procured. This includes plexiglass shields for public-facing desks, masks and gloves for employees and general cleaning supplies and hand sanitizer. Staff members are in the process of rearranging interior spaces to comply with physical distancing guidelines, and Del Rosso is working with county staff to determine the appropriate occupancy limits for each library building.
"We recognize that people want to get back into the libraries," she said, emphasizing that the goal of staff is to open as soon as all of the necessary protocols are in place to keep staff and patrons safe.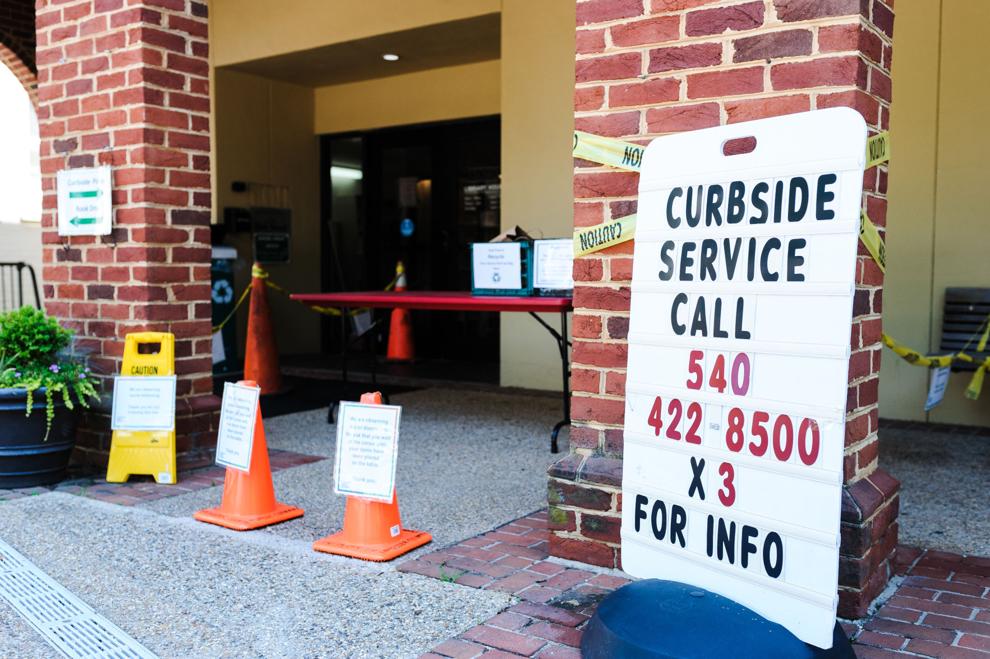 Curbside service in high demand
In the course of about 15 minutes on Monday morning, four individuals walked up to a staging area outside Warrenton Public Library and picked up books and other materials they had called ahead to reserve; library staff, in gloves and masks, brought out each person's materials in a paper bag and set them on a table for the client to pick up.
Since March 16, the three branches of the Fauquier Public Library system – in Warrenton, Bealeton and Marshall – have been closed to the public, but library staff members have adapted to continue delivering services to county residents. Curbside service has become a mainstay of library services during the pandemic; an average of 70 individuals per day picked up library materials in May.
"This has been great," said Patti Hackney of Warrenton. "I'm here at least once a week." She was picking up a book on Monday morning, but she has also checked out DVDs during the pandemic, explaining with a laugh, "Well, there's nothing on TV." The ability to check out physical books is important to her. "I like reading a real book."
Del Rosso expressed a similar sentiment. "People have been very, very grateful for the curbside service," she said Monday. "Some people consider it a lifeline."
The use of online resources has also increased, Del Rosso said. Electronic materials were utilized in May at a rate 59% higher than a year ago, and 108 people registered for a library card online last month, compared to 35 people the previous year.
She told the story of a Fauquier County resident who is stationed with his family in Egypt. He was able to register online for a library card for himself and his children – they now regularly use eBooks and other online library material to read as a family.
"We encourage people to go to the website. There are some tremendous resources on there," Del Rosso said.