Amanda Hugill has been working in the family business for years, but she and her fiancée Josh Brady are creating their own small branch of the family empire.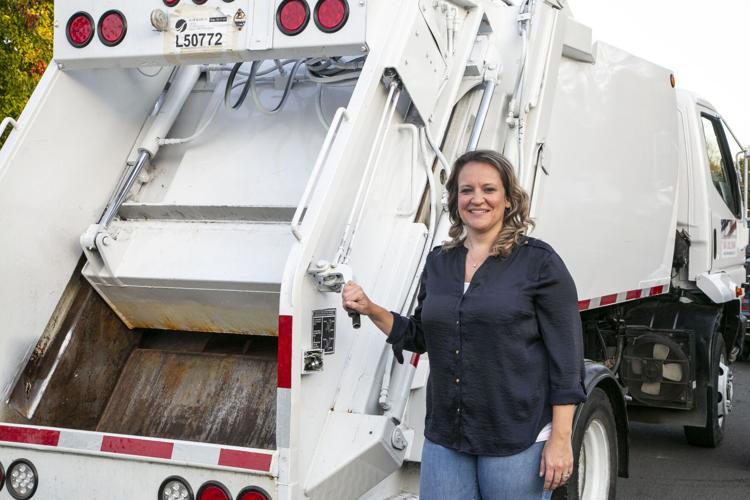 Liberty Waste Services has been operating for close to two months; it has already landed 100 customers. Hugill and Brady pick up trash and recycling from homes all over Fauquier every Monday.  
Hugill's grandparents started out in the trash business decades ago with one pickup truck and now their company services 20,000 customers. Many of her uncles and aunts are in the trash hauling business as well. Her dad, Thomas Hugill, owns Tom's Truck Sales, which has been selling garbage trucks since 1987. The company recently moved to Bealeton from Manassas.  
Amanda Hugill, 34, still works full time for her dad while Liberty Waste Services ramps up. Brady, 37, also works for her father, as a handyman for investment properties. Hugill, who has two children, moved to Bealeton in 2011. Brady has three children and lives in Pennsylvania. They are planning a January wedding. 
Hugill said she did some knocking on doors and online advertising to spread the word about Liberty Waste Services, and now word of mouth from satisfied customers is beginning to add to their customer base. 
They currently have one small truck that Hugill said could service up to 400 customers. To be honest, "small" doesn't really do it justice. It's adorable. Brady drives the truck and Hugill follows in a pickup to collect customers' recyclables. 
Hugill's is a time-consuming task because the items have to be sorted and checked to be sure they'll be accepted by the Fauquier County landfill, which has strict requirements about recyclables. 
To convince prospective customers that Liberty Waste Services is in it for the long haul, the company is offering a special introductory offer: $99 for six months of service. That's $16.50 a month for six months; after that, the price goes up to $20 a month. "It's like getting a month free," pointed out Hugill. Recycling services are an additional $8 a month. 
Customers are given a large "toter" to hold a week's garbage; recycling customers are provided with a separate recycling bin. 
Hugill said she'd like to have 150 residents signed up by the end of the year.  
"It's already taken off faster than we thought it would," said Brady. He added that Liberty customers seem to be happy with their service-first attitude. He said he makes sure that the toter cover is down after he's finished collecting from a customer and that any trash that tumbles to the ground is picked up. "Our service makes the difference," he said.