Levi Norwood has been found competent to stand trial, his attorney confirmed Thursday. Norwood is accused of shooting and killing his mother and brother on Feb. 14, 2020 at their Midland home, when he was 17 years old.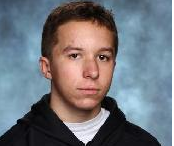 Public defender Ryan Ruzic, who represents Norwood, told a circuit court judge Thursday morning that he is reviewing the results of a separate mental health evaluation performed this summer to "see if there's a resolution" that can be reached with prosecutors before a trial.
The results of the separate evaluation -- to determine whether Norwood was "sane" at the time of the alleged incident -- are not public record.
"The sanity-at-time-of-offense evaluations are provided only to the defense unless used at trial and I have no comment regarding those," Ruzic told the Fauquier Times after Thursday's hearing.
Norwood had already been found competent to stand trial once, but in March, a judge ordered that Norwood undergo a second competency exam along with the sanity-at-the-time-of-offense evaluation.
Norwood will next appear in court on Oct. 7, at which point a trial will be scheduled unless a plea agreement has been reached by then, Judge Lon Farris said at Thursday's hearing.
Soon after he was arrested, Norwood allegedly admitted to killing his mother, Jennifer Norwood, and 6-year-old brother, Wyatt, according to a search warrant affidavit filed by a Fauquier detective in the weeks after the incident.
"[Norwood] has made post-Miranda statements admitting to both of the murders," the document claims, referencing the 1966 U.S. Supreme Court case that requires police officers to inform arrested individuals of their constitutional right to silence.
Levi Norwood's father, Joshua Norwood, claimed on several internet postings in the weeks following the homicides that he had walked into the family's home to find Jennifer and Wyatt Norwood shot to death; Joshua Norwood also claimed someone shot at him after he discovered the bodies.
The elder Norwood killed himself at the same home in Midland two months after the death of his wife and younger son.
Levi Norwood remains in custody. Along with two counts of first-degree murder, each of which carries a potential life sentence, he is also charged with several lesser felonies related to the alleged murders.