The Kettle Run boys soccer team fell 1-0 to Millbrook in the Northwestern District semifinals last Friday, ending their chances at a regional bid and their season. 
The game was tight, with both teams struggling to create chances. Millbrook (9-3) capitalized on their opportunity, scoring a header from a free kick in the ninth minute. 
The defeated Cougars (6-5) left the field to applause from their home support section, who knew the Cougars' 15 seniors had been deprived of their junior season by the pandemic, making their final game together significant.
"We all grew up together, we've played together our whole lives, some of us since preschool. I love all of these guys and it's been a special season," said senior John Otooni.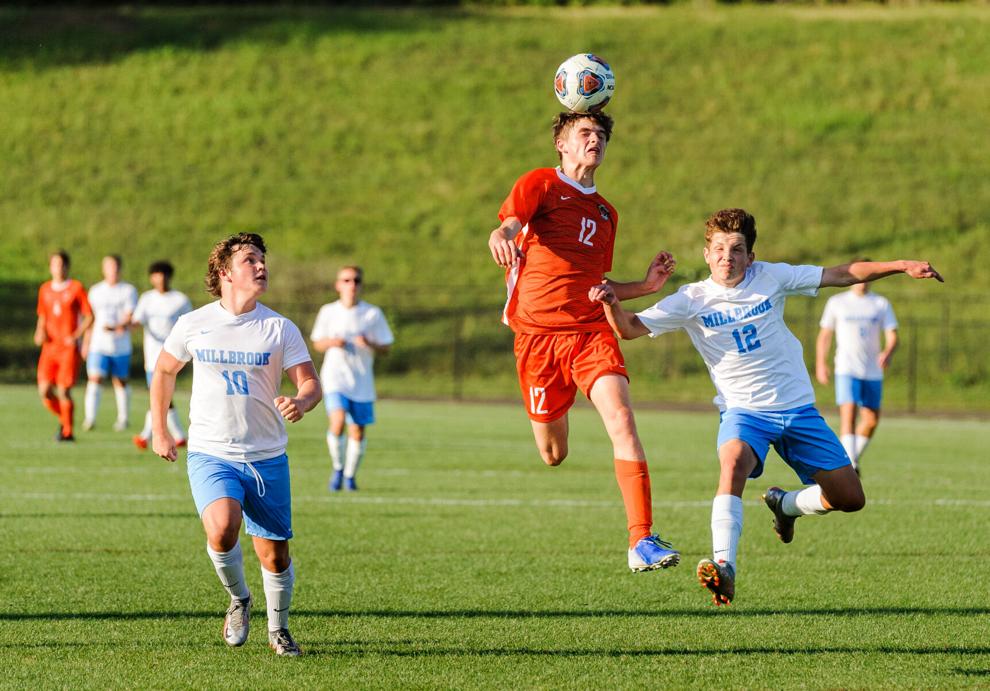 Senior captain Garrett Ritter wore a glazed-over expression of post-game disappointment, soon to be consoled by coach Phil Roper. "I know how hard it is for the seniors especially since they missed their junior year," said Roper, "but I'm just glad we got a season in, got to play. And we're all grateful for that."
Missing regionals is a rarity for Roper's local dynasty, which has made it nine times since the school opened in 2008 with state titles in 2015 and 2017. In 2019, Kettle Run downed Millbrook 4-2 in the last district title game contested before the pandemic.
The game between familiar rivals was tense, with the early goal defining the game. 
Millbrook's goal by Garrett Johnson in the ninth minute came on the first real scoring opening. Johnson flicked in a header from outside the box, assisted by Patrick Sigler. 
"Scoring early like we did meant the defense had to stay focused and in check the whole game. They did their job today and so did the team, that's how we won," said Millbrook coach Keith Kilmer, whose team will make its seventh region appearance and first since 2015. 
"It was a close game, Millbrook took their opportunity and we didn't take ours, but Millbrook played a good game and deserved to win it. Sometimes it's not meant to be for you," Roper said.  
Kettle Run created some opportunities, the first coming right after Millbrook's goal as J.T. Brumagim won the ball off a goal kick in the 13th minute. Moving on goal, he had the ball tipped wide by Millbrook goalkeeper Nicholas Catlett as it was headed towards the bottom corner. 
Millbrook midfield talent Raphael Espinoza looked predatory, consistently finding his forwards with through balls from deep. Also dangerous was Millbrook's speedy forward Sean Mennard, whose 37th minute shot was saved by Kettle Run goalie Andrew Curry. 
Kettle Run came alive in the final 20 minutes as passes began to connect. In the 76th minute, Ritter, looking threatening in his attacking midfield role, managed to spin past two Pioneers at the top of the box, but his lofted shot was pushed wide by goalie Catlett for a corner kick. 
The ensuing corner kick was drilled in across the six-yard box where Brumagim ran onto it and headed it strongly over the bar, ending Kettle Run's last realistic chance. 
Millbrook faced undefeated No. 1 seed James Wood (12-0) in Tuesday's district final, with both advancing to next week's Class 4 Region C playoffs against Dulles District foes.
James Wood beat Millbrook 4-0 and 8-2 in the regular season.