Joshua Norwood, 37, of Midland, was found dead at his home about 3:30 p.m. Monday, April 20, according to a press release from Sgt. James Hartman of the Fauquier County Sheriff's Office. The deceased is the father of Levi Norwood, the teen charged in the fatal shootings of his mother and brother in February. 
"No foul play is suspected," said Hartman. 
Police -- who were conducting a welfare check at the request of concerned family members -- arrived at the home on Elk Run Road at about 3:30 p.m. to find Norwood dead in his living room. No one else was home at the time. He suffered trauma to the upper body, according to Hartman. 
Detectives are working with the Office of the Chief Medical Examiner to determine the exact cause and manner of death, Hartman said. 
Levi Norwood, 17, has been charged with two counts of murder in the Feb. 14 shooting deaths of his mother, Jennifer Norwood, and his 6-year-old brother Wyatt. The teen was also charged with shooting and wounding his father the same night. 
Joshua Norwood said he escaped from the house about 6 p.m. Friday, Feb. 14, after he was shot in the forehead and had found the bodies of his wife and youngest son. 
In a lengthy Feb. 16 post on a local news website, Norwood said that he was married to Jennifer Norwood for 18 years. She "loved her boys more than anything, and would do anything for them, to help them and protect them." 
Wyatt was about to turn 7, he said, and was "the sweetest, happiest kid ever and loved everyone … Wyatt was the best son anyone could have dreamed of, loved toy story 4 and animals and most of all, mr. potato head." 
Norwood added, "All i can say is I love you Wyatt and Jen with all my heart and will never stop loving and missing you both!" 
"RIP my sweet 'chunky baby' and my 'babe,'" the post ended. 
The same post also described the scene Feb. 14 at the Midland home in some detail. (The comments are included here as they appeared.) "I was shot in the head," Norwood wrote, "as soon as I entered my home friday with flowers for my wife and has Wyatt waiting for his special present that we had for him once I got home, as well as levis gift." 
He continued, "I opened my door and before my work bag hit the floor I was shot in the head. Not realizing what happened until I saw blood pouring out I then searched for my family and found Jen and Wyatt dead! 
"The murderer I called a son until that act must have ran once he heard me yell as he knew his ambush shot failed." 
In other comments, Norwood denied allegations made in other posts that Levi Norwood had a history of threatening behavior. "No the murderer that was once known as my son was not investigated for threats. He was not known as a trouble maker and no red flags for us as parents to know otherwise this could have been prevented," he wrote on Feb. 16. 
Norwood also denied suggestions that he is a white supremacist. "I am far from a neo nazi, or anything like that." 
In another post, on Feb. 17, Norwood described his motivation for posting in the online forum. "I feel ashamed even posting online given whats going on, it just helps to talk about my amazing wife and incredible son."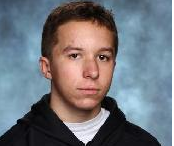 A search was launched for Levi Norwood after police discovered that he was not in the house that Joshua Norwood escaped from after confronting his son.  
When police arrived, they had reason to believe Levi Norwood was still in the house, "with access to numerous firearms," police said. Deputies tried "every method" to make contact but were unable to, said Fauquier County Sheriff Robert Mosier. Police forced their way in. When they searched the house, they found Norwood was not there.  
Overnight, bloodhounds tracked Norwood about 10 miles to the Rogue's Road area near Crockett Park, said Mosier. The distance from one location to the other is closer to 5 miles, but the trail of Norwood's movements was circuitous, leading through woods, outbuildings and along roadways. Mosier said he believed Norwood was traveling on foot. 
The scent ended where a car had been stolen, said Mosier.  
Levi Norwood was captured at a Target in North Carolina on Saturday, Feb. 15, and returned to Fauquier more than a week later. His case is being heard in Fauquier County Juvenile and Domestic Relations Court.  Judge Melissa N. Cupp ruled that the hearings would remain closed to the public. Cupp added, however, that the teen's hearings might be open sometime in the future.