On Thursday, May 14, the Virginia Employment Commission released the latest weekly statistics on claims for unemployment insurance by Virginia residents. The story mirrors that of recent weeks: Week-over-week numbers of new claims for unemployment insurance continue to decrease but remain at historically high levels; continued claims are still on the rise but are beginning to flatten.
In Fauquier County during the week ending March 14, just nine Fauquier residents filed unemployment claims. In the eight weeks since then, 4,222 initial claims have been filed by county residents – including 268 in the most recent week, ending in May 9. The eight-week total represents more than 11% of the resident civilian workforce in the county as measured in March.
Statewide, in the week ending May 9, 52,139 workers filed initial claims for unemployment benefits, down 13% from the previous week.
Continued weekly claims (for those who had already filed for unemployment and been approved) stood at 392,673 in Virginia and at 2,501 in Fauquier County. (VEC unemployment data are not seasonally adjusted.) There were only 17,804 continued claims filed statewide last year during the comparable week.
"The continued claims total is mainly comprised of those recent initial claimants who continued to file for unemployment insurance benefits during the COVID-19 pandemic," said a May 14 press release from the VEC. "Thus far, about two thirds of workers who filed for initial claims during the pandemic continued to file during the May 9 filing week."
The number of new claims for the week ending May 9 fell compared to the previous week; the decline was 13% statewide and 22% in Fauquier. Most counties in the state followed this trend, especially in Northern Virginia; some rural jurisdictions in southern, western and southwestern Virginia are seeing small increases. The overall downward trend in initial claims began after April 4, when the volume of initial claims appears to have peaked.
Accommodation and food service industries hit especially hard
According to statewide industry-level statistics released by the VEC, people employed in accommodation and food service industries continue to make up the largest percent of those filing initial claims, but their share has fallen since the pandemic response began to cause mass layoffs. In the week ending March 21, these workers made up 45% of those filing initial claims; in the most recent week, that figure stood at 19%.
The share of initial claimants who are retail workers has almost doubled since March 21, from 8% to 15%. Job losses in the health care and social assistance industries followed, most recently accounting for 13% of the total of initial claims.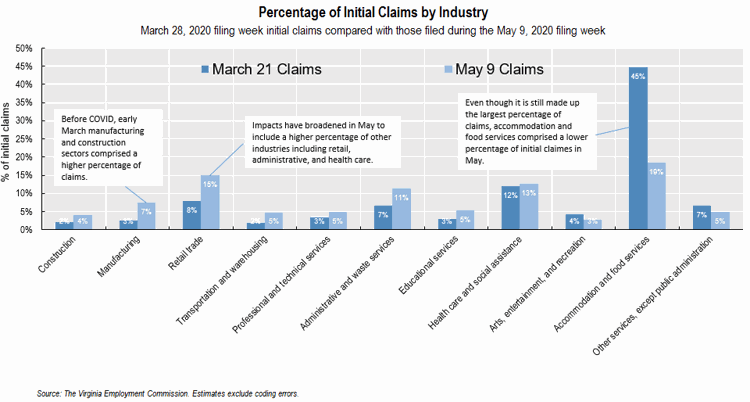 Women, young and black workers disproportionately affected
According to the most recent demographic data, compiled by the VEC during the week ending May 2, job losses statewide continue to affect especially women, young and black workers.
In that week, 43% of workers filing initial claims statewide were under the age of 35. Women made up 54% of claimants; African Americans, despite making up 19% of the state's population, made up 28% of new unemployment claims; white workers made up 51% of claimants, despite representing 67% of the state's population.
Workers of Asian-Pacific ethnicity made up 10% of claims, and those of Hispanic ancestry made up just 0.25% of initial claims that week. The ethnicity of 9% of claimants were not reported.
Overall, 78% of Virginia claimants that week did not have a four-year college degree, consistent with previous weeks' data.
36.5 million claims filed in eight weeks across the country; new data shows low-income workers lost jobs at twice the overall rate in March

The number of seasonally adjusted initial claims totaled 2,981,000 for the week ending May 9, a decrease of 6% from the previous week. 36.5 million workers have filed an initial claim for unemployment insurance over eight weeks. The unemployment rate for April was announced by the U.S. Bureau of Labor Statistics at 14.7%, the highest seasonally adjusted rate recorded since that statistic was first measured in 1947.
Also on May 14, the U.S. Federal Reserve released the results of an April study of the financial repercussions from the novel coronavirus pandemic; responses were recorded from March 1 through April 6.
During that time period, 19% of adults reported losing a job, being temporarily laid off or having their hours reduced. One third of those workers reported that they expected to have difficulty paying their bills in April.
The job losses for that period hit low-income workers the hardest, the study found. Of workers who had a job in February and whose household income was below $40,000, 39% reported losing their job in March.
Of all workers, "Nine in 10 people who lost a job said that their employer indicated that they would return to their job at some point," said the report. "In general, however, people were not told specifically when to expect to return to work. Seventy-seven percent said that their employer told them to expect to return, but did not give them a return date."
That section concluded: "It is difficult to predict, however, how long layoffs will ultimately last."
Reach Coy Ferrell at cferrell@fauquier.com