On Thursday, April 30, the Virginia Employment Commission released the latest statistics on claims for unemployment insurance by Virginia residents.
Statewide, in the week ending April 25, 72,488 workers filed initial claims for unemployment benefits, including 425 in Fauquier County. Continued weekly claims (for those who had already filed for unemployment and been approved) stood at 341,295 in Virginia and at 2,202 in the county. (VEC unemployment data are not seasonally adjusted.)
The number of new claims for the week ending April 25 dropped compared to the previous week was down 12% statewide and 15% in Fauquier. "Though … the volume of initial claims has retreated from its recent peak," said the April 30 press release from VEC, "it may not return to pre-pandemic levels for some time."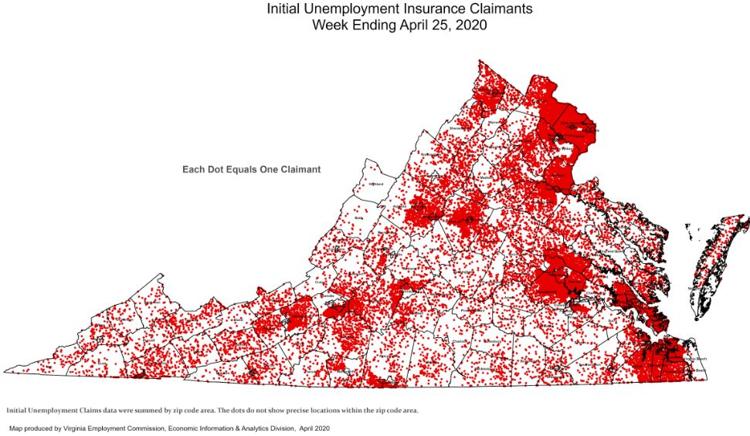 The number of Fauquier residents filing initial claims for unemployment benefits peaked during the week ending April 4, when 1,029 county residents filed claims, but numbers are still far above average.
During the week ending March 14, just nine Fauquier residents filed unemployment claims. Since then, more than 3,600 claims have been filed by county residents, representing almost 10% of the resident civilian workforce in the county.
According to the most recent demographic data, compiled by the VEC during the week ending April 18, job losses statewide have hit women, young and black workers especially hard statewide.
In that week, 43% of workers filing initial claims statewide were under the age of 35. Women made up 55% of claimants, and African Americans, despite making up 19% of the state's population, made up 26% of new unemployment claims. White workers made up 53% of claimants, despite representing 67% of the state's population.
Overall, 77% of Virginia claimants did not have a four-year college degree.
Nationwide, a seasonally adjusted total of 3.8 million initial claims for unemployment insurance were filed during the week ending April 25, a decrease of 14% compared to the previous week. In the comparable week in 2019, just 204,755 initial claims were filed nationwide.
On April 16, the U.S. Bureau of Labor Statistics announced that the national unemployment rate for March was 4.4%, an increase of 0.9% from February. The unemployment rate for Virginia was 3.3% in March, an increase of 0.7%. Local data for March was not yet available for localities or metro areas.
However, the BLS national employment surveys, which are used to measure the unemployment rate, were conducted from March 8 to 14, before the nationwide spike in unemployment claims began.
A document from the BLS dated April 3 said: "It is important to keep in mind that the March survey reference periods for both surveys predated many coronavirus-related business and school closures in the second half of the month."
The national official unemployment rate for April will not be released from the BLS until mid-May.