On Tuesday voters in Warrenton's five wards went to the polls – or had already cast an absentee ballot – to elect a new town council.
Bill Semple, a retired businessman, unseated Ward 2 incumbent Alec Burnett in Tuesday's election, winning with 61% of the votes cast.
Semple gained local prominence with his vocal opposition to a proposed development adjacent to Walker Drive; though Semple was one of the original plaintiffs in a lawsuit against the project, he was found by a judge not to have legal standing in the case because he did not reside immediately adjacent to Walker Drive.
"Clearly the town's response to the pandemic is job one," Semple said of the upcoming term. He praised the town government's efforts to support the farmers market and restaurants. He added, "We need to build on these early successes but remain vigilant regarding the safety of citizens. I think it is possible that some of these temporary changes become permanent [and] enhance the Warrenton experience."
The budget is another priority, he said, claiming that "council members have not been given a true top-level analysis of the impact of the pandemic on the town's balance sheet or on future cash flow." He added that his concerns would be "mostly alleviated" if the council were able to "make interim adjustments" based on actual revenue and spending.
Reworking the town's zoning regulations is a long-term priority, he said. Citing issues raised by the Walker Drive case, Semple said that the town's land-use regulations were sometimes ambiguous and not consistent with state law. "Our ordinances require a top-to-bottom overhaul," he said.
Kevin Carter, the Ward 5 incumbent and hotelier who was first elected in 2016, faced a challenge in this election from architect Michele Ferri; Carter received 62% of the vote.
On his priorities going into the next term, Carter said that "forward movement" was his main goal for the town. "I heard from many [on election day] supporting walkability in our town, the need for fiscal discipline and heard many positive comments about our recent efforts to help businesses get back open in a creative way," he explained.
Heather Sutphin, who works in marketing, defeated long-time planning commission member and hair salon owner Ali Zarabi for the Ward 1 seat, receiving 54% of the vote. The seat is currently occupied by Jerry Wood, who will retire from the council at the end of the term.
"My main concern right now is the economic future of the town, its merchants and [its] residents," Sutphin said, citing the restraints on businesses and recent spike in unemployment. "We have to focus on these issues first."
James Hartman, a sergeant with the Fauquier County Sheriff's Office (he will retire in August) ran unopposed to represent Ward 4; Bob Kravetz, who currently represents this ward, will retire at the end of his term.
Hartman said that "Our highest priority is to come together to get a budget under control in response to the impacts of COVID-19 and lessen the impacts on our business community and citizens."
He also mentioned what he called "quality of life" issues that will affect the area he represents, including proposed improvements to Broadview Avenue – and the disruption to residents that construction would bring – and the possibility of a connector road linking Rts. 211 and 17.
Public safety is another priority, Hartman said, citing recent shootings in the Walmart parking lot and on Jackson Street; both were allegedly related to illegal drug distribution. "Our citizens are worried about the effects of drug related crime in our town," he said.
Brett Hamby, a firefighter, won reelection to represent Ward 3; he was not challenged for the seat.
Campaigning, voting during the pandemic
Before Tuesday, the previous election in which Fauquier voters could cast a vote was March 3, the democratic presidential primary. That was a different time, several days before Virginia had even its first confirmed case of the novel coronavirus. Two and a half months later, there are more than 30,000 confirmed cases statewide and a number of restrictions meant to mitigate the virus's spread are still in place.
For this month's municipal elections, voters were "strongly encouraged" to vote absentee due to the pandemic, according to the Virginia Department of Elections. However, polling places were still open on election day, and about 39% of the 875 total votes cast in the Warrenton elections were cast in-person on Tuesday.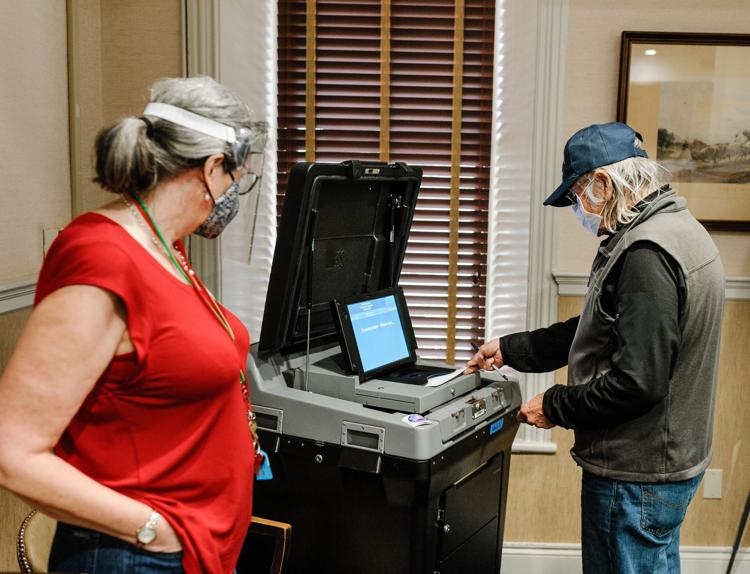 Most in-person campaigning was not feasible due to the restrictions put in place on public gatherings during the pandemic. For the most part, however, Warrenton Town Council candidates said they felt residents were able to make an informed decision and vote without undue barriers.
Carter said that between campaigns on social media and news reports, voters were well-informed in the lead-up to the election, adding that he felt the registrar staff "did a fantastic job of making it easier to vote absentee and went out of their way to help people and to ensure their safety for absentee and on election day."
Sutphin said that she was able to connect with voters through phone and email. "I think it was harder for people to keep up with when the election would actually take place then the voting itself," she said.
(Gov. Ralph Northam proposed last month that municipal elections be moved to November, but the measure did not pass the General Assembly. Subsequently, Northam delayed municipal elections by two weeks with an executive order.)
Hartman shared a similar sentiment. "I applaud our local registrar for working within unprecedented limits to give residents the chance to vote absentee or in-person," he said, adding "I would acknowledge however that there was some confusion as to when, where and how one should vote - probably caused by conflicting statements coming out of Richmond - but locally we did all we could do."
Hartman regretted not being able to run a more personal campaign. "I like to meet folks on a personal level and had planned open houses and other events throughout Ward 4 but that fell apart once COVID-19 struck. Although I didn't get to go door to door and do the other things I planned to [so I could] meets folks, I plan on doing just that once these restrictions are lifted."
Semple said that "residents certainly had more than a fair chance to cast a vote" and that information was widely available in order for residents to make an informed decision. "My one regret was the absence of a real-time or even virtual public forum," he said.
Reach Coy Ferrell at cferrell@fauquier.com