The month of April features the holiest days of the year for several major religious traditions, and local places of worship are finding new ways to reach their congregations in spite of the novel coronavirus pandemic.  
Holy Week, the ritual observance of the week of Jesus' execution, began on April 5 for Christians who follow the Western liturgical calendar and on April 12 for Orthodox Christians. Easter Sunday, the day when disciples of Jesus found his tomb empty, follows Holy Week.
Passover, one of the three major festivals of Judaism, began at dusk on April 8. Lasting for eight days, it commemorates the Israelites' escape from slavery, as told in Exodus.  
Our Saviour Lutheran Church in Warrenton 
At about 6:30 Thursday evening, nine people gathered in Our Saviour Lutheran Church in Warrenton. They were preparing for the Maundy Thursday liturgy, one of the three most theologically significant liturgies of the year, along with Good Friday and the Easter Vigil.  
The two pastors rushed back and forth from their offices and checked with lay ministers to ensure they understood their roles – where to stand and when; when to light this candle or read that prayer.  
The Rev. Terri Church, who is the co-pastor at Our Saviour with her husband, the Rev. Michael Church, wore a mask as she made last-minute preparations for the service. A bottle of hand sanitizer was on the altar.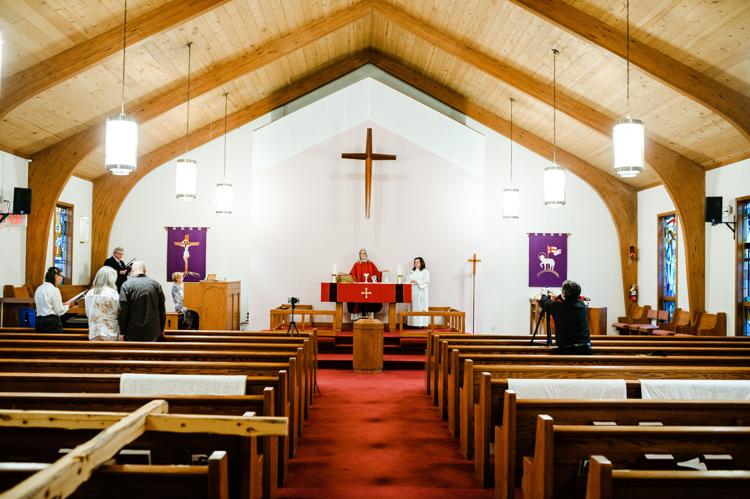 Most notably absent was a congregation. Last year this particular service drew 83 individuals. In some years, that number exceeds 100. This year, most would have to watch the service on Facebook.  
Several fifth-graders, graduates of a Communion class, were scheduled to be in the pews with their families on Thursday but weren't because of the pandemic. The children would have received the bread and wine themselves and in turn given Communion to their parents.  
"This is a very special moment in our church," said Terri Church. "All the kids who had been preparing don't get to do that now." After the pandemic they will reschedule the event, she added.  
At 7 p.m. the service began, livestreamed on Facebook from a tripod-mounted iPhone in an otherwise empty pew. Terri Church was the presiding minister.  
Cathy Cogdill recited the prayers. "We are especially grateful tonight for the Centers for Disease Control, for the National Institutes of Health, for Fauquier Hospital and for those who work there," she read. 
Holy Week usually involves up to 100 volunteers and hundreds of planning hours, said Michael Church in an interview the day before. "Gathering in community is the essence of the Christian religion," he said. The inability to do so now, especially during Holy Week, "is devastating," he added.  
Church said that during the pandemic he has been especially cognizant of parishioners who might not be comfortable with technology and therefore might have a more difficult time staying connected. "We have to be thinking about people who can't use a computer effectively, who don't have smartphones," he said.  
In addition to livestreaming worship services, the effort to reach out to the congregation has included hundreds of phone calls and a printed newsletter sent to each parishioner.  
Fauquier Jewish Congregation 
Rabbah Arlene Berger is the rabbi of Fauquier Jewish Congregation, made up of about 75 families from in and around the county. Berger had planned to celebrate a Passover Seder this year with her son's family, including her new granddaughter; public health guidelines made that plan unworkable.  
Instead, she gathered in her home with her immediate family on Thursday night, the second night of Passover, and celebrated a community Seder over Zoom. About 40 people joined, representing all generations. "We were able to fulfill the obligation of teaching the story of the Exodus to our young ones," she said.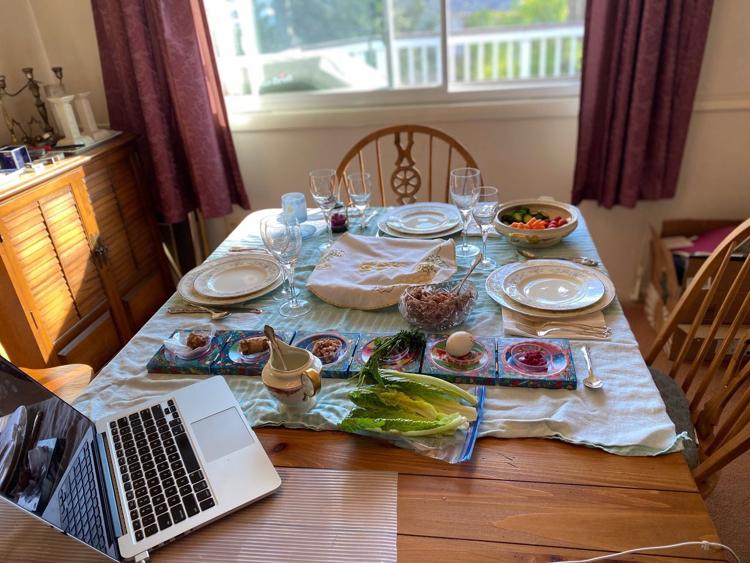 "Even though we're physically separated from each other, we belong to the people of Israel and we are always connected spiritually," she in an interview the day before the Seder.  
"At Passover we remind ourselves that we come from a very strong and resilient tradition," she said later, adding that Jewish people throughout history have been subject to restrictions on their freedom of movement and have otherwise experienced all kinds of oppression.  
A Seder traditionally ends with the prayer: "Next year, in Jerusalem," she said, explaining that the phrase referred to the hope of being in a better place when the community again gathers for Passover. "This year maybe add: 'next year, healthy and together,'" she said.  
She said Monday that she did end the Seder with the modified phrase. "I explained Jerusalem as not only the actual physical place but also a metaphor of ... health, happiness, peace and yes, togetherness." 
St. John the Evangelist Catholic Church in Warrenton 
The Rev. Charles Smith, the pastor of St. John the Evangelist Catholic Church in Warrenton, said that Holy Week is normally the busiest time of year at the church building on Winchester Street. While the church is still open to a very limited number of people to pray and receive sacraments, worship services are now recorded or livestreamed.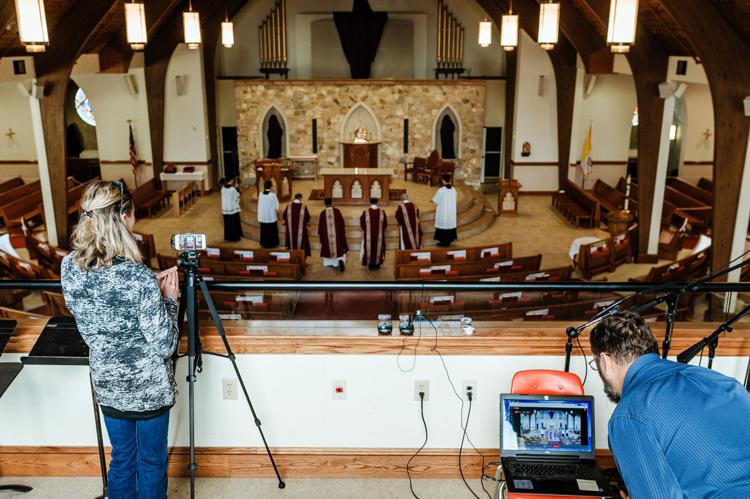 On average, 3,500 people gather at the church throughout five Masses on a normal Sunday, Smith said. During Holy Week, even outside of liturgies, "We normally have a steady stream of people coming into our church to experience [Holy Week]," he said. 
"A lot of [Catholic religious practice] is physical and visceral and experiential, and now that has been taken away," he said, but added that his message to parishioners has been a hopeful and positive one. "It's an opportunity to develop our prayer life, to grow our relationship with God and with each other," he said.  
St. James' Episcopal Church in Warrenton 
The Rev. Benjamin Maas is the rector of St. James' Episcopal Church in Warrenton, where an average of about 200 people attend services on a regular Sunday. For Holy Week and Easter, the parish filmed liturgies led by a small number of clergy, lay ministers and musicians and posted the videos online for the congregation. 
"As a liturgical church we walk with great intention through the seasons of the church year," he said.  "Obviously this year in particular our story is as important as ever, and only in walking through the whole of [Holy Week] can we trust in the hope that Easter brings."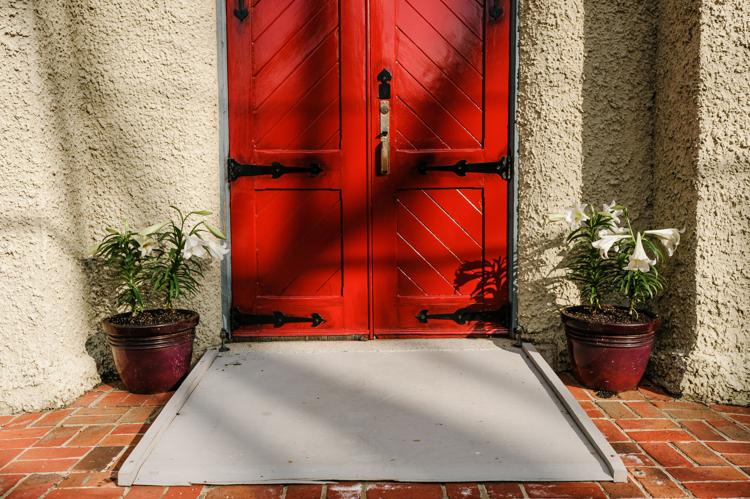 He said that Easter Sunday services are attended by more people than any other day, and while the video recordings are a tool for worship, the communal atmosphere of that day would be especially hard to replicate remotely.  
"The most difficult aspect of that service is that so much of the joy and energy comes from the incredible number of people gathered and their collective spirit. That cannot be replicated, and given where we are right now, probably would be inauthentic," he said.  
In addition to posting videos of worship services, St. James' clergy and staff have prepared a number of resources for observing Holy Week and Easter at home, especially for families.  
"We have encouraged people to mourn what is lost," Maas said, "but also to take advantage of the fact that there are less interruptions, no spring break travel, sports practices and games, social outings, etc. This may be an opportunity for a Holy Week that will never be forgotten."
St. Patrick Orthodox Church in Bealeton 
As Catholic and Protestant Christians were celebrating Easter Day on Sunday, it was Palm Sunday for Orthodox Christians. 
On Sunday morning at St. Patrick Orthodox Church in Bealeton, a laptop computer, a GoPro camera and a microphone were on a table in the center aisle to livestream the Lauds – a liturgy for prayer – and the Palm Sunday Mass immediately afterward.  
The Very Rev. Patrick Cardine, the parish's archpriest, was joined in the sanctuary by two lay ministers. Two cantors interspersed the prayers with chanted responses from the back of the nave, their voices echoing from the vacant pews and bare walls. A volunteer operated the video equipment from a pew in the third row. As the liturgy progressed, the aroma and smoke from burning incense filled the room, creating an especially distinct haze over the altar.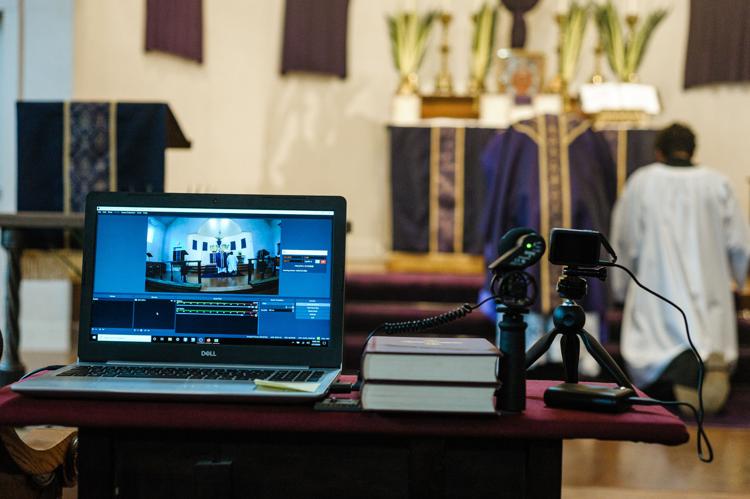 "[Holy Week] is an extremely intense, communal time for us, and by far the most important week of the year for us," Cardine said in an earlier interview, calling the week, along with Easter, "the anchor of the entire Christian life."  
This year, he added, the week is tinged with sadness at the inability to physically gather, but for Cardine, this is not an insurmountable obstacle. "The reality of our joy is still the same. Christ is still risen whether we can come to church or not." 
One upside to the restrictions on public gatherings, Cardine said, has been his congregation's interest in the recitation of the Divine Office, a ritualized set of prayers; each is recited at a certain hour in the day.  
He recites the Divine Office himself each day and shares it via livestream. "People are tuning in and learning how to pray the Office. That's been a really positive thing."