Highland School will temporarily cease in-person instruction for all students after Thanksgiving break, a school representative confirmed Friday. The decision was made as a precautionary measure due to the increased risk of the spread of the novel coronavirus from holiday travel and gatherings. Highland has a total enrollment of 489 students.
The Virginia Department of Health reported that new confirmed cases of COVID-19 in the state…
"Because we know there will be an increase in travel and new interaction during the Thanksgiving break, we will return on Nov. 30 in a distance learning format in all divisions. Assuming conditions permit, we will return to in-person instruction on Dec. 9," a statement from the school said. "This will allow us to return more safely and reduce anxiety. We will use what we learn from this experience to inform the specifics of our return from the winter break after the new year."
As of the end of October, all grades at Highland had been operating in-person five days per week. All students in pre-kindergarten through eighth grade will continue in-person instruction through Nov. 20.
However, Highland's Upper School (high school) ceased in-person instruction for its 223 students after Oct. 30 following an outbreak among students. (Students will return for in-person instruction four days next week, the final week before Thanksgiving break.) However, the decision to move to remote instruction after Thanksgiving was not affected directly by the outbreak, a school representative said.
The outbreak that caused the temporary move to remote instruction was the result of a social gathering among students in late October held outside of school hours and not sponsored by the school, according to statements from the school and health department officials. A total of 14 Highland students have tested positive for the novel coronavirus; the last case was reported Nov. 10.
Five coronavirus cases in Fauquier public schools this week
This story has been updated to reflect new information.
More than 7,000 public school students in Fauquier County returned to school buildings beginning Nov. 9 as part of the school division's "hybrid" model. Students whose parents opted for in-person instruction are divided into two groups at each school, with each group attending classes in person two days per week. (Staff members have been reporting to school buildings every work day since August, and some students had been receiving at least some in-person instruction before this week.)
As of Nov. 13, five people within the school division had tested positive for the novel coronavirus during the first week of "hybrid" instruction, including at least three staff members and at least one student. Two cases were reported at Fauquier High School; Mary Walter Elementary School, Thompson Elementary School and Liberty High School each reported one case.
The three notification emails sent to parents and staff members at Fauquier High and Mary Walter Elementary were almost identical. Each email contained the phrase, "While this incident appears to be isolated, we must remain vigilant in washing our hands, social distancing and wearing masks. All students and staff must complete a self-health assessment daily before reporting to school."
Schools not a major driver of recent spike in cases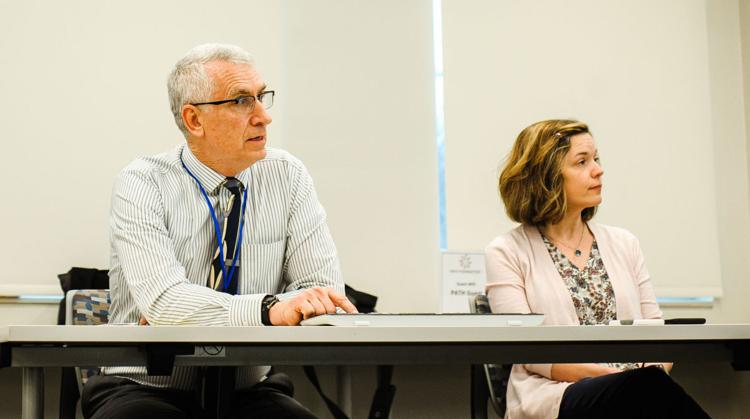 Area students attending classes in person have not been a significant factor during the recent spike of cases in the health district, said April Achter, a Virginia Department of Health epidemiologist with the Rappahannock-Rapidan Health District, on Friday. "For the most part, we're doing really well," she said of mitigation efforts in educational settings, and most cases in schools have been isolated quickly.
A large share of recent cases in the health district has come from a single outbreak in a correctional facility, she said, emphasizing the spread of the virus among the general public has also accelerated. "We had a big spike after Halloween because so many people had Halloween parties," she said.
Achter cautioned that private gatherings among colleagues or classmates held outside the work day or school day can be a major contributing factor in spreading the virus, even if workplaces and schools themselves haven't been a major driver of new cases recently. And, with the Thanksgiving holiday coming up soon, she asked the public to consider avoiding large gatherings that could contribute to the virus' spread at the same time as cases are already increasing.