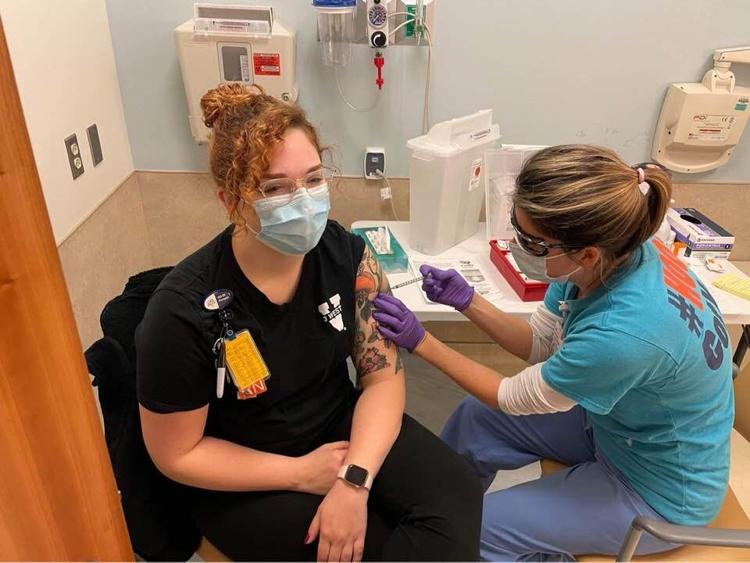 Fauquier Hospital began administering the Pfizer COVID-19 vaccine to its health care workers Dec. 15, according to hospital spokeswoman Sarah Cubbage. Daniel Reno, 50, received his inoculation Thursday afternoon. "I didn't even feel it," he said. "I was talking to someone about photography, about my SONY camera. It was painless. And I haven't had any issues since." 
Reno has been with Fauquier Hospital for only two weeks. He is a cardiovascular technologist, working with urgent and emergent patients. 
He said he helped to care for COVID-19 patients frequently in his former job, but hasn't yet at Fauquier. The coronavirus has touched his life in other ways too. "A boy I graduated with – he is 50 [years old] too – has COVID. He's been on a vent for 24 days." A co-worker's father died of COVID, said Reno, and his niece has had the disease as well. 
"I think the vaccine is extremely important," he said. "We have 3,000 people a day dying from this." Asked about risks of the vaccine, Reno said that while COVID has proven to be deadly, "no one is going to die from the vaccine." 
Health care workers around the region are being vaccinated as well. Midland native Stephanie Brownell received the Pfizer vaccine this week. The Liberty High School and James Madison University graduate is a nurse, working on the acute care special pathogens unit and general medicine at the UVA Medical Center in Charlottesville. Brownell said she is feeling fine; her arm is just a little sore. 
Some news reports have said that instead of the expected five doses per vial of vaccine, many vials are overfilled, allowing hospitals to get an extra dose – or sometimes two extra doses out of a single vial. Cubbage said that "We can confirm that we have noticed some overfill in the vials that we received. The Pharmacy department is following Food and Drug Administration guidance and drawing up the extra volume, when that volume results in a full extra dose." 
In response to a question about news reports suggesting problems with vaccine shipments, Gary Matthew, directory of Pharmacy for the hospital, added, "The latest information that we have from VDH is that a second shipment of Pfizer vaccine is due next week. That will cover our needs for the second vaccination that is due 21 days after the first one. At this time, we haven't heard of any impacts that will affect us." 
COVID-19 vaccine frequently asked questions 
As the first doses of the Pfizer COVID-19 vaccine were distributed to health care workers in Virginia this week, the Virginia Department of Health offered these answers to frequently asked questions about the COVID-19 vaccine: 
Why do I need the COVID-19 vaccine? 
According to the VDH, "The COVID-19 vaccine will greatly reduce your chances of getting COVID-19 and will ensure that if you do get the virus, you will have only mild symptoms or none at all." 
After you get the vaccine, your body will build up immunity to the COVID-19 vaccine, so you are unlikely to get the virus and, if you do, your immune system will be able to fight it off easily, the VDH said.  
"Getting vaccinated is also important to keep your family and friends safe because the vaccine makes it unlikely that you will spread it to other people," according to the VDH. 
Will the COVID-19 vaccination be required for all Virginians? Will we be penalized if we decide not to take the vaccine? 
No. The vaccine will not be required and there are no legal penalties for not taking it, but the VDH said they "urge you to get it once it's available... Once enough people are vaccinated against COVID-19, we can resume many of the everyday activities we enjoyed before the COVID-19 pandemic," the health department said. 
Will the vaccine give me COVID-19? 
No. "The vaccine will not give you COVID-19 because the vaccine is not made from the live virus," according to the VDH. "The vaccine just teaches your body to build a protein that fights the virus." The health department also said it can take a few weeks for your body to build immunity after receiving the vaccine, so it is possible to get CVOID-19 just before or after being vaccinated. 
Will the vaccine cause me to test positive on COVID-19 viral tests? 
No. Vaccines will not cause you to test positive on COVID-19 PCR and antigen tests, but may cause you to test positive on a COVID-19 antibody test, which shows immunity, not current infection. 
If I get the COVID-19 vaccine, will this protect my family and friends? 
On Wednesday morning, Virginia's COVID-19 case numbers came in at 5,227, after yesterday's 4,707 and Monday's 6,172 -- which was the fourth-hi…
According to the VDH, "The COVID-19 vaccine creates antibodies that help keep you from getting sick. This means it will protect you as long as the immunity lasts, but it doesn't mean you will never get COVID-19. As with other vaccines, you will have to get another dose when the immunity ends and just like with other vaccines, there is still a chance you could contract a mild case of the virus. 
"While the vaccine will help keep you from getting sick from COVID-19, scientists are not yet sure  if a person who has been vaccinated can still give the virus to other people. That means it is important for everyone to get vaccinated." 
How long will the vaccine offer protection? 
It is not yet known how long immunity will last.  
If someone already had COVID-19, do they still need to be vaccinated? 
According to the VDH, "until we have a vaccine available and the Advisory Committee on Immunization Practices makes recommendations to the Centers for Disease Contol on how to best use COVID-19 vaccines, VDH cannot comment on whether people who had COVID-19 should get a COVID-19 vaccine." 
However, "due to the severe health risks associated with COVID-19 and the fact that re-infection with COVID-19 is possible, people may be advised to get a COVID-19 vaccine even if they have been sick with COVID-19 before," the health department said. 
Is the COVID-19 vaccine safe? 
Yes. According to the VDH, "COVID-19 vaccines have gone through a careful trial process with several phases." 
What are the potential side effects of the COVID-19 vaccination? Are there any long-term side effects? 
All side effects are not yet known, but some people in the trials have reported arm pain at the injection site, tiredness, headache or other body aches and some had a fever for a few days, according to the VDH. Because the vaccine is new, information about long-term side effects is not yet known.  
Should I be getting the vaccine if I have other medical conditions? 
Medical conditions such as diabetes, asthma or obesity put you at higher risk for COVID-19 and so the VDH says, "when the vaccine is available, we urge you to get it to protect yourself and your loved ones." 
Is it safe to get a COVID-19 vaccine when you are pregnant? Should children receive a COVID-19 vaccine? 
Only non-pregnant adults have been studied in the early clinical trials for COVID-19 vaccines, so it is not yet known if the COVID-19 vaccine will be recommended for children or pregnant adults. The vaccine is recommended for those over the age of 16. 
When can I get the COVID-19 vaccine? 
The first vaccines are being provided to 480,000 health care workers and residents of long-term care facilities. Additional doses are expected in early 2021 and will be provided to more Virginians but the timeline is not yet known, according to the VDH. 
The CDC is recommending that the first vaccines go to health care workers, residents of long-term care facilities, people at high risk for severe COVID-19 illnesses due to underlying medical conditions, and people 65 and older.  
Will the COVID-19 vaccine be free, or will it go through insurance? 
The vaccine will be offered to all Americans at no cost. Any fees will be covered either by insurance companies or by the U.S. Health Resources and Services Administration Provider Relief Fund.