After the stellar season they've had, it's no surprise Fauquier is headed to next week's Region 4C softball tournament as district champs.
The home-standing Falcons (15-0) clinched their spot with a 9-2 victory June 2 against the Sherando Warriors in a Northwestern District semifinal game.
On Tuesday, they edged James Wood 1-0 in the district championship thanks to Meghan Harrington's pitching and an unearned run in bottom of fifth. Harrington struck out 12 as the Falcons earned a home game the June 14 regional semifinals against a Dulles District foe. James Wood also qualified.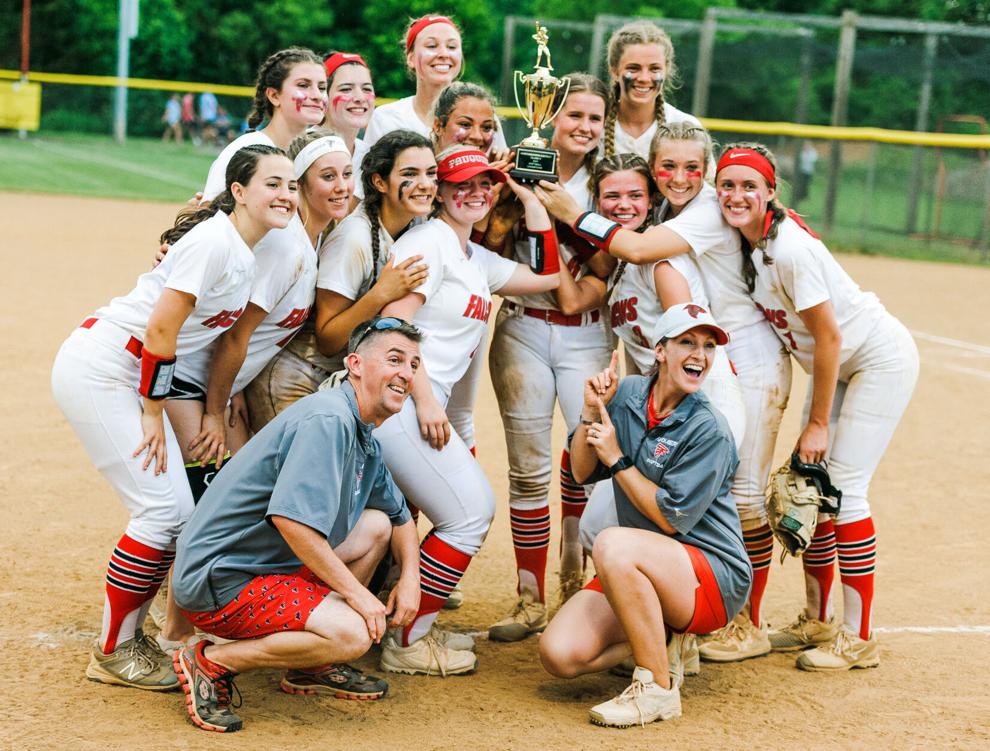 Elsewhere, Kettle Run's strong season was ended by James Wood, 6-4, in the other district semifinal.
Kettle Run (7-4) reached the semifinals by edging Liberty, 2-0, and led James Wood late until the Colonels won with a five-run sixth inning rally.
Fauquier, which posted a 17-1 rout of Culpeper in the quarterfinals, didn't roar out of the gate early against Sherando. 
"When you play a team so many times, they start to play to your weaknesses," Lamper said.
The Falcons, however,  are a plucky bunch and find ways to score runs in bunches.
"For our girls it's only a matter of time. Once they get their timing, we score," Lamper said.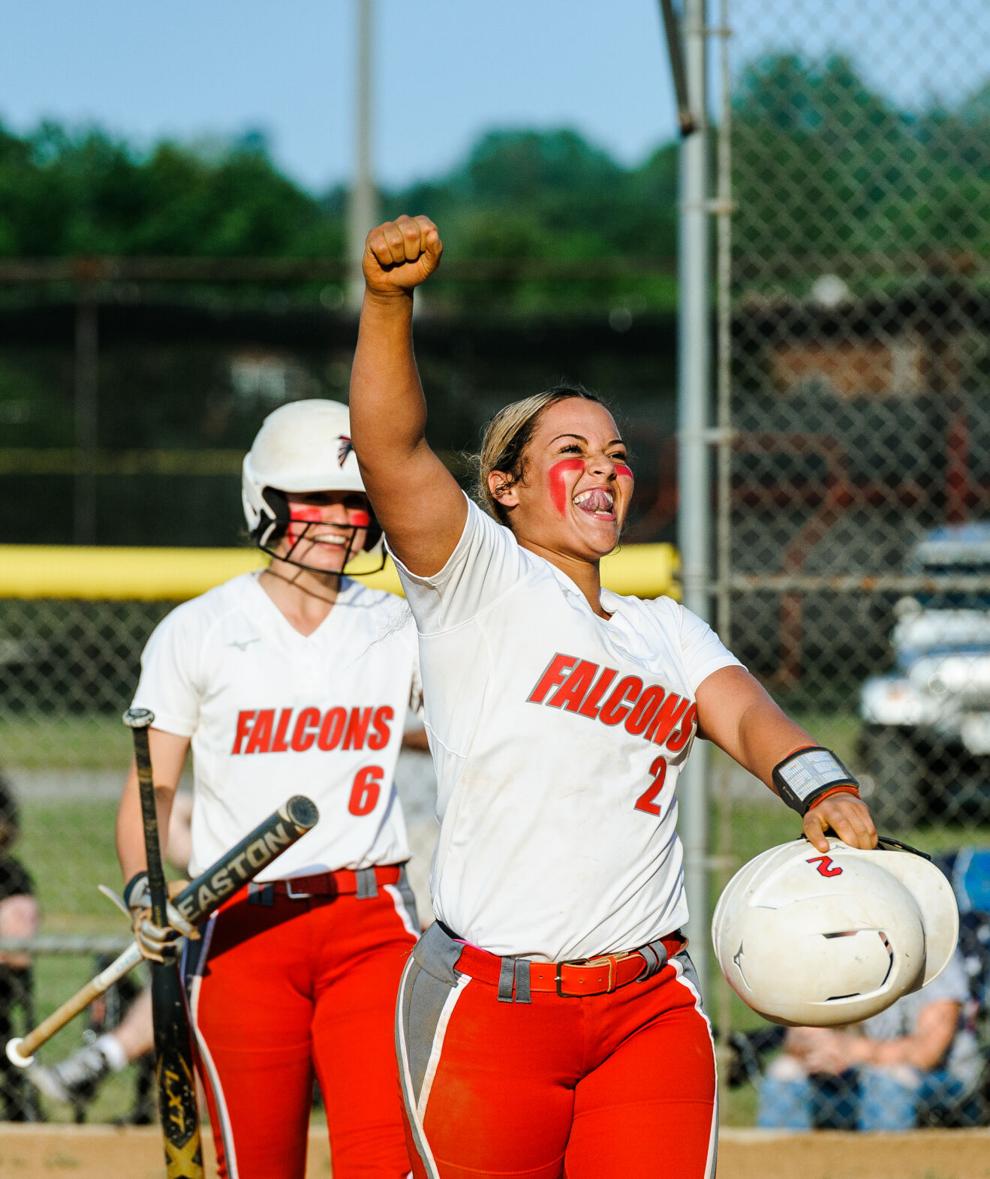 Both teams were scoreless in the first inning, with Fauquier leaving two runners aboard. 
In the bottom of the second, Helena Lovell led off with a hit, and Emma Carter followed with a well-placed bunt single. Both advanced on a delayed steal before Haley Saulsbury sent a 3-2 pitch down the left field line for a 1-0 lead. The surge ended when a planned rundown situation backfired, with Carter cut down at the plate.
The lead grew to 2-0 in the third when Skye Corum sent a screaming two-out line drive inches over the right center field fence for her eighth home run. Back-to-back Warrior errors led to the third run.
Lamper agreed there was a bit of tension when the Warriors cut the margin to one run.
Falcon senior Meghan Harrington struck out seven batters in the opening three innings, but that goose egg vanished in the fourth when an infield error, a single and a sacrifice fly cut the margin to 3-2 and led to some consternation in the Falcon dugout.
Fauquier countered as Katie Harrington walked with one out and scored on a Payton Swart double off the center fielder's glove for a 4-2 lead.
The host Falcons added on in the fifth. Corum walked ahead of a Lovell single and a walk to Carter to load the bases. Saulsbury then grounded a double over the first base bag into the right field corner, scoring all three runners for a 7-2 lead. 
"I was very proud of her," Lamper said of Saulsbury, adding every girl in the potent batting order has delivered in important situations this spring.
After a groundout, Saulsbury scored on Meredith Wayland's double to the base of the left field fence for an 8-2 margin.
Fauquier added a sixth run to close out the scoring. Meghan Harrington finished with 11 strikeouts in the four-hit effort.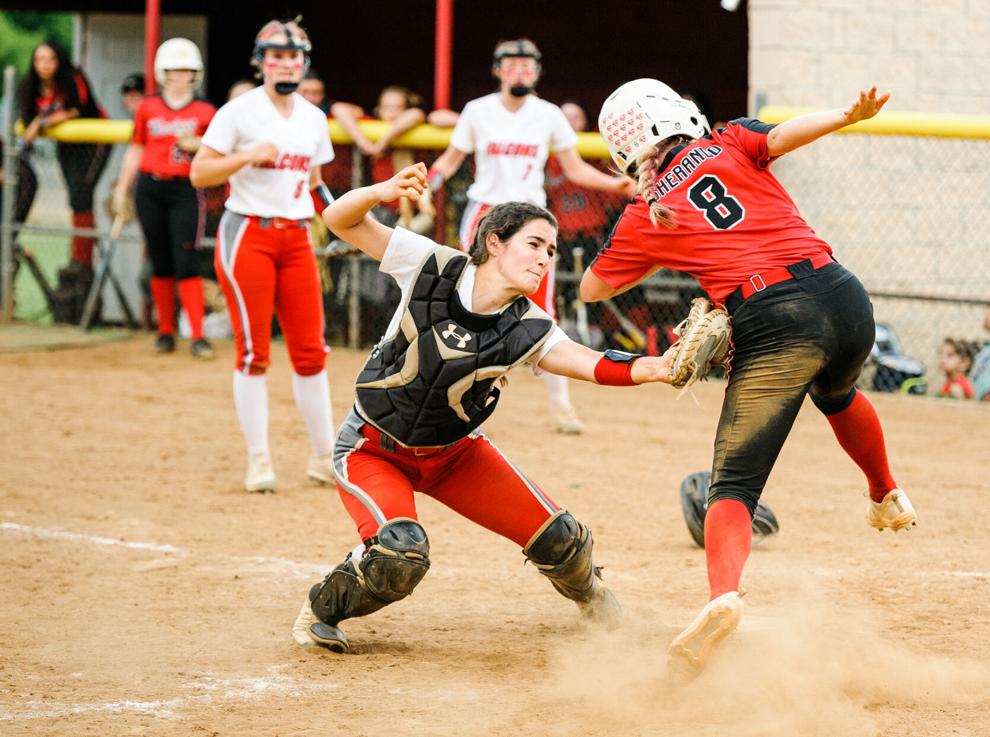 Tough end for Kettle Run
The Cougars appeared headed towards a region berth and the championship game, leading James Wood 3-0 in the first inning of their semi.
Kettle Run stroked four first-inning hits, including a triple by Jillian Brunton. Kettle Run loaded the bases on two walks and a hit with two outs in the second, and grabbed a 4-0 lead on an infield error on a grounder to third.
Kettle Run pitcher Kylie Wilkerson did not allow a hit through five innings, with the Colonels' third-inning run the result of a walk, wild pitch and an outfield error.
Then came the sixth when James Wood combined five singles, a double and an error for the decisive five-run surge.
Cougar junior Emory Shorts added two hits and drove in a run, while Abby Boldt scored twice.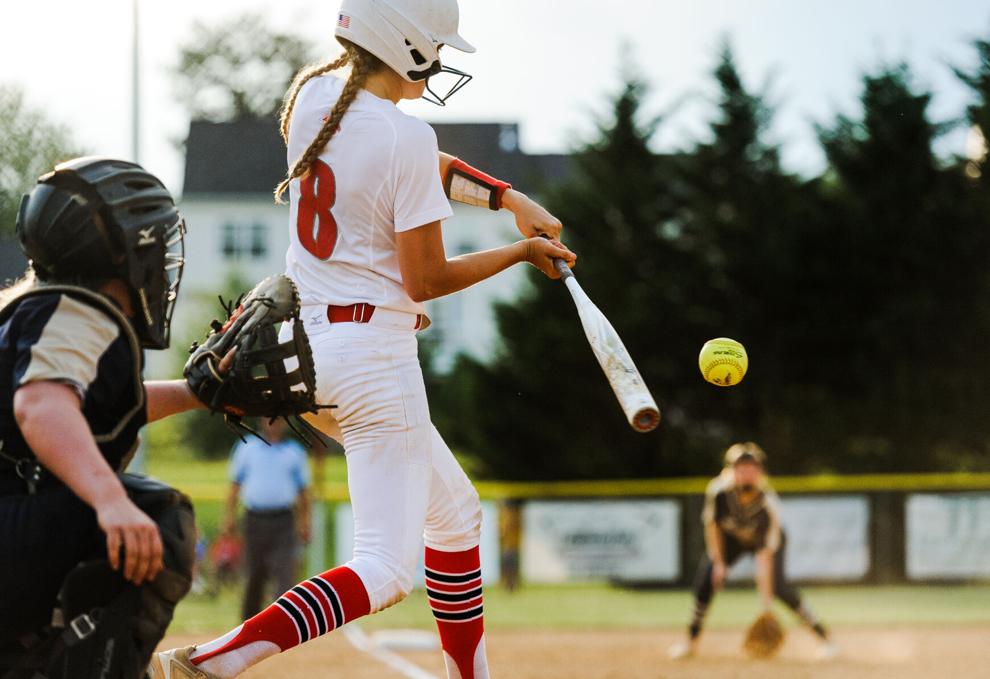 Falcons rout Culpeper
Fauquier took a 17-1 five-inning mercy rule victory over Culpeper in the district quarterfinals.
The Falcons downed the Blue Devils, 7-0, to end the regular season May 27 and found themselves in a quick rematch.
Leading 3-0 entering the bottom of the third inning, the hosts sent 16 batters to the plate, recording 11 runs on 11 hits. 
Lovell, Carter, Meghan Harrington and Katie Harrington all had two hits in the explosion. Meghan Harrington added a three-run home run in the fourth and combined with Corum to throw a one-hitter.