Republican candidates celebrated the opening of a campaign office in downtown Warrenton that will be the center of campaign activity during the run-up to the Nov. 5 election.
The Fauquier County Republican Committee rented space at 20 S. Second St. to help support Republicans on the ticket. A grand opening was held Friday evening to coincide with the First Friday celebration up the street in Old Town.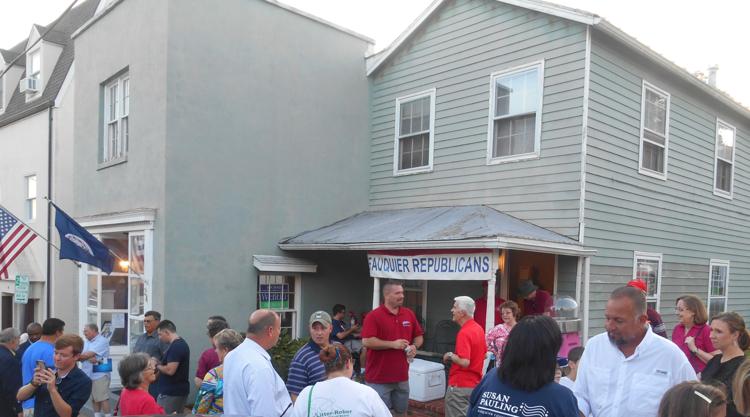 "Our work is cut out for us," said Greg Schumacher, chairman of the county's Republican committee in addressing an audience gathered in front of the headquarters. The Democratic Party is "quite motivated" to beat Republicans on the ballot in this election, he said.
"They have an alternate vision of the future that puts what we value in jeopardy," he said. That vision includes socialistic polices that would "completely turn around" the nation, Schumacher said. Such a prospect "scares the hell out of me."
He said Republicans value liberty, justice, opportunity, limited government, budget constraints, a strong national defense, and faith in God – values set out in the Virginia Republican Creed. He said all the Republicans on the ballot share their values.
"Let's hear a cheer," said a voice from the audience outside the headquarters at and a cheer rose up.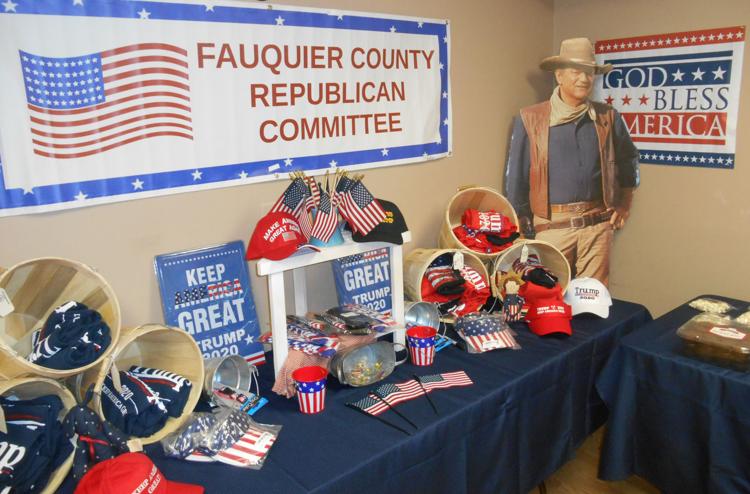 Volunteers set out early Saturday to begin canvassing – going door to door to talk to people about voting for Republican candidates.
"We're going to have fun," promised Andrew Loposser, campaign manager for Del. Michael Webert (R-18th).
Webert, a four-term incumbent from Marshall, faces Democratic challenger Laura Galante, also of Marshall, in the Nov. 5 election for the 18th District seat.
Webert was at the opening of the headquarters, as were Mark Cole, delegate for the 88th District who faces Democrat Jessica Foster; D.J. Jordan, seeking to unseat Democrat incumbent Elizabeth Guzman in the 31st District; Fauquier school board candidates Suzanne Sloane, Susan Pauling and Stephanie Litter-Reber; 27th District State Sen. Jill Vogel; Commonwealth's Attorney Scott Hook; county treasurer Tanya Wilcox; Lee District Supervisor Chris Butler; Scott District Supervisor Holder Trumbo; Commissioner of Revenue candidate Eric Maybach; and Warrenton Town Council member Sean Polster. All but Polster are on the ballot in November. (His term isn't up.)
Hook, Wilcox, Butler and Trumbo are unopposed. Vogel is being challenged by Democratic candidate Ronnie Ross. Maybach is running against Angela Smith, an independent.
D.J. Jordan running against Elizabeth Guzman
Jordan said during an interview outside the headquarters that he believes he will do well in Fauquier County.
"They have voted overwhelming Republican in the past. I think a lot of people have concerns about a Democratic-controlled government," Jordan said, noting that Democrats currently hold the three top positions in Virginia's state government — governor, lieutenant governor and attorney general.
Voters "want a Republican state legislature" as a balance, Jordan said.
The Republicans hold slim majorities in both the House of Delegates and state Senate. The Republicans hold the Senate 20 to 19 and the House 51 to 48. There is a vacancy in each chamber.
Jordan worked as a staff member in the U.S. Congress, was a journalist for CNN and Fox News, and worked in public relations.
Jordan said development is an issue of concern among voters. Small-business owners are concerned about efforts to raise the minimum wage to $15 per hour.
"Right to work is an issue. They don't want a unionized state. And they are concerned about regulations and taxes," Jordan said. "They want government to keep off them.
"A lot of farmers are contemplating transitioning to agribusiness and are wondering what that means for them," he said of efforts to branch out into other areas to remain profitable.
Jordan said he's visited businesses in Fauquier such as Golden Rule Builders and Smith-Midland, both in Catlett, and he said that Suzanne Sloane has taken him to Vint Hill to meet people there.
The 31st District includes New Baltimore, Vint Hill, Nokesville, Midland and Catlett in Fauquier as well as a section of Prince William County.
The Republican campaign headquarters is stocked with yard signs, bumper stickers, lapel pins, T-shirts and hats. It also has information about the various Republican candidates, how to vote and how to volunteer.
The campaign office is open from 11 a.m. to 7 p.m. Tuesday through Friday and 9 a.m. and 3 p.m. on Saturday. The phone number is 540-347-3041.
Reach James Ivancic at jivancic@fauquier.com