About 5:30 p.m. on Friday, June 28, a "ghost bike" was installed on Alexandria Pike in Warrenton, near the corner at Horner Street. It was there that Blake Rohrbough, a 25-year-old Michigan man, was killed a week earlier when the bicycle he was riding collided with a car.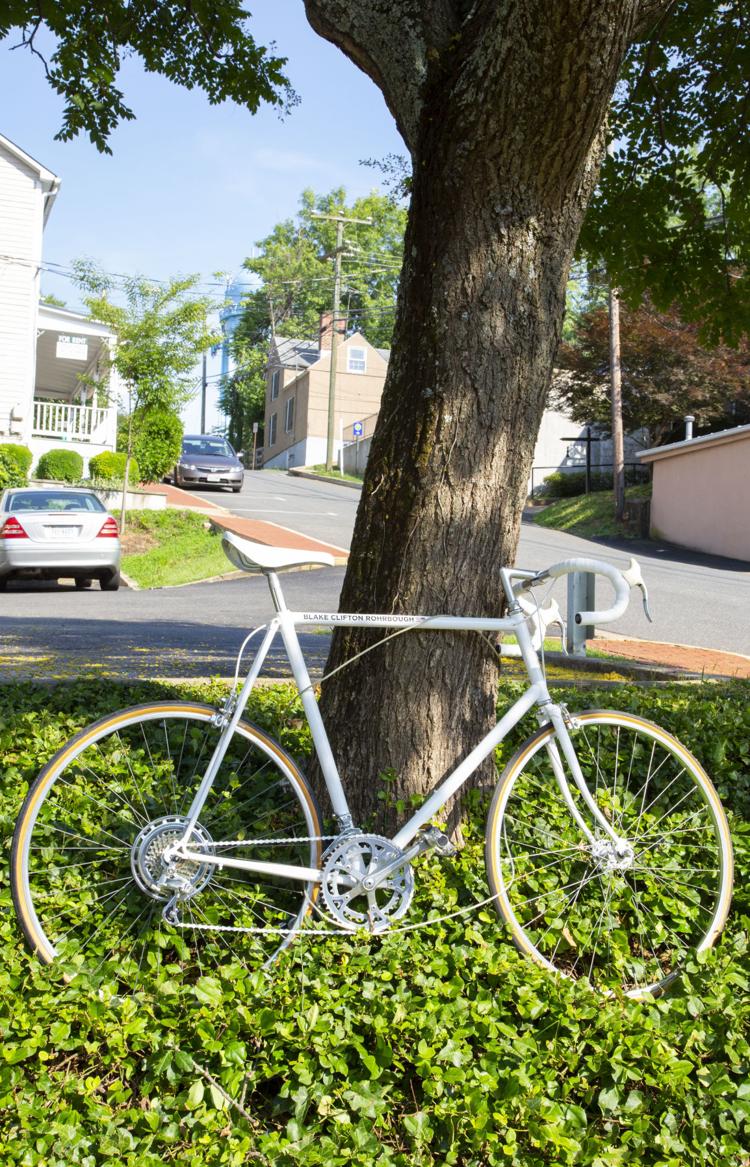 A ghost bike is a somber memorial to a cyclist who has been killed while riding. The bike is painted white and placed near the scene of a fatal accident to honor the person who died, and as a reminder to cyclists and drivers alike of the importance of bike safety. 
Warrenton artist Palmer Smith recreated a photograph of Rohrbough to give to his mother Angela Gust, stepfather Ed Gust and longtime girlfriend Madalyn Venhuizen, all of Michigan. 
There were tears at the presentation of Smith's painting – which was still not quite dry. Venhuizen said that she had taken the photo of Rohrbough that Smith used as a guide. The background of the painting shows a cyclist pedaling out of the picture. "It's beautiful…. We were at a garden that day,"Venhuizen remembered. 
Smith said that when Brian Larson, manager of the Bike Stop in Warrenton, asked him to paint the portrait, "I dropped everything I was doing to work on it. It was hard to paint, thinking about why I was doing it. How could it ever be good enough?" 
Venhuizen said that Rohrbough had been living in Warrenton for a couple of months, on a temporary basis for his job. "We had just started to get into cycling about a year ago," she said.  
His mother said that they heard "something had happened on Friday night, so we got in the car and drove 11 hours to get here. We got here Saturday morning." 
The family will have to wait 30 days for the Virginia State Police to finish their investigation, she said. "We don't know exactly what happened." 
The Bike Stop in Warrenton donated the bicycle for the memorial and Larson created the ghost bike. He said, "The tradition is to get an old bike that is destined for the trash and paint it white. It is meant to represent the spirit of the cyclist who passed away. It also brings awareness and reminds people to share the road." 
Larson said that since the accident was so close to his shop, he wanted the memorial to look special. "We get a lot of bikes donated to us. This one was destined to go to a third world country." 
He took the components off the bike and asked Warrenton Mayor Carter Nevill for help polishing them. "We only had a day and a half to get this done," he said.  
Larson choked up as he remembered trying to find the best components he could. The bike was painted white and a decal was created with Rohrbough's name. Larson said he built the wheels himself. The result was a pristine bike that looks ready to ride. 
Nevill said that the Bike Stop did a wonderful job, adding, "This is a beautiful memorial." 
Warrenton's mayor offered words of comfort to the family. He spoke of the closeness of the cycling community, and said, "The worst thing possible thing would be to think he was lost in a place where there was not love. There is love here."