After years in the financial and banking world, Kim Jenkins decided to use her marketing and business savvy and take a leap of faith. She joined forces with her husband's construction company. Working out of a garage, Kim and Mark Jenkins started small with a handful of employees, taking on one project at a time and building community confidence along the way.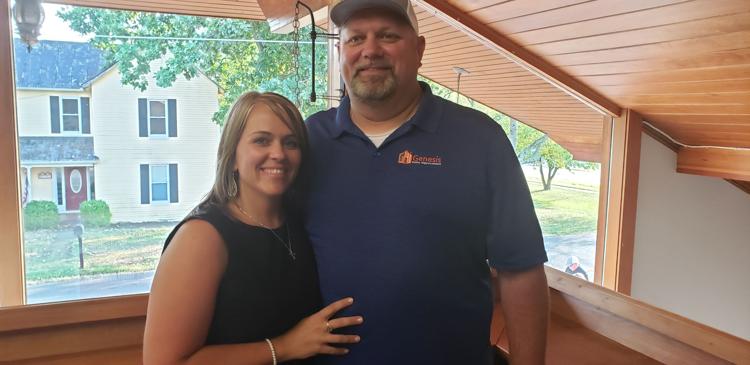 Now, at more than 20 employees and serving Northern Virginia and many Piedmont communities, Genesis Home Improvement celebrated a ribbon cutting this summer at its new facility in Remington. It has soaring ceilings and plenty of natural light flooding into large open spaces. There is plenty of room to showcase all the features that can be added to shingle a roof, tile a floor, create a bannister, new kitchen or bathroom or a garage addition. 
Each step along the way has proved challenging, but the Kim and Mark Jenkins, in addition to being committed to each other professionally and personally, seek God's guidance in all they undertake. 
Their move to new offices and warehouse space has proved fortuitous. 
"We had seen the location … the old Richie Millwork building in Remington … but thought … no way would we be able to afford that," laughed Kim Jenkins. But fate had more in store for them when their realtor sealed the deal. The previous owners were happy to see the building in good hands and with a good mission. 
Since opening their business, the Jenkins have always had another goal in mind, a way to give back to the community and to fill a need that they see growing in the community. 
"Over the past four years, we have been aggressively engaged with Lord Fairfax Community College and, more recently, Fauquier County Public Schools, [we have been] expressing the need for carpenters and attempting to get a carpentry program in our local area," said Kim Jenkins. "Our mission at Genesis Home Improvement, LLC is to revitalize the future of the carpentry trade and change the perception of contractors.  There are true pathways that come along with a carpentry career.  Those interested in the program would set themselves up to work into lead carpenter, superintendent and project management roles.  This certification would be the first step onto this path," added Jenkins.
"We've got the space, we've got the equipment, and we've got the teachers," said Jenkins.
The Jenkinses are offering their location as a classroom to help students of the program learn and gain hands-on experience. According to Jenkins, it would benefit Lord Fairfax by taking the pressure off to find space for a new program. The accredited program would prepare interested students for a career in carpentry, or it could function as a training program for employers in the industry looking to train new hires and enhance their existing teammates' skills.  
Jenkins noted that the Washington D.C. area is one of the top 10 areas in the country that employs carpenters. "Carpentry is more than finish trim or drywall," said Jenkins, "carpenters frame houses, repair or replace floors, build additions, restore a home after a flood or fire, maintain government buildings and hospitals, the list goes on." 
Kim and Mark Jenkins share their belief and message that, "it's OK to be a carpenter." They welcome the opportunity to add to the county's growing vocational and technical education programs. "Everyone has different skills and there are so many people that love working with their hands," said Jenkins adding, "we'd like to help change the trajectory of people's lives."   
Moving forward with their latest initiative, an advisory board has been established by Donna Comer and Carlene Hurdle (Workforce and Economic Development) with Lord Fairfax Community College. They would like to engage in a community discussion about the need for highly skilled carpenters admitting, "carpenters are extremely hard to find."
Workforce Solutions/LFCC has researched the cost and logistics of implementing a carpentry program, however, the larger question is where the students are and how do they get them to come.  According to Comer and Hurdle, the most successful programs at Lord Fairfax Community College enjoy strong industry partnerships and support. 
Comer and Hurdle are helping Jenkins put out the word about an upcoming event. The gathering would provide an open discussion about ways, as employers, mentors and educators, they can help cultivate and secure a good pipeline for the next generation of carpenters.
"If you are an employer who is on the constant look out for skilled carpenters, put Nov. 14 on your calendar. Come and help strategize with other businesses facing the same needs.  Help LFCC, other educators and similar businesses build a new, strong foundation to a carpentry program," reads their press release.