The Orange County Hounds, a foxhunting organization founded in 1900, has entered into a permanent conservation easement agreement with the Fauquier County government for its 71-acre property near The Plains. The organization donated the easement, which forbids in perpetuity subdivision of the property and residential, commercial or industrial development of the land.  
There will be no additional impact to tax revenues as a result of the permanent easement, revenue commissioner Eric Maybach said Tuesday, because the property was already taxed at a reduced rate; until June, the undeveloped portions of the land were part of an agricultural district, a seven-year renewable program that limits some developmental rights on a rural property during that term. In exchange, landowners that enter the program pay less in real estate taxes. A permanent conservation easement, on the other hand, restricts development rights in perpetuity.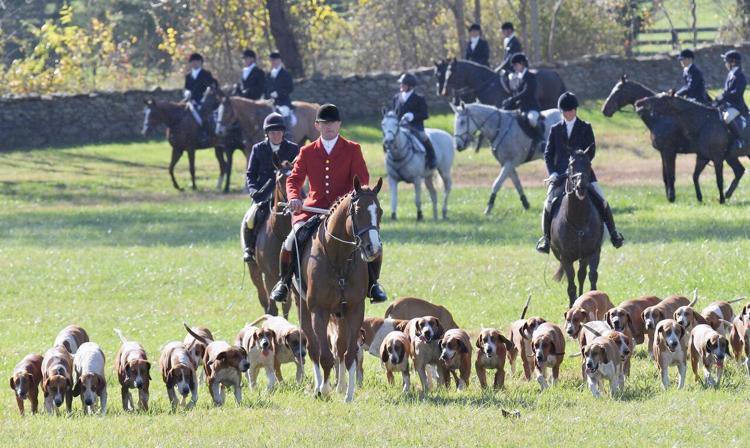 The hunt organization's property, called Windy Knoll, contains kennels and stables, along with four residences for staff members. The property is currently valued for tax purposes at $1.4 million. When a part of the agricultural district, the 67 acres of undeveloped land was assessed at $256 per acre; the establishment of the permanent easement should not affect that valuation, Maybach said. 
The organization's treasurer, Glenn Epstein, said in a press release "there has been a historically strong link in Virginia, and through the Mid-Atlantic region, between the equestrian community and land preservation efforts." He added, "We are committed to maintaining the open space of Fauquier County and this step will ensure that this piece of land is permanently protected."
More than 100,000 acres in Fauquier County are protected from future development by conservation easements, including most of the land area in the northeast corner of the county.  
Most conservation easements in the northern parts of the county are "open space" easements with the Virginia Outdoors Foundation, a program to protect natural and historic resources, water quality and scenery. 
In the southern parts of the county, most land protected by conservation easements is part of the county's Purchase of Developmental Rights program, an initiative that pays the owners of working farms to maintain the agricultural use of their land.