"At first I wasn't going to spell it with the h but then I realized 'oh my gosh, there's an h in there! I think I can win this!'"
Melody Harlan, a sixth-grader at Auburn Middle School, spelled "rhodium" correctly in the final round to secure her third-straight Fauquier County Spelling Bee title on Saturday.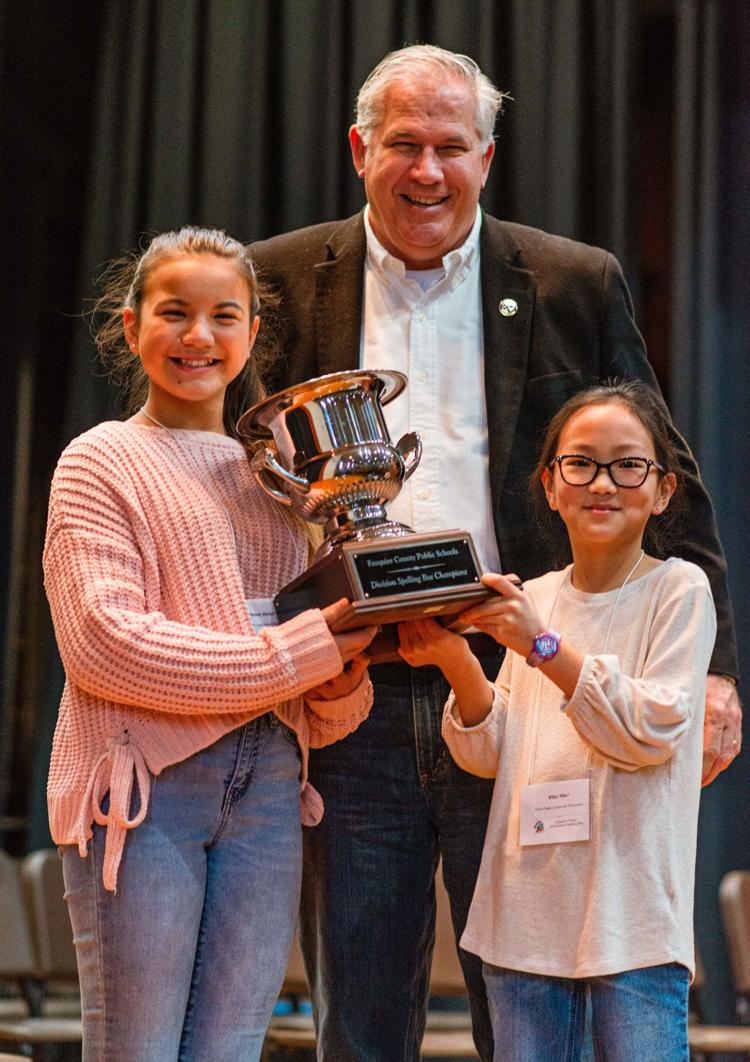 The runner-up was Riley Min, a third-grader at Greenville Elementary. Both Melody and Riley will advance to 14th annual Free Lance-Star Regional Spelling Bee in March; the winner of that will advance to the 93rd annual National Scripps Spelling Bee in May. 
Forty-eight spellers began the competition, one to represent each elementary and middle school in the county. About 160 family members and other supporters filled the auditorium at Taylor Middle School to cheer them on.
Even in the early rounds, the atmosphere was tense. One incorrect spelling means elimination. Spellers looked intently from the microphone to Eileen Burgwyn, the pronouncer for the competition, as anxious parents leaned forward in their seats.
"I believe the most important part of my role is to try to be a helpful, calming presence, because spelling tough words in front of an auditorium full of strangers is stressful" said Burgwyn. 
An excited, whispered "yes!" occasionally rang out from a parent after a particularly difficult word was spelled correctly. As contestants were eliminated and left the stage after each round, the aisles and lobby were the scene of many tears, hugs and encouraging words. "I certainly couldn't have spelled that!" was a common refrain from parents. 
Melody and Riley, along with Lucas Weeks, a fourth-grader at Coleman Elementary, and James Beauchamp, a fourth-grader at Ritchie Elementary, were the only spellers remaining by the 11th round.
By the 13th round, Melody and Riley were the only contestants left on stage. A speller must win by two points to be crowned champion. If one speller gets their word incorrect, the other speller must have two correct answers in the round order to seal the win. Both contestants had opportunities to win the next few rounds but failed to spell their second word correctly.
The competition hinged on extremely difficult words. In one round, Riley correctly spelled "transmogrify" to audible gasps from the 40-or-so remaining spectators. Melody followed by spelling "formacide" to applause.
"Nene," a type of goose, was Riley's word for the 27th round. After a long pause, she spelled it out. A bell rang to signify an incorrect answer. Melody then successfully spelled "legerdemain." 
After some hesitation, Melody confidently spelled out "r-h-o-d-i-u-m." 
"Correct," said Burgwyn with a grin as the audience applauded. 
Jumping for joy, Melody immediately ran across the stage to hug Riley. Both girls were all smiles as superintendent of schools David Jeck came on stage to present the trophy and pose for photographs with their families. 
Melody is no stranger to academic competitions. In addition to winning the 2018 Fauquier County Spelling Bee and co-winning in 2019, she also appeared on the television show "Genius Junior" in 2018 and won a statewide mathematics competition before that.
"Oh yeah, I was nervous," she said after the competition. She and her mother, Tina Harlan, have spent countless hours writing out and reviewing flash cards over the past few years. "She's had a great track record for setting the goal and then putting in the work to accomplish the goal," said her father, Scott Harlan. 
The spelling bee has been an annual event in Fauquier since 2007, when Burgwyn, now retired, was instrumental in bringing the competition to the county in her capacity as the school system's instructional supervisor. John Lucas, a teacher at Taylor Middle School, has been the event's "nuts and bolts" organizer since its inception. Steven Payne, the instructional supervisor for English and reading, oversees the competition. The judges were Jeck, Duke Bland, chairman of the school board, and school board member Suzanne Sloane.