Fauquier's biggest sporting event may happen next month.
You can't go.
That's the way it's going to work at Gold Cup according to Gov. Ralph Northam and race co-chair Al Griffin. The 95th Virginia Gold Cup may run June 27 – rescheduled from May 2 -- and the 100th Middleburg Spring Races on June 13, Griffin said, but it won't be like anything anyone has ever seen.
Virginia guidelines do not currently allow spectators at sporting events. This year won't be the traditional, al fresco tailgate party for 50,000 spectators that Gold Cup has become, Griffin said. Instead, it will be strictly about supporting horse sports at the grassroots – participant – level.  
"Everyone in the (steeplechase) game has been so positive" about retaining this small portion of the schedule, Griffin said. Five Virginia point-to-points were canceled altogether due to the COVID-19 crisis, along with a dozen National Steeplechase Association spring meets. "(This) is about doing everything we can to support those horsemen who have still gotten up every morning to train and prepare their horses for racing. This gives them the hope of getting to run."
As new NSA president, Griffin inherited a complicated task to helm American jump racing. "There's a spirit among horsemen that quitting just isn't an option.
"That's why we're doing this."
After Northam's Monday news conference, Griffin submitted a letter to Northam and Virginia agriculture secretary Bettina Ring, outlining how the region's two biggest sporting events can work – no spectators, with traceable monitoring of competitors and support staff.
In lieu of an on-site audience, both meets will be livestreamed online. There will be no pari-mutuel wagering at Gold Cup.
"Al is doing a helluva job making this work," said Middleburg Spring Races president Doug Fout. Virginia's oldest steeplechase meet, the Middleburg Spring Races was established in 1921. The 100th running is especially meaningful, Fout said, and "we're doing everything we can, every day, to make it go.
"We're taking a huge (financial) hit, so there will be a reduction in purses. But we (want) to accommodate horsemen."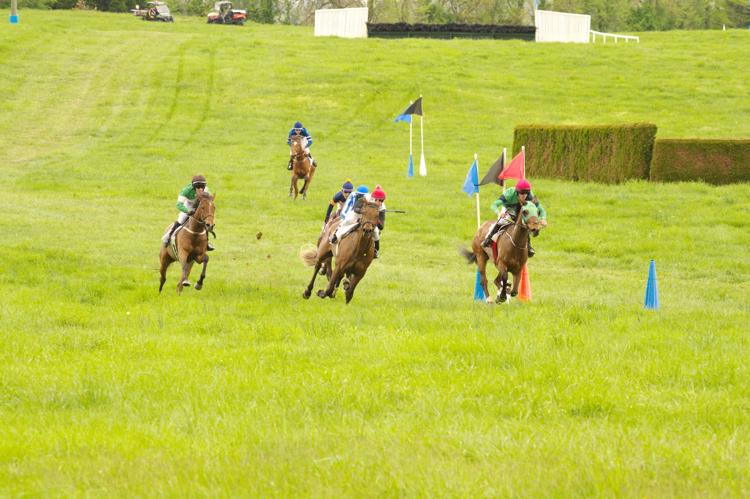 The Glenwood Park racecourse is in great shape, Fout added: "The grass is like a carpet." Turf growth has been amazing this year, he said, from spring rains and cooler-than-normal temperatures.
The rest of the 2020 race schedule is expected to continue as planned, with Colonial Downs near Richmond hosting a summer turf festival meet July 23 to Aug. 29, likely with normal spectator attendance by then, officials say. 
Shenandoah Downs' harness meet is Sept. 2 to Oct. 17.
The rescheduled Old Dominion Hounds Point-to-Point kicks off the fall steeplechase season Sept. 12, with Blue Ridge Sept. 19. The Foxfield Fall Races are Oct. 5, Virginia Fall Oct. 10 and International Gold Cup Oct. 24. The Montpelier Hunt Races run Nov. 7.
"We have to rethink this game from a race meet director's standpoint," Griffin said. "We can't do away with the social aspect of it completely, but there need to be two or three tiers in place – minimal attendees, business as usual and something in between."
Faux shows, not no-shows
Redefining the term horse "show," some area events have gone digital to support the sport horse industry. Competitors post videos of themselves jumping a course at a prescribed height, or working an individual pattern or test, explained Kathy Locke at Locke Meadows. Recognized judges score and place "classes," all in good fun, said Locke. It's a way to retain interest until sports events can reopen.
"We're taking it one day at a time," echoed Georgiana Price-Spencer of Spencer Sport Horse. The Hume facility canceled March, April and May shows, though they hope to return to a normal schedule soon, Spencer said.
Trainer and sales agent Kristy Willwerth said her Picturesque Farm near Opal was briefly "at a standstill" in March, but the last few weeks have seen a return to near-normal. "A lot of people are still purchasing off videos or off my word over the phone, but now (more) are coming to try horses in person. We ... meet clients in the ring and hand off the horse to them to try.
"We follow CDC guidelines with few people in the barn, wiping the bars, stall doors, bathrooms, all surfaces down with bleach and disinfectant twice a day, as well as offering hand sanitizer and soap.
"Horses and farm life in general lead well to social distancing as it is. You're outside in the fresh air. It is a bit of an individual sport. I think if you were downtown D.C., you have a very different view. Someone living in a row of townhouses is not going to feel the same as someone on a 230-acre farm.
"I feel that for many people this mental toll would be too much without their animals. If gyms and salons are allowed to open May 8, there [is] no question the horse business will start opening as well."
COVID-19 affects other horse events, businesses
Great Meadow Twilight Polo season has been tentatively scheduled to kick off June 13, said director of communications Kira Topeka. The plan is to extend the season into October, she added, to make up for games and tournaments lost in May. Willow Run Polo owner-trainer German Noguera said another complicating factor is the current travel restrictions on players and support staff. "As soon as we are allowed to play and offer polo school, we will be ready to go," Noguera said.  
Local tack repair shops report an uptick in business. "People have got time on their hands to dig around and find stuff to get repaired," explained owner Skeeter Hembry. "I haven't seen any decrease (in work) at all."
Skeeters Tack celebrated 51 years in business last week; he opened May 2, 1969, in Fairfax Circle, moving to Clifton and, most recently, to New Baltimore.
Meetze Station Park is expanding, too, with a new show arena and trails open to RideFauquier club members. Club president Jinx Fox said in light of current health restrictions, they won't hold a grand opening ceremony until later this summer.
"We realize local equestrians need a place to ride, especially in light of the current restrictions," Fox said. Trails and arena use are limited to members, though membership to RideFauquier is open to all. A fundraising drive is underway to help underwrite the arena, she added, since the club's benefit events in March, April and May were canceled.
The Aug. 20 to 23 Great Meadow International expanded the FEI level horse trials to include a preliminary division.